5 STAR FAVORITE – NOW LIVE: Tattered: A Lark Cove book by Devney Perry (Read my Review)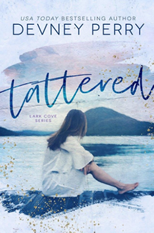 OMG IT'S HERE!!!! HOLY FREAKING SQUEEEEEEEE!!!!! This was one of the very BEST BOOKS I'VE READ ALL YEAR!!! Oh my SWOOOOOOON it was AMAZING!!!! It features a INCREDIBLY STRONG single mom unexpectedly reunited with the sexy but mysterious father of her child after half a decade apart!! OH MY GOSH, THE FEELS!!!!! Not only was this a BEAUTIFUL love story filled with heart-warming emotions and healing, but it was also a gorgeous portrayal of motherhood in it's purest form. I LOVED EVERY SINGLE WORD OF THIS BOOK!!! It was so beautiful to watch the hero and heroine have a second chance at falling in love, and it was adorable to see the hero try so hard to be the best dad he could for the daughter he just found out about. I HIGHLY RECOMMEND THIS BOOK!!! It can STANDALONE so be sure to a grab a copy because it JUST WENT LIVE!!! 5 STARS!!

JUST ANNOUNCED: Timid: A Lark Cove book by Devney Perry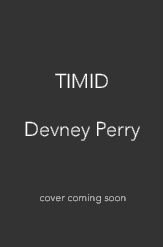 OMG. OMG. OMG!!! This second standalone in the Lark Cove series (first one is "Tattered" listed below this) and I CAN'T WAIT FOR IT!!! — "She has always been shy. Her quiet demeanor was something she's always embraced. That is, until he moves to town. The one man she desperately wants to take notice struggles to remember her name… Year after year, Willa stands by, watching as the bartender slash playboy drowns his demons in beer and sex. Then one night, he shows up at her door, suddenly aware that the girl he's seen around is now a beautiful woman. Except what he doesn't remember is that this visit isn't his first. They spent a night together once before. A night he's forgotten, thanks to a bottle of tequila. A night that crushed a timid girl's heart, and set a broken man on the path to heal them both." — Be sure to preorder Tattered to read Tuesday and preorder Timid as well too!!
WEEKLY NEW RELEASES RECAP

HOT NEW RELEASES (NOW LIVE):  
DETAILED LIST: NEW RELEASES
Tattered by Devney Perry — New Release!!
Can standalone: "With her tattered shoes and bargain-bin clothes, her life has never been full of glamour… So when a rich and charismatic man walks into her bar, she doesn't fool herself into thinking their encounter is anything more than a one-night stand. Months later, she's kicking herself for not getting his phone number. Or his last name. She's given up hope of seeing him ever again.
Until one day, years later, Logan Kendrick waltzes into her bar once more and turns the life she's built upside down. This time around, she won't make the same mistake. She's going to fight to keep him in her life—not for herself… But for their daughter."
Ghostgirl by JB Salsbury — New Release!!
Standalone: "Three years ago Milo Vega was abandoned with his two younger brothers and placed into foster care. Now a high school senior covered in gang tattoos, and the school's janitor, his life is vastly different from the one he was destined for. When another foster joins the family, this one from the psychiatric facility, Milo is skeptical. A rare genetic condition makes her unlike any girl he's ever seen and he wants nothing to do with the ghostgirl. Despite his reluctance, his protective instincts flare when she enrolls in school and eventually an unlikely friendship grows between them. When a tragic event snaps her fragile psyche Milo is faced with the possibility of never seeing her again. Unless he risks it all to save her."
Mister Tonight by Kendall Ryan — New Release!!
Standalone: "Last night was the most embarrassing night of my life. I was THAT girl. You know, the highly intoxicated chick celebrating her thirtieth with her two best friends… And the more I drank, the more I wanted to do something reckless to celebrate. By reckless, I meant the sexy and alluring man dressed in a business suit standing near the bar. You know his type—tall, dark, and handsome… He took me home and I enjoyed the hottest birthday sex of my life, well until it came to a screeching, and rather unwelcome halt. There's nothing quite like being interrupted mid-ride with a little voice asking: "What are you doing to my daddy?"
Just kill me now…… or so I thought. Come to find out the man I rode like a b
Double Down by Alessandra Torre — New Release!!
Finale: "In Vegas, there was one man who was off limits.
One man… and I fell for him. 
I knew there were risks. Still, I played the game. When he called, I answered. When he beckoned, I came. When he broke all my rules, I looked the other way. I knew there were risks.
I just never realized they included death."
The Perfect Couple by Elin Hilderbrand — New Release!!
Standalone: "It's Nantucket wedding season [and] the Otis-Winbury wedding promises to be an event to remember: the groom's wealthy parents have spared no expense to host a lavish ceremony at their oceanfront estate.
But it's going to be memorable for all the wrong reasons after tragedy strikes: a body is discovered in just hours before the ceremony-and everyone in the wedding party is suddenly a suspect. As Chief of Police Ed Kapenash interviews the bride, the groom, the groom's mother, and even a member of his own family, he discovers that every wedding is a minefield-and no couple is perfect…"
Rainy Day Friends by Jill Shalvis — New Release!!
Standalone: "Rocked by the infidelity, she is left to grapple with searing questions. How could she be so wrong about a man she thought she knew better than anyone? Will she ever be able to trust another person?  Can she even trust herself?
Desperate to make a fresh start, she impulsively takes a job at the family-run Capriotti Winery. With no real family of her own, she's bewildered by how quickly they all take her under their wing and make her feel like she belongs. Especially Mark Capriotti, a gruffly handsome Air Force veteran turned deputy sheriff who manages to wind his way into her cold, broken heart—along with the rest of the clan…"
Vampire's Faith by Rebecca Zanetti — New Release!!
Can standalone: "Vampire King Ronan Kayrs wasn't supposed to survive the savage sacrifice he willingly endured to rid the world of the ultimate evil [and] he sure as hell wasn't supposed to finally touch the woman who's haunted his dreams for centuries. Yet here he is, in an era where vampires are hidden, the enemy has grown stronger, and his mate has no idea of the power she holds.
Dr. Faith Cooper is flummoxed by irrefutable proof that not only do vampires exist… they're hot blooded, able to walk in sunlight, and shockingly sexy. She has always depended on science, but the restlessness she feels around this predatory male defies reason. Especially when it grows into a hunger only he can satisfy…"
Almost Impossible by Nicole Williams — New Release!!
Standalone: "When she decided to spend the summer with her aunt in California, she thought she knew what she was getting into. But nothing could have prepared her for him. She hasn't been in suburbia long and even she knows her annoying (and annoyingly cute) next-door neighbor spells T-R-O-U-B-L-E. 
And when he learns she plans to spend her first American summer hiding out reading books, he refuses to be ignored. Sneaking out, staying up, and even a midnight swim, he is determined to give Jade days—and nights—worth remembering… But [she] knows he is hiding a secret—and she's determined to find out what it is."
Wicked and the Wallflower by Sarah MacLean — New Release!!
Can standalone: "When a mysterious stranger finds his way into her bedchamber and offers his help in landing a duke, Lady Felicity Faircloth agrees—on one condition. She's seen enough of the world to believe in passion, and won't accept a marriage without it.
 
Bastard son of a duke and king of London's dark streets, Devil has spent a lifetime wielding power and seizing opportunity, and the spinster wallflower is everything he needs to exact a revenge years in the making… But she'd rather have Devil than another. Soon, Devil's carefully laid plans are in chaos and he must choose between everything he's ever wanted… and the only thing he's ever desired."
Down Deep: A Station Seventeen Engine Novel by Kimberly Kincaid — New Release!!
Can standalone: Ian Gamble has a past he'd rather forget—which is exactly what he's doing at The Crooked Angel Bar and Grill when the place catches fire. Between his active duty in the Marines and his experience as a firefighter, his instincts get him and hot, headstrong bar manager, Kennedy Matthews, to safety. But those same instincts kick into high gear when the fire is ruled an arson, and he discovers Kennedy's got secrets of her own.
The only thing that matters more to Kennedy than her bar is her brother. When she finds out he's in over his head with a dangerous arsonist, she'll do anything to keep him safe—even if it means teaming up with Gamble, who's too sharp-eyed and hard-bodied for his own good. With every step, their attraction flares hotter and the risks grow more dangerous…
Love Like Crazy by Magan Vernon — New Release!!
Can standalone: Vegas was a trip, and that was an understatement. An understatement I couldn't remember and that included the brunette in my bed.
That is until my pounding headache had me getting up for a glass of water and I saw the marriage license on the ground.
The words: Clay Carrington and Christy Quinn and holy matrimony staring me in the face.
I came to Vegas to get away, and the bratty owner's daughter of the ranch wanted to come with. I didn't even like the boss's daughter, let alone want to marry her.
I guess things the happened in Vegas had a way of following you home.
Cry Baby by Ginger Scott — New Release!!
Standalone: Tristan Lopez is loyal to his brothers. He doesn't really have a choice, born into a gang that has a chokehold on every kid that roams its streets. He gave his life to them willingly, knowing if he did then one day this kingdom, led by boys drunk with power and ruled by fear, would all be his.
He was loyal through it all. Loyal when prison took his dad away. Loyal when his face was touched by the cold metal of the rival gang's gun. Loyal even though his mom begged him to run the moment she returned home from rehab.
He thought about becoming someone else. It was hard not to crave the life of a regular 17-year-old. It's the only reason he stayed in school—to pretend. But he always fell back in line.
Loyal.
Riley Rojas didn't belong in Tristan's real world. She should have only been part of the fantasy, one of the many faces he got to pretend with amidst rows of metal chairs and desks and whiteboards with assignments. But there she was, moving boxes from the back of an old pick-up into a house Tristan had shot up on a dare with his friends only a few months before.
Tall enough to look him in the eyes and strong enough to fill his shadow, Riley took up space on his streets, her loud mouth fearless in the face of the gang leaders who terrified everyone else. She pushed Tristan around on the hard court, and she balled better than his friends—better than him sometimes. She challenged him. She needed him. He liked it. And when her pale blue eyes stared into his, he quit wanting to pretend.
He couldn't ask her to leave because she'd only dig her heels in deeper. He couldn't ask because he didn't want her to go. She was blurring his lines. She was testing his loyalty.
He was falling in love.
And it was going to tear him apart.
LATEST BOOK SALES
UPCOMING BOOK RELEASES
BOOKWORM STORE
WHAT KIND OF BOOKS ARE YOU LOOKING FOR?
__________________________________
Let me know if there are any other books you're loving right now too!!
LET'S STAY CONNECTED
To get these lists sent to you every week, subscribe by email.
FOLLOW THE BLOG
Facebook | Twitter | Instagram | Pinterest | BlogLovin' | Google+ | Goodreads