Tenleigh.
Half agony, half hope.
Half pain, half ecstasy.
Half grief, half joy.
Half my downfall, half my savior.
WOW!! Mia Sheridan can do no wrong. I absolutely loved this book! A unique, deeply heart-wrenching, beautifully written story about hope, sacrifice, courage, and the endurance and strength of true love. It kept my heart racing and I could not put it down!! 
There's a special anticipation you feel before starting a book by one of your favorite authors… and my heart was racing even before I started reading. I could just tell this was going to be an amazing journey.
Living in a dead end town nestled in a nearly forgotten part of the mountains, Tenleigh and Kyland grew up hungry every day, dirt poor, and with very little to look forward to. No hopes, no dreams, nothing. Just lonely hearts, broken families, and empty bellies. Their one chance at a building a new life outside their town was through a scholarship. And they both were working towards it with everything they had.
Despite their intense mutual attraction, neither one of them could afford the distraction or complication of a potential relationship. They both avoided commitment, not only from each other, but from everyone around them. The need for freedom and a better life being the one thing that kept them going through the desolation. Kyland knew he was getting out, and nothing — not even love — would hold him back.
"I'm going to leave here, Tenleigh. Nothing is going to stop me. Not you, not anything. Not anyone. Do you hear me? … I'm leaving this place behind when I go. Everything about this place. Even you."
But as hard as he tried, as hard as they tried to fight the pull they both felt towards each other, their hearts didn't care what their minds wanted and falling in love changed the course of both of their lives.
"Kiss me back, Tenleigh," he whispered, his voice strained. "God, please kiss me back." He brushed his lips softly over mine.

"I understand that you're leaving, Kyland. I already know."
And I want you anyway. Maybe I shouldn't. But I do.
You could almost say that their romance was forbidden by them. They did their best not to fall for each other. It was heart wrenching to see them try so hard, and yet I couldn't help but root for them to find a way to make it work. Somehow.
"You should tell me to go, Tenleigh. And say it like you mean it. Tell me to leave because I can't seem to do it on my own."
Oh gosh, you guys… I fell so completely in love with Kyland. What this guy went through broke my heart over and over again. The more I read, the more I wished I could just reach into the book and hug him.
"I do go to hell. Every day. For you."
True to Mia Sheridan's style, this book is not only emotionally charged, but it is also scorching hot! I could feel their passion and longing for each other. It was erotic and sexy, and oh-so-beautifully written.
"I wanted to mark her, claim her, let everyone know that she belonged to me and only me… I'd dreamed about that damn kiss every night since. I wasn't going to do it again, though. As much as I wanted to. I wasn't going to take something from her I could never give back… She deserved better."
Now, you know that feeling when you're reading where you get to a point and you just KNOW that something horribly painful is coming and you're almost terrified to keep reading because you just know that it's going to rip your heart out?! Well, that's how I felt at the halfway mark of this book.
"Please don't cry… Anything but that. Please." He sounded desperate. "This is what I've been trying to avoid. This. I don't want either of us to feel this way."

"Well, I do! And you don't get to take that from me. I love you, and you don't get to say anything about it. The love I feel for you is mine. And I'll feel it if I want to."

"Tenleigh," he repeated, his voice cracking. "Don't love me. Please don't love me. I can't stay here. Don't love me."
I knew something was coming and I knew it would hurt but OMG, I was not expecting that!!!! I read a certain few lines and just gasped in shock!!! My exact words that I shouty-caps screamed at a friend was "WHAT THE ACTUAL F*CK JUST HAPPENED??!!" … heh. If you get to that point and have the same reaction, I'm going to tell you to just trust me and keep reading. Ok. Deep breaths. Just keep reading.
I did keep reading (obviously) since despite the fact that my heart had been ripped out, I was LOVING this book!! But, let me tell you, I pretty much did not blink from about 50-80%.  I just sat there flipping pages as fast as I could with my heart lodged firmly in my throat… needing to know what happened next.
Ohhhh Kyland. I fell hard for him! When you love someone with all your heart and soul, you'll sacrifice anything for them. Everything. No matter the cost. And, this guy was honestly probably one of the noblest, most self-sacrificing heroes I've ever read. The world would be a better place with more guys like him in it.
I have loved every single book Mia Sheridan has written. I love her stories, her characters, and the pure raw emotions she conveys. I love that her stories have layers and depth and always stay in my heart long after I've finished reading. She is truly one of the most gifted authors I've ever read. All her books are always auto-buys for me. I honestly don't even need to know what they're about. I have complete trust in her as an author. If she wrote it, I'll read it. And I can't wait to see what she comes up with next!
Rating: 5 stars! Standalone Adult contemporary romance.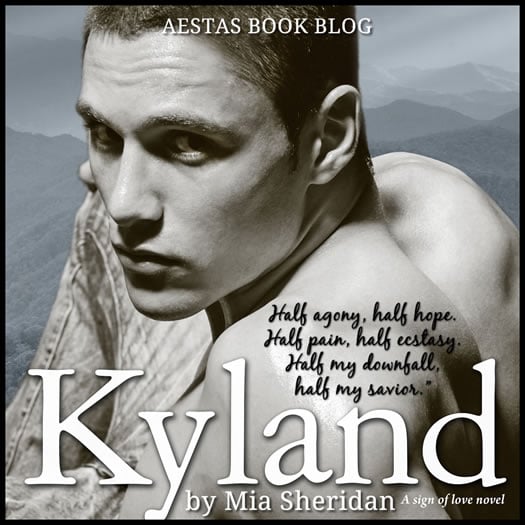 *** SIGNED GIVEAWAY ***
Open Internationally. Void where prohibited by law. Must be over 18 to enter.
3 winners will signed paperbacks of Kyland.
a Rafflecopter giveaway