RARE & FLASH SALES:
Four Letter Word by J Daniels is on a FLASH SALE!! It can standalone and I loved it! — "Sydney Paige was never so mortified to hear the words "wrong number" in her life. She meant to tell off the guy who broke her best friend's heart, but unleashed her anger on a perfect stranger instead. And now her world is turned upside down by the captivating man who wants to keep her on the line… Brian Savage is living a life he's quickly come to hate-until Sydney's wild rant has him hooked and hungry for more. Soon the sexy woman on the phone becomes the lover in his bed. But Brian has secrets, and the closer he lets Syd get, the harder it is to shield her from the devastating mistakes of his past."

On Dublin Street by Samantha Young is on a RARE SALE!! It can standalone! — "Braden Carmichael is used to getting what he wants, and he's determined to get Jocelyn into his bed. He knows she has a past, one that has made her skittish about getting into a relationship, so he proposes an arrangement that will satisfy their intense attraction without any strings attached… But after an intrigued Jocelyn accepts, Braden decides he won't be satisfied with just mind-blowing passion. The stubborn Scotsman is intent on truly knowing her…down to the very soul."
More new books sales are listed at this link!
WEEKLY NEW RELEASES RECAP

HOT NEW RELEASES (NOW LIVE):  
DETAILED LIST: NEW RELEASES
The Mister by E L James — New Release!!
"London, 2019. Life has been easy for Maxim Trevelyan. With his good looks, aristocratic connections, and money, he's never had to work and he's rarely slept alone. But all that changes when tragedy strikes and Maxim inherits his family's noble title, wealth, and estates, and all the responsibility that entails. It's a role he's not prepared for and one that he struggles to face.
But his biggest challenge is fighting his desire for an unexpected, enigmatic young woman who's recently arrived in England, possessing little more than a dangerous and troublesome past. Reticent, beautiful, and musically gifted, she's an alluring mystery, and Maxim's longing for her deepens into a passion that he's never experienced and dares not name. Just who is Alessia Demachi? Can Maxim protect her from the malevolence that threatens her? And what will she do when she learns that he's been hiding secrets of his own?"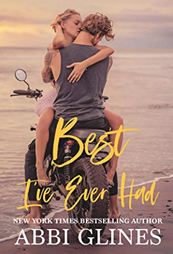 Best I've Ever Had by Abbi Glines — New Release!!
"Summer had returned. The nightlife lit up the coastal town of Sea Breeze, Alabama with scantily clad sun-kissed bodies, live music, the smell of fresh cooked seafood.
Taking it all in, he wondered if coming back had been the best thing. He wasn't the same man who had driven out of town a year ago on the motorcycle he'd bought after his best friend's wedding. From the messy blonde curls he'd let grow out, to the tattoos now covering his arms, part of his chest and even the side of his neck, it all represented a part of his journey.
Eli Hardy was back, but he didn't plan on staying for long. "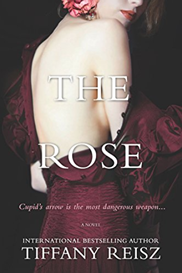 The Rose by Tiffany Reisz — New Release!!
"On the day of Lia's university graduation party, her parents—wealthy art collectors with friends in high places—gift her a beautiful wine cup, a rare artifact decorated with roses. It's a stunning gift, and one that August Bowman, a friend of her parents and a guest at Lia's party, also has his eye on. The cup, August tells her, is known as the Rose Kylix, and it's no ordinary cup. It was used in the temple ceremonies of Eros, Greek god of erotic love, and has the power to bring fantasies to life.
But Lia is skeptical of August's claims of the cup's mythology and magic—after all, he's a collector himself, and she suspects he just wants to get his hands on this impressive piece of art. So he dares her to try it for herself, and when Lia drinks from the Rose Kylix she is suddenly immersed in an erotic myth so vivid it seems real—as though she's living out the most sensual fantasy with August by her side…
Realizing the true power of this ancient and dangerous relic, Lia is even more wary of giving it up, though August insists it is only safe with him. He's willing to pay the full value of the cup, but Lia has another type of trade in mind. One that finds them more tangled up in each other—and in fantasy—than either was prepared for."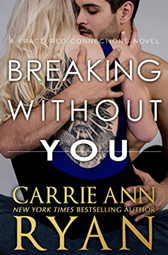 Breaking Without You by Carrie Ann Ryan — New Release!!
"I fell for Cameron Connolly at the wrong time. And when he left, I thought my life was over. But then, after the worst happened, I truly understood what that phrase meant. Now, he's not ready for a second chance, and I'm not offering one. Though given that our families have been forced together after losing one of our own, I know there's no turning back. Not this time. Not again. Not when it comes to Cameron."
"I never wanted to hurt Violet Knight, but there were reasons I had to leave all those years ago—not that she'd believe me if I told her what they were. I not only left her, I also left my foster brothers. Honestly, I didn't want to come back to Denver to help run my father's failing brewery. But when it comes to my brothers, I know I'll find a way to make it work. Perhaps I'll even earn Violet's forgiveness and face the connection we both thought long forgotten in the process. Because I wanted her then, but now I know I need her. I just hope she needs me."
LATEST BOOK SALES
UPCOMING BOOK RELEASES
BOOKWORM STORE
WHAT KIND OF BOOKS ARE YOU LOOKING FOR?
__________________________________
Let me know if there are any other books you're loving right now too!!
LET'S STAY CONNECTED
To get these lists sent to you every week, subscribe by email.
FOLLOW THE BLOG
Facebook | Twitter | Instagram | Pinterest | BlogLovin' | Google+ | Goodreads