JUST ANNOUNCED: Gypsy King by Devney Perry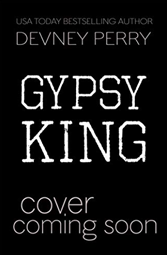 I AM SOOOO EXCITED FOR THIS!!! As many of you know, Devney Perry is one of my favorite authors EVER and I've literally loved every book she's written so I'm incredibly excited for this brand new series she just announced!! — "The former Tin Gypsy motorcycle club has everyone in Clifton Forge, Montana convinced they've locked their compound doors and ripped off their patches. Everyone but Bryce Ryan. There's more happening at the club's garage than muscle car restorations and Harley rebuilds. Her instincts are screaming there's a story—one she's going to tell. As the new owner of the small town's newspaper, Bryce is hungry for more than birth announcements and obituaries. When a woman is brutally killed and all signs point to the Tin Gypsies, Bryce is determined to expose the club and their leader, Kingston "Dash" Slater, as murderers. Bryce bests Dash match after match, disappointed her rugged and handsome opponent turns out to be an underwhelming adversary. Secrets are exposed. Truths defeat lies. Bryce is poised to win this battle in a landslide. Then Dash breaks all the rules and tips the scales. One kiss, and she's fighting to save more than just her story. She's fighting to save her heart from the Gypsy King." — Be sure to pre-order your copy and if you're new to her books, here's her full book list!

JUST ANNOUNCED: Never Fall In Love With A Rockstar by Rachel Higginson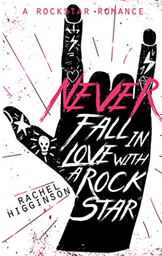 I've loved many of this author's books over the years so I'm looking forward to this new one she just announced! — "My name is Clover Calloway and I've lived two separate lives. The first, I like to call "my past." I never talk about it. I try not to think about it. My rockstar days of playing in one of the hottest bands on the planet are over. Along with the most volatile, beautiful, tragic love story of all time. Over the past five years, I've settled into my second life. My "normal life." The one where I work a normal job, hang out with normal people and fall in love with a normal, but wonderful guy. The life where I'm admittedly a little bored, but also safe. My past wasn't boring. But my past broke my heart into a million, unfixable pieces. So, I'm determined to keep it where it belongs—behind me. And the man responsible for the shattering of me? Malachi Porter, lead singer and mastermind of Bright Tragedy, should stay there too. Far away from me and this idyllic life I've carved out for myself. But what happens when my two lives collide? When Malachi comes crashing into my perfectly normal world, he threatens to destroy it, promises to annihilate everything I've replaced him with. He upends everything I thought I wanted and forces me to question the reasons I left Bright Tragedy all those years ago. But I didn't walk away five years ago, I ran. As fast as I could go. And while my heart is whispering that it's different this time—that he's different—my brain is screaming for me to run again. Malachi Porter isn't a normal guy. And he doesn't belong in my "normal life." But, nevertheless, he's bound and determined to make a place for himself here. I just hope my heart can survive him, that we don't burn into another bright tragedy." — Be sure to pre-order your copy!
WEEKLY NEW RELEASES RECAP

HOT NEW RELEASES (NOW LIVE):  
LATEST BOOK SALES
UPCOMING BOOK RELEASES
BOOKWORM STORE
WHAT KIND OF BOOKS ARE YOU LOOKING FOR?
__________________________________
Let me know if there are any other books you're loving right now too!!
LET'S STAY CONNECTED
To get these lists sent to you every week, subscribe by email.
FOLLOW THE BLOG
Facebook | Twitter | Instagram | Pinterest | BlogLovin' | Google+ | Goodreads