COVER JUST ANNOUNCED: Tattered: Lark Cove by Devney Perry (can standalone)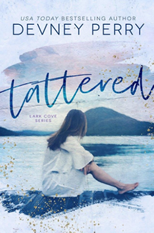 OMG. OMG. OMG. This is a BRAND NEW BOOK in a BRAND NEW SERIES (of standalones) by one of my TOP FAVORITE AUTHOR!!!! I love EVERYTHING she writes! — "Thea Landry has always known her place in modern-day society. It's somewhere just above the trash can her mother dumped her in as a newborn but below the class where much comes easy. With her tattered shoes and bargain-bin clothes, her life has never been full of glamour. So when a rich and charismatic man walks into her bar, she doesn't fool herself into thinking their encounter is anything more than a one-night stand. Months later, she's kicking herself for not getting his phone number. Or his last name. She's given up hope of seeing him ever again. Until one day, years later, Logan Kendrick waltzes into her bar once more and turns the life she's built upside down. This time around, she won't make the same mistake. She's going to fight to keep him in her life—not for herself. But for their daughter." — Be sure to pre-order!

MORE RECOMMENDATIONS BY THIS AUTHOR: (each book is about a different couple)

NEW REVIEW & RELEASE: Love At Last by Claudia Connor (Read my Review)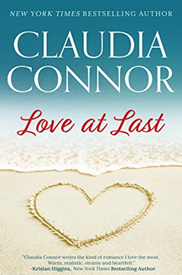 NOW LIVE!!!! This was a sweet, sexy, satisfying new romance that I've been super excited to read every since I heard about it. If you love SINGLE PARENT ROMANCES and if you swoon over protective heroes who are amazing fathers, then you're going to love this book!!!! I read it in one sitting and was left feeling so HAPPY!!! It was such a heart-warming love story. I've loved every book I've read by this author and this one was exactly what I was looking for right now!!! It's a complete standalone and it's also WENT LIVE TODAY so be sure to grab a copy!!
See below for MORE new releases that sound good and are now live!!!

MORE BOOKWORM NEWS:
The Royally Collection by Emma Chase just went live and I LOVED THESE BOOKS!!! You can 3.5 books for the price of 2 books! So 33% OFF! — "Prepare to be swept off your feet by three sexy, swoony, modern royal romances that will capture your heart, and satisfy your desire for a breathtaking happily ever after." — I've read them all and super enjoyed them! — "I'm marrying Lady Sarah Mirabelle Zinnia Von Titebottum." The words come out quiet and true. The earth is round. The sky is blue. I'm marrying Sarah. She doesn't know it yet, but… one step at a time.

Speaksy by Sarina Bowen was just announced! This is the latest standalone in the True North series! — Her: "Did you hear the one about the girl who walks into a bar and catches her lover kissing someone else? No? You're the only one in town who missed it. Luckily Alec is there to wrap me up in strong arms and carry me out the door before things get too ugly. And that's not all Alec is good at. Our unexpected chemistry makes him the perfect rebound guy… Him: "I should know better than to hook up with my rival's little sister, but the fiery look in May's eyes really turns my crank. She needs cheering up, and I'm just the guy for the job. It's not like I'll fall in love. Not even after a string of scorching hot trysts, and the realization that we're good at the same things: wild nights and familial disappointment. I don't do love, never have, never will. So this is the perfect arrangement, for both of us. Nobody would approve, but nobody has to know…"
WEEKLY NEW RELEASES RECAP

HOT NEW RELEASES (NOW LIVE):  
DETAILED LIST: NEW RELEASES
Love At Last by Claudia Connor — New Release!!
Standalone: "I'm in love with someone else." With her ex-groom's words still ringing in her ears, she flies off alone to her would-be honeymoon. Forced to accept not everyone gets that happily ever after she's always dreamed of, she's done with men. Until she gets tangled up, quite literally, with one sexy veterinarian…
The only thing he wants is to get back to his two year old twin daughters. But, the connection he feels with her just how alone he really is and makes him wonder if he can be more than doctor and daddy… Long talks and moonlit walks under the rustle of palms has her thinking maybe she gave up on love too soon. Until one phone call from home changes everything…"
Savor You by Kristen Proby — New Release!!
Can standalone: "Cooking isn't what Mia Palazzo does, it's who she is. Food is her passion… her pride… her true love. She's built a stellar menu full of delicious and sexy meals for her restaurant, Seduction. Now, after being open for only a few short years, Mia's restaurant is being featured on Best Bites TV. To say Seduction is a wild success is an understatement. All the blood, sweat, tears, and endless hours of work Mia has put into the restaurant has finally paid off. 
Then Camden Sawyer, the biggest mistake of her life, walks into her kitchen…"
Disturbing His Peace by Tessa Bailey — New Release!!
Can standalone: "She can't stand him. Her roommate's older brother may be sexy as hell, but he's also a cold, unfeeling robot. She just wants to graduate and forget about her scowling superior. But when a dangerous mistake lands her on probation—under his watch—she's forced to interact with the big, hulking jerk. Call him daily to check in? Done. Ride shotgun in his cruiser every night? Done. Try not to climb into his giant, muscular lap and kiss him? Umm…
He doesn't let anything distract him from the job. Except lately, all he can think about is her. He's wanted the beautiful, cocky recruit since the moment he saw her. But she's reckless and unpredictable, and he is painfully aware of what can happen when an officer doesn't follow the rules. Probation seemed like a good idea, but now her scent is in his car and he's replayed her voicemails twenty times. Christ, he's a goner.
She's melting his stone-cold exterior one ride-along at a time. Being together could have serious consequences… but breaking a few rules never hurt anybody, right?"
My Oxford Year: A Novel by Julia Whelan — New Release!!
Standalone: Set amidst the breathtaking beauty of Oxford, this sparkling debut novel tells the unforgettable story about a determined young woman eager to make her mark in the world and the handsome man who introduces her to an incredible love that will irrevocably alter her future—perfect for fans of JoJo Moyes and Nicholas Sparks.
American Ella Durran has had the same plan for her life since she was thirteen: Study at Oxford. At 24, she's finally made it to England on a Rhodes Scholarship when she's offered an unbelievable position in a rising political star's presidential campaign. With the promise that she'll work remotely and return to DC at the end of her Oxford year, she's free to enjoy her Once in a Lifetime Experience. That is, until a smart-mouthed local who is too quick with his tongue and his car ruins her shirt and her first day.
When Ella discovers that her English literature course will be taught by none other than that same local, Jamie Davenport, she thinks for the first time that Oxford might not be all she's envisioned. But a late-night drink reveals a connection she wasn't anticipating finding and what begins as a casual fling soon develops into something much more when Ella learns Jamie has a life-changing secret.
Immediately, Ella is faced with a seemingly impossible decision: turn her back on the man she's falling in love with to follow her political dreams or be there for him during a trial neither are truly prepared for. As the end of her year in Oxford rapidly approaches, Ella must decide if the dreams she's always wanted are the same ones she's now yearning for.
Iron Princess by Meghan March — New Release!!
"He's a mystery. An enigma. 
His very identity is a secret buried beneath layers of deception.
He's also an addiction I can't shake. An attraction I can't fight.  And then I found out exactly who he is—a man more dangerous than the devil himself… Now I need him in order to save everything that matters to me.  I have to pull back. Protect myself from the danger that haunts his every step.  Which would be easy… if I could stop myself from falling in love with him."
The Troublemaker by Lili Valente — New Release!!
Standalone: "As long as Trouble comes in a package as delicious as his, I'm ready to climb on his Harley and ride all night long—and I'm not just talking about his motorcycle… I can hide out until the scandal with my evil ex blows over AND have a wild rebound at the same time. Besides, I've got no heart left to break. My ex made sure of that… As long as he and I keep our no-strings fling from our families, what can possibly go wrong?"
"I don't do drama [and] after one red-hot kiss, I know I should cut and run. Instead I take her home… And then I take her so far into my heart I don't see how I'm ever going to let her go. The say the bigger and badder they are, the harder they fall. But when I fall for a girl with third degree love burns, how can I convince her that fire is a good thing?"
Blood Type by K.A. Linde — New Release!!
 "Giving up her body isn't a choice. It's survival… In a civilization laid waste by poverty and desperation, she accepts a high-paying position with the wealthy and hungry vampire elite. Her new job is as the live-in blood escort for the intimidating, demanding, and devilishly handsome Beckham Anderson. He's everything she expected from a vampire, except for one thing—he won't feed off her.
 
She soon discovers that behind his brooding, wicked façade lies a unique and complex man. And that, in a dark and divided world, she is more valuable than she ever would have believed. For with each passing night, she can't shake the sensation that it's Beckham who's afraid of her."
Misadventures with the Boss by Kendall Ryan — New Release!!
Can standalone: "At age twenty-nine, she is having the longest dry spell of her life. When she agrees to be set up on a blind date, she never expects it to end with the hottest sex of her life.
But when she discovers that her very well-endowed secret lover is also her new boss, heartless womanizer and cutthroat CEO Jackson Dane, she chalks it up to a one-time mistake and puts up her best professional front. But he isn't used to rejection, and if she thinks it's going to be easy to move on from their tryst, she's underestimated his determination…"
Rome's Chance by Joanna Wylde — New Release!!
Can standalone: "He knew he was in trouble the first time he saw her. She was sweet and pretty and just about perfect in every way. She was also too innocent for the Motorcycle Club. He did the right thing, and walked away.
The second time, he couldn't resist tasting her. Gorgeous and smart, fun and full of wonder, she jumped on his bike and would've followed him anywhere. Still, she deserved a shot at happiness somewhere bigger and better… Walking away wasn't so easy that time, but her family needed her and he had a job to do. When she came around a third time, he'd had enough. She had been given two chances to escape, and now it was time for him to take his. This time, the only way she would be leaving [town] was on the back of his bike."
Dead Girl Running by Christina Dodd — New Release!!
"I have three confessions to make:
1. I've got the scar of a gunshot on my forehead.
2. I don't remember an entire year of my life.
3. My name is Kellen Adams…and that's half a lie.
Girl running…from a year she can't remember, from a husband she prays is dead, from homelessness and fear. Tough, capable Kellen Adams takes a job as assistant manager of a remote vacation resort on the North Pacific Coast. There amid the towering storms and the lashing waves, she hopes to find sanctuary. But when she discovers a woman's dead and mutilated body, she's soon trying to keep her own secrets while investigating first one murder…then another. 
Now every guest and employee is a suspect. Every friendly face a mask. Every kind word a lie. Kellen's driven to defend her job, her friends and the place she's come to call home. Yet she wonders–with the scar of a gunshot on her forehead and amnesia that leaves her unsure of her own past–could the killer be staring her in the face?"
Then She Was Gone by Lisa Jewell — New Release!!
"Ellie Mack was the perfect daughter. She was fifteen, the youngest of three. She was beloved by her parents, friends, and teachers. She and her boyfriend made a teenaged golden couple. She was days away from an idyllic post-exams summer vacation, with her whole life ahead of her.
And then she was gone.
Now, her mother Laurel Mack is trying to put her life back together. It's been ten years since her daughter disappeared, seven years since her marriage ended, and only months since the last clue in Ellie's case was unearthed. So when she meets an unexpectedly charming man in a café, no one is more surprised than her at how quickly their flirtation develops into something deeper. Before she knows it, she's meeting his daughters—and his youngest, Poppy, takes her breath away.
Because looking at Poppy is like looking at Ellie. And now, the unanswered questions she's tried so hard to put to rest begin to haunt Laurel anew. Where did Ellie go? Did she really run away from home, as the police have long suspected, or was there a more sinister reason for her disappearance? Who is Floyd, really? And why does his daughter remind Laurel so viscerally of her own missing girl?"
Sky in the Deep by Adrienne Young — New Release!!
"A 2018 Most Anticipated Young Adult book that is part Wonder Woman,part Vikings—and all heart.
Raised to be a warrior, seventeen-year-old Eelyn fights alongside her clansmen in an ancient, rivalry against the Riki clan. Her life is brutal but simple: fight and survive. Until the day she sees the impossible on the battlefield—her brother, fighting with the enemy—the brother she watched die five years ago.
Faced with her brother's betrayal, she must survive the winter in the mountains with the Riki, in a village where every neighbor is an enemy, every battle scar possibly one she delivered. But when the village is raided by a ruthless clan thought to be a legend, she is even more desperate to get back to her beloved family.
She is given no choice but to trust Fiske, her brother's friend, who sees her as a threat. They must do the impossible: unite the clans to fight together, or risk being slaughtered one by one. Driven by a love for her clan and her growing love for Fiske, she must confront her own definition of loyalty and family while daring to put her faith in the people she's spent her life hating…"
Wild In Love by Bella Andre & Jennifer Skully — New Release!!
Can standalone: "He's proud of the billion-dollar business he's built, but there are few things he enjoys more than creating something with his bare hands. Lake Tahoe has everything he's looking for—the lakefront cabin he's building for family and friends to enjoy, crystal clear water and lush green mountains. Everything except the perfect woman to share it with. Until Tasha Summerfield literally falls into his arms.
 
After learning that her family has lied to her for pretty much her entire life, she flees San Francisco for the mountains. As she tries to bury her heartache by hammering her dilapidated cabin back together, the last thing she expects is to fall for a sexy billionaire…" 
Absent in the Spring by Carrie Elks — New Release!!
Can standalone: "A successful lawyer, and the eldest of four sisters, she is used to being in control of everything and everyone around her, most particularly herself – that is until she meets the gorgeous Lachlan MacLeish. 
He's hired her because he needs the best. His inheritance is suddenly in doubt, thanks to his devious half-brother. The very last thing he wants is a distraction, but as soon as he sees her, he knows he's in trouble. Despite their efforts to resist, it isn't long before he has her longing to break all her careful rules. As they travel from Scotland, to Paris and on to New York, she can't help but wonder: is it sometimes worth risking it all?"
Chase Calloway by Sandi Lynn — New Release!!
Can standalone: "I've been named L.A.'s sexiest and most eligible bachelor. I'm filthy rich, live in a house on the beach, drive a fast sports car, and I do a job I love. My hobbies include partying and beautiful women. A lot of beautiful women. They adore me because I'm charming and fun until I walk away, leaving them crying on the floor and begging me to stay. I can have any woman I want with the snap of my fingers, except for one-an incredibly beautiful woman named Kinsley Davis. She isn't affected by me in the least. In fact, she wants nothing to do with me, and I can't figure out why. After all, I am Chase Calloway. She'll be tough, but I'll break her. I'll get her into my bed, leaving her so satisfied that she'll become addicted, and when she does, I'll break her heart. It's what I do best. It's all I know. I'm incapable of love. My fears run too deep and they keep me in control at all times. My life was all fun and games until the unthinkable happened, and I'm left with no choice but to face my greatest fear of all."
LATEST BOOK SALES
UPCOMING BOOK RELEASES
BOOKWORM STORE
WHAT KIND OF BOOKS ARE YOU LOOKING FOR?
__________________________________
Let me know if there are any other books you're loving right now too!!
LET'S STAY CONNECTED
To get these lists sent to you every week, subscribe by email.
FOLLOW THE BLOG
Facebook | Twitter | Instagram | Pinterest | BlogLovin' | Google+ | Goodreads