RARE SALE & TOP FAVORITE: The Coppersmith Farmhouse by Devney Perry (Read my Review)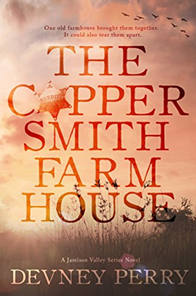 OMG!! This is the first standalone in one of my ALL-TIME FAVORITE series!! If you haven't read it yet or if you're new to this author you're in luck because it's ON SALE right now!! — "One old farmhouse brought them together. It could also tear them apart… Gigi has just uprooted her whole world to start a new life. The unexpected gift of a farmhouse in small-town Montana is just what she and her daughter need to escape big-city loneliness. The last thing she needs is attitude from the town's sheriff, the most perfectly attractive and ruggedly handsome man she's ever laid eyes on—and a complete jerk… Jess knows all about women like Gigi. Beautiful. Sexy. Scheming. She's stolen his sanctuary, the farmhouse that should have been his. But along with a face full of freckles, she's got a sharp wit and a backbone of steel—something he doesn't discover until after making a complete fool of himself. If he can earn back her trust and win her heart, he might just find the home he's always needed."— grab a copy on sale!!
WEEKLY NEW RELEASES RECAP

NEW & MIDNIGHT RELEASES:  
DETAILED LIST: NEW RELEASES
Slow Burn by Kristen Ashley — New Release!!
Second standalone in Moonlight and Motor Oil series: "Tobias Gamble knew from a young age precisely the kind of woman he was going to make his. She was not going to be like his mother. She was going to be like the mother he claimed. In other words, she was going to be just right. And when Toby returns to his hometown of Matlock, Kentucky and claps eyes on Adeline Forrester, he knows she's the one. The problem is, his brother Johnny has a new girlfriend. And Addie is her sister. Last, Toby would do nothing to hurt Johnny's chance at happiness. Toby hangs around town to get to know the woman Johnny fell in love with. He also hangs around to get to know Addie. But he's fallen hard, and he knows the best thing for him—and Addie—is for him to leave. Addie Forrester is thrilled her sister Eliza found a good, solid man. Johnny Gamble is the salt of the earth. The best guy in the world. The best except for his brother, Toby. Toby doesn't know it, but Addie's fallen hard too. He's perfect, except for the fact that he's hands off and it's torture, being friends with Toby when she wants so much more. Addie also has a lot on her mind. She's got bills to pay, her young son needs food, Christmas is coming and her job at the grocery store just isn't cutting it. Toby is steering clear of Addie. Addie is steering clear of Toby. But everyone around them knows this is the slow burn. Because just like Eliza and Johnny, Addie and Toby were made for each other."
Just My Type by Tara Sivec — New Release!!
Can standalone: "Ember Hastings never thought she'd be dragged away from everything she loved, thrust in the middle of a big city she hated, or have her husband of nine years say, "I can't do this anymore," all within the span of three months, yet here she is. She misses her family, she misses the farm, and she misses having a backbone and caring whether or not the stain on her shirt is chocolate or sh*t. She works from home doing transcription. Does she really need to shower or leave the house? Baker Matthews has been bringing everyone down lately with his grouchy attitude. His job is stressful and sometimes depressing, but he wouldn't change anything about it. When a glitch with the transcription company he's using mistakenly sends him notes he wasn't supposed to see, Baker finds himself laughing out loud for the first time in months. He's never met a woman who says whatever she's thinking and doesn't fawn all over him when she finds out what he does for a living. Until Ember Hastings comes barreling into his life, calling him Sh*t Mouth and asking if he has any balls. But she wants to keep this professional [so] Baker will have to get creative if he wants to prove to Ember that he's just her type."
The Revenge Plan by Linda Kage — New Release!!
Can standalone: "After I caught my boyfriend cheating, I tried to be mature about it with an amicable split. But he took his retaliation too far, and I have officially had enough. No more Miss Nice Haven. No one is allowed to lie to me, betray, embarrass, and devastate me, fill me with self-doubt, or put my future at risk, and expect to get away with it. He is going to feel my wrath. Enter Wick Webster, his archenemy. Nothing would provoke my ex more than to see me moving on with the one guy he hates most, so that's exactly what I plan to do. The only hitch in my brilliant scheme is Wick himself. He's just gotta be all love-not-war and peace-is-the-only-way. He's more concerned about helping me heal than seeking my sweet revenge. And what the hell is it about his soothing presence and yummy looks that calls to me until I forget how much pain I'm in? He's making it awfully hard to use and abuse him for my malicious means. The damn guy is making me fall for him."
Tangled Up In You by Samantha Chase — New Release!!
Can standalone: "They'll change each other's fate… One fateful night he sustains a gunshot wound that could end his career as a police officer. If that's taken from him, he doesn't know what he'll do. The only ray of hope is a kindhearted single mom who understands his struggles… She and her young son have just moved back to the Carolina coast to be near family. When she meets him, the timing feels wrong, but everything else feels oh-so-right. They each had plans for their own futures. But they're finding that those plans are meaningless if they can't be together…"
Falling For The Beast by Skye Warren — New Release!!
Sequel to Beauty and the Professor: "He can never turn back into a prince… A troubling revelation puts his newfound career in jeopardy—and even worse, puts her impending graduation at risk. He can't risk her future no matter how much he wants her. She will never have a happily ever after… A dark legacy threatens everything they've worked to build. When old debt comes between them, they must fight to protect each other—and their love. Since their forbidden beginning, their relationship has been marked by deep sensuality and intense emotion. The couple is tested at every turn. They're running out of time. They will have to trust each other to forge their own sexy ending."
Fluffy by Julia Kent — New Release!!
Can standalone: "It all started with the wrong Help Wanted ad. Of course it did. I'm a professional fluffer. It's NOT what you think. I stage homes for a living. Real estate agents love me, and my work stands on its own merits. Sigh. Get your mind out of the gutter. Go ahead. Laugh. I'll wait. See? That's the problem. My career has used the term "fluffer" for decades. I didn't even know there was a more… lascivious definition of the term. Until it was too late. The ad for a "professional fluffer" on Craigslist seemed like divine intervention. My last unemployment check was in the bank. I was desperate. Rent was due. The ad said cash paid at the end of the day. The perfect job! Staging homes means showing your best angle. The same principle applies in making a certain kind of movie. Turns out a "fluffer" doesn't arrange decorative pillows on a couch… Oh, man…"
Debase by Rachel Van Dyken — New Release!!
New series: "With blood on my hands, I held her. With death in my soul, I took from her. With the devil in my heart, I coveted her. There're many definitions of Hell. My list was exhaustive, my definitions tragic. Tonight I was adding something new to the very top. Girl number six thirty-two. She arrived on my birthday, the same day, every year, I play Russian Roulette and pull the trigger. She was my omen. My end game. She made it personal. And for the first time in my life, I gave in. A virgin mob boss with no soul. My name is Andrei Petrov. They call me the devil. All I want is for the pain to end. All she wants is for me to share it. I am the last remaining heir to a dynasty that should burn in Hell. And my last wish remains for it to die with me."
Fighting For Our Forever by Heidi Mclaughlin — New Release!!
The Beaumont Series: Next Generation: "The members of Sinful Distraction are living their best life as they travel around the country… Unfortunately for [their] drummer, that means a stop at the county jail after he's arrested for an outstanding warrant – one he didn't even know about. With an overzealous judge, he's forced to hang out in his hometown longer than anticipated… Some never get over their first love while some just can't erase the memories. She falls somewhere in the middle. She's done her best to let the past stay in the past…until she's forced to save the one man who ruined her."
Nothing But Trouble by Amy Andrews — New Release!!
Can standalone: "For five years, Cecilia Morgan's entire existence has revolved around playing personal assistant to self-centered former NFL quarterback Wade Carter. But just when she finally gives her notice, his father's health fails, and Wade whisks her back to his hometown. CC will stay for his dad—for now—even if that means ignoring how sexy her boss is starting to look in his Wranglers. To say CC's notice is a bombshell is an insult to bombs. Wade can't imagine his life without his "left tackle." She's the only person who can tell him "no" and strangely, it's his favorite quality. He'll do anything to keep her from leaving…"
Well Suited by Staci Hart — New Release!!
Can standalone: "Chemistry is my love language. I've always been able to separate feelings from chemosignals. A shot of dopamine, a dash of serotonin, and a sprinkle of oxytocin—and bam. You're in love. And when egg meets sperm, you're pregnant. I couldn't even be surprised as I stared down at the little blue plus sign, because I knew exactly when and how, and with whom it happened. When: approximately five weeks ago. Who: one night stand. How: prophylactic malfunction. The upside? I don't have to go looking for a suitable mate. Genetically, he's the cream of the crop. His musculature is a study in symmetry and strength, his height imposing and impressive. He is a man who thrives on control and command, a man who survives on intelligence and resourcefulness. A perfect male specimen. And the whole package is wrapped up in a flawlessly tailored suit. I'm having this baby, and he insists we're well-suited to have it together. And what's worse? He wants more, in the way of love and marriage. But love isn't real. It's just a product of chemistry. And if he changes my mind about that, we're both in trouble."
Birth of a Baby Daddy by Piper Rayne — New Release!!
Can standalone: "If you're having fun living your bachelor life in your Alaskan hometown and out of nowhere a woman shows up holding a baby she insists is yours, you need a plan-a birth plan. BP Step #1 – Lift your jaw off the floor. BP Step #2 – Figure out the baby's age-do the math. BP Step #3 – Try to remember the woman and with any luck, her name. BP Step #4 – Double check that she's not confusing you with your twin brother. BP Step #5 – Ignore your five sister's scowls as your entire family watches the drama unfold. There's only one thing you shouldn't do. BP Step #6 – Don't assume she's there because she wants your daughter to call you Daddy. You'll only end up disappointed. Time to figure out a new plan-one that changes her mind."
LATEST BOOK SALES
UPCOMING BOOK RELEASES
BOOKWORM STORE
WHAT KIND OF BOOKS ARE YOU LOOKING FOR?
__________________________________
Let me know if there are any other books you're loving right now too!!
LET'S STAY CONNECTED
To get these lists sent to you every week, subscribe by email.
FOLLOW THE BLOG
Facebook | Twitter | Instagram | Pinterest | BlogLovin' | Google+ | Goodreads