NEW RECOMMENDATION: Hold You Close by Corinne Michaels & Melanie Harlow (My Review)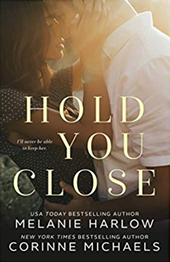 SQUEEEEEEE!!!!! I'M BACK TO READING!!!! Thank you all for being so patient with me while we moved. But now that we're settled, I will say that I have been just STARVED for books and was SO EXCITED to dive right back in and I devoured this new book in one sitting and it felt SOOOO GOOD to be reading again!!!!! This was a SEXY and yet EMOTIONAL second chance-ish romance with a strong ENEMIES-TO-LOVERS vibe going on!!! The hero and heroine had some serious HISTORY that'd left them both with very strong resentment against each other, BUT neither one had truly ever stopped loving each other. And when a heart-breaking tragedy suddenly made them guardians to his sister's children, they had to put aside all their differences and face the feelings that they'd been avoiding for so many years. This book was ADDICTIVE, SEXY, and had such a SWEET ending!!! There is bickering and banter, but also a lot of deep feels!!! If you're looking for a new read, definitely grab a copy of this!!!
WEEKLY NEW RELEASES RECAP

HOT NEW RELEASES (NOW LIVE):  
BOOKWORM STORE
WHAT KIND OF BOOKS ARE YOU LOOKING FOR?
__________________________________
Let me know if there are any other books you're loving right now too!!
LET'S STAY CONNECTED
To get these lists sent to you every week, subscribe by email.
FOLLOW THE BLOG
Facebook | Twitter | Instagram | Pinterest | BlogLovin' | Google+ | Goodreads