TOP RECOMMENDATION: The Candle Palace by Devney Perry (Read my Review)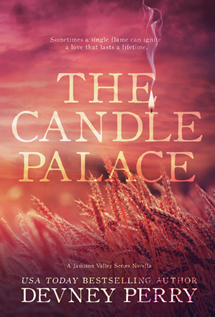 I absolutely love love LOVED this! It was an INTENSE and ROMANTIC love story that kept my heart racing from start to finish! I read it in one sitting and didn't want to put it down even for a second!! If you love PROTECTIVE HEROES and FORBIDDEN LOVE STORIES, then you absolutely must read this!! There was just enough angst and suspense to keep me on the edge of my seat, but plenty of swoon-worth, heart-warming romance to balance everything out. This was a GORGEOUS READ!!! I highly recommend it to absolutely everyone who loves romance and is looking for a beautiful new read to fall in love with! Be sure to grab a copy as it's now live!! Also, if you've never heard of these books before, the entire Jamison Valley series is AMAZING! They're interconnected standalone romances and I've loved each one!
WEEKLY NEW RELEASES RECAP

HOT NEW RELEASES (NOW LIVE):  
LATEST BOOK SALES
UPCOMING BOOK RELEASES
BOOKWORM STORE
WHAT KIND OF BOOKS ARE YOU LOOKING FOR?
__________________________________
Let me know if there are any other books you're loving right now too!!
LET'S STAY CONNECTED
To get these lists sent to you every week, subscribe by email.
FOLLOW THE BLOG
Facebook | Twitter | Instagram | Pinterest | BlogLovin' | Google+ | Goodreads