NEW RECOMMENDATION: Love Online by Penelope Ward (Read my Review)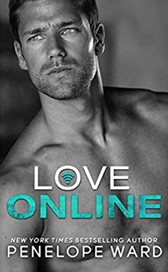 I totally LOVED this book!!! Okay so it's a TOTALLY unconventional romance. Like it's really not a normal way for the hero and heroine to meet, or get to know each other, or fall in love but IT FULLY WORKED for this story!!!! I loved that these characters were so GENUINE and down-to-earth and they COMMUNICATED so well!!! I loved how REAL the romance felt because, due to their circumstances, they were really falling for each other in a very unique way!!! And I loved all the reveals as well. I really don't want to give anything away because I think this is a book you should go into blind but I LOVED IT and HIGHLY recommend it!!! — "We met in the least likely of places. It started out innocently enough. I was "ScreenGod" and she was "Montana," but of course, those weren't our actual names, just the virtual cloaks we hid behind. Logging in at night and talking to her was my escape—my sanctuary. Her real name was Eden, I'd soon come to find out. From the first time we connected online, I found myself transfixed. She was an addiction… At first, we knew nothing about each other's real identities and she was adamant that we keep things that way. Anonymity had no effect on our unstoppable chemistry, though. If anything, it allowed us to open up even more in ways we may not have otherwise. Eden was funny, intelligent, gorgeous—everything I'd ever wanted in a woman. But I couldn't really have her. I had accepted things would have to stay the way they were—until the day I found a clue that led me straight to her. So I took a chance. And that was when our love story really began." — Be sure to grab a copy!!!

LATEST BOOK SALES:
WEEKLY NEW RELEASES RECAP

HOT NEW RELEASES (NOW LIVE):  
BOOKWORM STORE
WHAT KIND OF BOOKS ARE YOU LOOKING FOR?
__________________________________
Let me know if there are any other books you're loving right now too!!
LET'S STAY CONNECTED
To get these lists sent to you every week, subscribe by email.
FOLLOW THE BLOG
Facebook | Twitter | Instagram | Pinterest | BlogLovin' | Google+ | Goodreads