NEW TOP FAVORITE: Say You Still Love Me: A Novel by KA Tucker (My Review)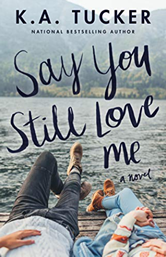 SQUEEEEEE!!! This book was AMAZING and even better – it's NOW LIVE!! As soon as I saw the blurb, I knew I wanted to read this book, plus this author writes SO beautifully and I've loved her books for so many years (actually her debut novel was one of the first books I ever reviewed!) And as soon as I started reading the first few pages I was captivated by this second chance love story about a privileged girl who falls for the boy from the wrong side of the tracks, but they're torn apart for many years until they're finally reconnected after more than a decade apart and she thinks he doesn't know who she is!!! I LOVED everything about this book. My heart raced as I read and I couldn't put it down! Captivating and beautifully emotional, this was a HEART-WARMING ROMANTIC ESCAPE!!! Be sure to grab a copy!
WEEKLY NEW RELEASES RECAP

HOT NEW RELEASES (NOW LIVE):  
DETAILED LIST: NEW RELEASES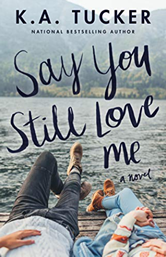 Say You Still Love Me: A Novel by KA Tucker — New Release!!
Standalone: "Life is a mixed bag for Piper Calloway.
On the one hand, she's a twenty-nine-year-old VP at her dad's multibillion-dollar real estate development firm, and living the high single life with her two best friends in a swanky downtown penthouse. On the other hand, she's considered a pair of sexy legs in a male-dominated world and constantly has to prove her worth. Plus she's stuck seeing her narcissistic ex-fiancé—a fellow VP—on the other side of her glass office wall every day.
Things get exponentially more complicated for Piper when she runs into Kyle Miller—the handsome new security guard at Calloway Group, and coincidentally the first love of her life."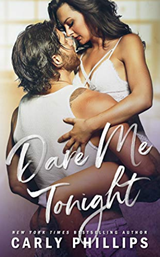 Dare Me Tonight by Carly Phillips — New Release!!
Can standalone: "One virgin, one night, one surprise baby…
Managing his empire is his priority. Women, not so much. But when a favor leads to him meeting her at a black tie corporate event, his interest is piqued along with his desire, and his infamous control slips as he joins her for an unforgettable night in bed… The problem? He has a billion dollar contract with her brother at stake. An overly-protective brother who doesn't take it well when he finds out his business associate bedded his much younger sister. Oh, and she's pregnant, too…"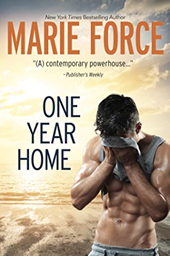 One Year Home by Marie Force — New Release!!
Can standalone: "Navy Captain John West has no idea how to survive without his beloved Ava, who moved on with her life during John's six-year deployment and has now married Eric. He'd prefer to wallow in his depression and heartbreak, but the whole damned world wants a piece of the SEAL Team leader… He needs help handling the relentless requests, and when Ava sends her new sister-in-law to manage the media circus for him, John is prepared to hate her on principle… — Julianne Tilden realizes right away that Ava's ex is going to be the most complicated and difficult client she's ever had, but an opportunity to represent the most celebrated man in the world could make her career. She's determined to do the job, even if she dislikes John from the moment she meets him. And Julianne likes everyone… But John… He's in a class by himself, and his bitterness is a festering wound that she begins to wish she could somehow fix for him…"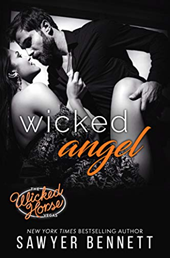 Wicked Angel by Sawyer Bennett — New Release!!
Can standalone: "No one can ever understand the losses I've suffered. A solitary existence that consists of my work and the empty house that serves as a constant reminder of all I have lost. After months of paralyzing emptiness, I turn to The Wicked Horse so I can feel something. Anything, really. Any shred of emotion that will explain why I'm still here. Any justification for why my life was spared and theirs were not. It's all in vain… Until she walks in. Absolutely perfect. Gorgeous… And the more she gives, the more I find myself wanting to take. Wanting to crawl out of my personal hell for this wicked angel."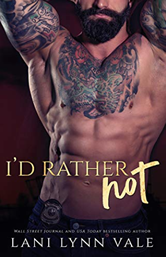 I'd Rather Not by Lani Lynn Vale — New Release!!
Can standalone: "She only has weeks to live thanks to a freak infection that destroyed her kidneys. Despite her family's desperation, not a single one of them is a match. In a last-ditch attempt, her father takes to social media to beg for help to save his daughter's life… He is lost. So lost, in fact, that he's not sure he wants to be found. But then a beautiful woman's face is splashed across social media, and he finds a spark in his soul for the first time since a bomb went off beside him. He's already missing two legs. What's one more kidney? What he doesn't expect is to give his heart to the woman, too…"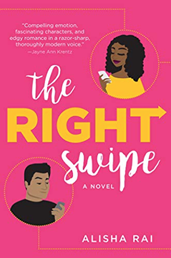 The Right Swipe by Alisha Rai — New Release!!
Standalone: "She may have revolutionized romance in the digital world, but in real life she only swipes right on her career—and the occasional hookup… Only there aren't any rules to govern her attraction to her newest match, a former pro-football player. The sexy and seemingly sweet hunk woos her one magical night… and disappears. She thought she'd buried her hurt over his ghosting her, until he suddenly surfaces months later, still big, still beautiful—and in league with a business rival. He says he won't fumble their second chance, but she's wary. A temporary physical partnership is one thing, but a merger of hearts? Surely that's too high a risk…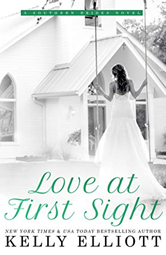 Love At First Sight by Kelly Elliot — New Release!!
Can standalone: "Love at first sight. That's what it was when he came up to me in kindergarten. From that point on, we were inseparable best friends. When I work up the courage to tell Rip I love him, I am met with rejection. He tells me he treasures our friendship too much. That statement might as well be a knife to my heart. I want to hold out hope that he'll change his mind. Instead, he moves on. The only choice I have is to pretend that doesn't slay me. So, I say yes…to the man I love. But he isn't the man I've been in love with nearly my entire life."
LATEST BOOK SALES
UPCOMING BOOK RELEASES
BOOKWORM STORE
WHAT KIND OF BOOKS ARE YOU LOOKING FOR?
__________________________________
Let me know if there are any other books you're loving right now too!!
LET'S STAY CONNECTED
To get these lists sent to you every week, subscribe by email.
FOLLOW THE BLOG
Facebook | Twitter | Instagram | Pinterest | BlogLovin' | Google+ | Goodreads