JUST ANNOUNCED: The Tiger Catcher by Paullina Simons (The End of Forever Trilogy)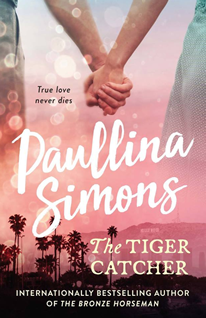 OMG. OMG. OMG!! This brand new trilogy by the author of my all-time favorite books EVER was just announced and the story sounds so intriguing! — "Can true love ever die? Julian lives a charmed life in Los Angeles. Surrounded by friends, he is young, handsome, and runs a successful business. Everything changes after he has a fateful encounter with a mysterious young woman named Josephine. Julian's world is turned upside down by a love affair that takes him—and everyone else in his life—by storm. For the two new lovers, the City of Angels is transformed into a magical playground. But Josephine is not what she seems and carries secrets that threaten to tear them apart—seemingly forever. A broken man, his faith in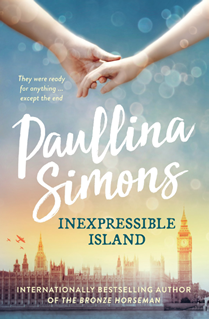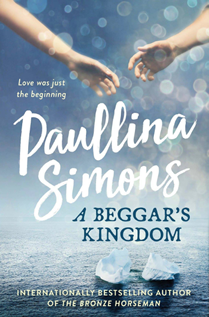 tatters, Julian meets a mysterious stranger who tells him how to find Josephine again if he is willing to give up everything and take a death-defying trip from which no one has ever returned. So begins Julian and Josephine's extraordinary adventure of love, loss, and the mystical forces that bind people across time and space. It is a journey that propels Julian toward an impossible choice which will lead him to love fulfilled…or to oblivion. The Tiger Catcher takes readers from the depths of despair to the dizzying heights of joy in the first novel of an unforgettable trilogy of love lost and found. For all fans of Outlander, The Time Traveler's Wife, and Jojo Moyes." — Be sure to pre-order a copy!!! And if you haven't yet read my favorite book in the whole wide world (yes, truly my #1 favorite of all time) The Bronze Horseman (my reviews), it is currently 50% OFF at this link!! It is an unforgettable, life-changing read and an EPIC LOVE STORY!!
WEEKLY NEW RELEASES RECAP

HOT NEW RELEASES (NOW LIVE):  
DETAILED LIST: NEW RELEASES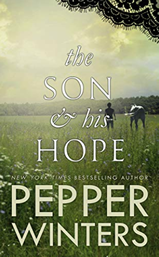 The Son & His Hope by Pepper Winters — New Release!!
Can standalone: "Things you should know about me from the very beginning: I was born to true love, witnessed the destruction it causes, and vowed never to let such agony happen to me. I am not a story-teller like my father. I am not a writer like my mother. I am just a son–their son. I am happy being alone. And that is all I ever want to be."
JACOB: The day he was born, Jacob learned his hardest and longest lesson. It wasn't a lesson a boy should learn so young, but from his earliest memories he knew where happiness lives, so does tragedy. Where love exists, so does heartbreak. And where hope resides, so does sorrow. That lesson carved him from the kid to the teen to the man. And nothing and no one could change his mind.
HOPE: I first met him when he was fourteen at a movie premiere of all places. A movie based on his parent's life. He was stoic, strong, suspicious, and secretive. I was only ten, but I felt something for him. A strange kind of heartbreak that made me want to hug and heal him. I was the daughter of the actor hired to play his father. We shared similarities. I recognized parts of him because they were parts of me. But no matter how many times we met. No matter how many times I tried. He stayed true to his vow to never fall.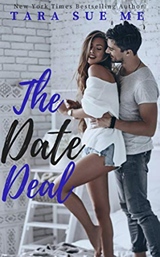 The Date Deal by Tara Sue Me — New Release!!
Standalone: "He's everything she ever wanted. She's the one thing he doesn't need. Seven years ago, I went from being America's Golden Son to That Idiot faster than you can say, "Foul ball." At the time, I thought I was making the right decision by ditching my professional baseball career and today, I know I did. But I'll admit, being the punchline of every late night comic changed me. The paparazzi no longer follow me and the media's moved on, but I still live by rules created to ensure I would never be a laughingstock again. My rules are restrictive and controlling. They dictate what I do and who I do it with. They do not allow for a free spirit, bound and determined to get a recording deal in Nashville. A woman actively chasing a public life I turned my back on. And they certainly will not accept the little sister of the man who recently married my ex. Unfortunately, this siren with the voice of an angel, is the only woman I want. So I made a deal…"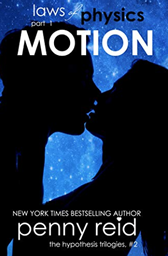 Motion by Penny Reid — New Release!!
"One week. Home alone. Girl genius. Unrepentant slacker. Big lie. What's the worst that could happen? Mona is a smart girl and figured everything out a long time ago. She had to. She didn't have a choice. When your parents are uber-celebrities and you graduate from high school at fifteen, finish college at eighteen, and start your PhD program at nineteen, you don't have time for distractions outside of your foci. Even fun is scheduled. Which is why Abram, her brother's best friend, is such an irritant. Abram is a talented guy, a supremely gifted musician, and has absolutely nothing figured out, nor does he seem to care. He does what he feels, when he feels, and—in Mona's opinion—he makes her feel entirely too much…"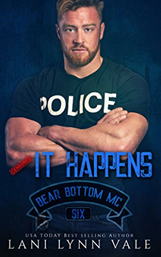 It Happens by Lani Lynn Vale — New Release!!
Can standalone: "Zee + Annmarie and Tan + Jubilee. Forever. No exceptions. They were to have the picture-perfect life together. Everything was all planned out. Jubilee was to marry Eitan and Ezekiel was to marry Annmarie. That's how it was always supposed to be from the moment that they met. Textbook, right? Wrong. Eitan and Annmarie die in a freak accident that never should have happened, leaving the two survivors reeling. Sixteen years later, Jubilee and Zee can't even be in the same room with each other before things begin to deteriorate. Too many memories. Too much pain. Not enough forgiveness. They're like hellfire and holy water, and neither one of them is willing to admit that they're wrong. Then one day things change, and all of a sudden, they're looking at each other like maybe they aren't each other's enemies after all."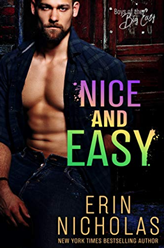 Nice and Easy by Erin Nicholas — New Release!!
Can standalone: "A hot firefighter who just wants to take care of her and her little boy?
Sign her up.
Moving in with him and his little girl who already has a huge chunk of her heart?
Very nice.
Roommates with benefits?
Yes, please.
Convincing this take-charge alpha to let her take care of him too?
That's not going to be as easy."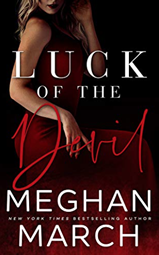 Luck of the Devil by Meghan March — New Release!!
"My poker face has always been one of my greatest assets, along with my grit and determination. I was beholden to no one. Asked permission for nothing. Then Jericho Forge took my life by storm.
I traded my freedom for something infinitely more precious, but I didn't realize he was holding an unbeatable hand. Now, all I have to do is survive the high-stakes game that is my life—with my heart intact. But not falling in love with Forge? That will take the luck of the devil."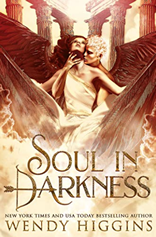 Soul in Darkness by Wendy Higgins — New Release!!
Cupid, the god of love, takes pleasure in causing strife and mischief in the lives of humans. He uses love as a weapon, humoring in the weakness of people at the whims of their feelings. When his mother Venus approaches him about punishing the human girl who dares to steal her offerings and affections from the people, Cupid gladly accepts.
Psyche's punishment is to be given to a mysterious creature who only comes to her in the dark of night under the pact that she will never lay eyes on him. She is terrified of this stranger, who the oracle described as a serpent. Her mate, however, is masterful in his dealings with his bride. He takes his time, morphing her fears into different sensations completely.
Based on the Roman/Greek mythology of Cupid and Psyche from Lucius Apuleius, New York Times bestseller Wendy Higgins brings the tale to life, weaving layers that show exactly how a sacrificial lamb can be enchanted by an unseen monster.
LATEST BOOK SALES
UPCOMING BOOK RELEASES
BOOKWORM STORE
WHAT KIND OF BOOKS ARE YOU LOOKING FOR?
__________________________________
Let me know if there are any other books you're loving right now too!!
LET'S STAY CONNECTED
To get these lists sent to you every week, subscribe by email.
FOLLOW THE BLOG
Facebook | Twitter | Instagram | Pinterest | BlogLovin' | Google+ | Goodreads