WEEKLY NEW RELEASES RECAP

HOT NEW RELEASES (NOW LIVE):  
DETAILED LIST: NEW RELEASES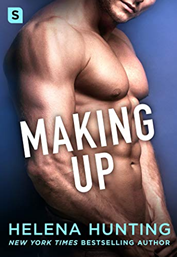 Making Up by Helena Hunting — New Release!!
Can standalone: "She knows just how to handle the awkwardness that comes with working at an adult toy store. So when the hottest guy she's ever seen walks into the shop looking completely overwhelmed, she's more than happy to turn on the charm and help him purchase all of the items on his list.
He's using his business trip as a chance to escape the broken pieces of his life. The last thing he wants is to be put in charge of buying gag gifts for his friend's bachelor party. Despite being totally out of his element, and mortified by the whole experience, he is pleasantly surprised when he finds himself attracted to the sales girl that helped him. As skeptical as she may be of his motivations, there's something about him that intrigues her…"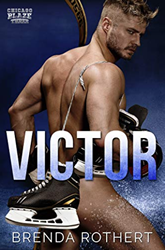 Victor by Brenda Rothert — New Release!!
Can standalone: He's a hockey star with a headboard full of notches. She's a shy NHL concession worker who's never been kissed.  —  "I'm living the dream. A poor kid who worked his way into the NHL, I'll never forget where I came from, though I try to. My past follows me, a nagging reminder that I'll never be what everyone thinks I am. As the threat of my secret being exposed looms closer, my game slips, leaving me in danger of being cut from my team–the only family I have. I'm losing my hold on everything when a new friend helps me find hope. She's nothing like the women I'm used to, but by the time I figure out that's exactly why she's right for me, I've lost my chance with her. Somehow, I have to convince a woman who thinks she's invisible that she's the only one I see."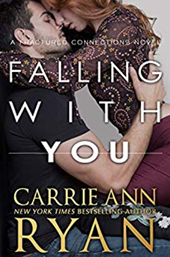 Falling With You by Carrie Ann Ryan — New Release!!
Can standalone: "The day I lost my best friend was the day I realized that I'd been living in the past. I've tried to find a way to heal, to mend that break. Somehow, I came through it partially whole. But I know I couldn't have done that without him… The problem is, he once loved my best friend. And now she's gone, and I refuse to be in that shadow, or worse, a replacement for someone we both loved."
"I left them all behind. My brother. My family. My best friend. And her. Only she doesn't realize what she means to me. But before I can make sure she knows, I need to figure out exactly what that is."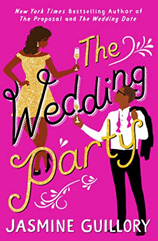 The Wedding Party by Jasmine Guillory — New Release!!
Standalone: "Maddie and Theo have two things in common: 1. Alexa is their best friend. 2. They hate each other.
After an "oops, we made a mistake" night together, neither one can stop thinking about the other. With Alexa's wedding rapidly approaching, Maddie and Theo both share bridal party responsibilities that require more interaction with each other than they're comfortable with. Underneath the sharp barbs they toss at each other is a simmering attraction that won't fade. It builds until they find themselves sneaking off together to release some tension when Alexa isn't looking, agreeing they would end it once the wedding is over… But as with any engagement with a nemesis, there are unspoken rules that must be abided by. First and foremost, don't fall in love."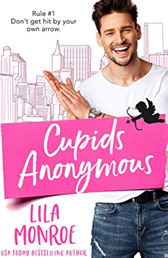 Cupids Anonymous by Lila Monroe — New Release!!
Standalone: "I'm a professional Cyrano – minus the honking great nose. Need a love note, raunchy sext, or apology letter… But when my most frequent client, the annoyingly charming (or is that charmingly annoying?) Dylan Griffin comes to me with an unconventional new job, I discovers that three little words can add up to one BIG complication. Because he doesn't want help seducing another swimsuit model (for once in his life). He wants my help winning over his high-school crush (aka, his one true love) – and he's prepared to make it worth my while.. and this Cupid is soon out of her depth – and head over heels with the last man I expected…"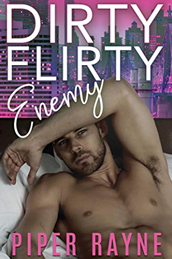 Flirty Dirty Enemy by Piper Rayne — New Release!!
Can standalone: "He's the arrogant Manhattan realtor with billboards advertising his six-pack more than his expertise in negotiations. I'm the competing broker who stupidly moved across the hall from his office.
From day one, I've been his sworn enemy. Okay, so I might have accidentally stolen one of his clients. Well, is it stealing if the client comes to me? Even our vicious banter and loathing gazes can't hide the chemistry between us… Just when I think a mutual respect could be born between us, the biggest developer in the city offers us an opportunity that pits us against each other. Time to forget his dreamy eyes and tight abs. Game on."
LATEST BOOK SALES
UPCOMING BOOK RELEASES
BOOKWORM STORE
WHAT KIND OF BOOKS ARE YOU LOOKING FOR?
__________________________________
Let me know if there are any other books you're loving right now too!!
LET'S STAY CONNECTED
To get these lists sent to you every week, subscribe by email.
FOLLOW THE BLOG
Facebook | Twitter | Instagram | Pinterest | BlogLovin' | Google+ | Goodreads