WEEKLY NEW RELEASES RECAP

HOT NEW RELEASES (NOW LIVE):  
DETAILED LIST: NEW RELEASES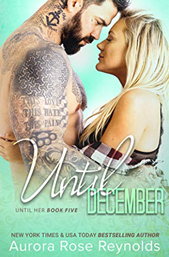 Until December by Aurora Rose Reynolds — New Release!!
Can standalone: "He's drawn to her the moment he spots her across the room at her cousin's wedding. When he approaches the beautiful woman, she captivates him with her shyness and wit, making him crave her… With a pull so strong it's impossible to ignore, she knows there's something between [them]. She just hopes they're capable of jumping the hurdles ahead of them…  Two boys, an ex, a surprise that will change everything, and a disgruntled co-worker, guarantee these two will have their work cut out for them if they are going to find their happily ever after."
This is Wild by Natasha Madison — New Release!!
Can standalone: "My parents told me I skated before I walked. When I was eighteen I was drafted into the N.H.L third overall, playing in Los Angeles—the city of dreams. What more could I ask for? I played hard, but eventually, I partied even harder. Five years later I was traded a week after I entered rehab. There was no time for anything except my health and making sure I'd come out on top. I had to be better. There wasn't another option. One of the rules of recovery was 'don't fall in love' and I made it a top priority. She was off limits in every single way. Until it was too late One night, one decision, one act can derail everything. When push comes to shove, I'm only certain that, This is Wild."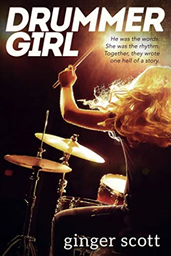 Drummer Girl by Ginger Scott — New Release!!
Standalone: "Arizona Wakefield was a beat without a melody. Living a half-breathing life in a half-finished neighborhood with parents who always wore half-hearted smiles, the high school senior only had one thing that let her color outside her family's perfectly drawn lines—her drums… Jesse Barringer was a song without a chorus. The son of a washed-up rock star who's also one hell of a deadbeat dad, he was given two things from his father—musical genius and a genetic link to the bipolar disorder that drives him mad… One night in a garage at the end of a cul-de-sac in the middle of a bankrupt California neighborhood, Jesse's melody found Arizona's rhythm. An angry boy with storm-colored eyes found a blonde angel in Doc Martens with missing lines in her own story. Where her rhythm stopped, his words took over, and together, they wrote one hell of a story."
Good Guy by Kate Meader — New Release!!
Can standalone: "He's a Special Forces veteran making his pro hockey debut. She's a dogged sports reporter determined to get a scoop. She's also his best friend's widow…Fans can't get enough of the military veteran who put his NHL career on hold to serve his country and fight the bad guys. So when his new bosses tell him to cooperate with the press on a profile, he's ready to do his duty. Until he finds out who he has to work with… The woman he should not have kissed the night she buried her husband, his best friend in the service…"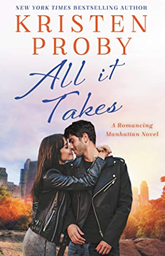 All It Takes by Kristen Proby — New Release!!
Can standalone: "She doesn't give much thought to him and the revolving door leading to his bedroom. She's way too picky about who she shares her time or her body with and screwing around with a colleague isn't part of her plan either. He doesn't intimidate her. And unlike most other members of her sex, she doesn't melt into a puddle at his feet whenever he's near. Most importantly, she has no issues telling him no… But for a man who has the world at his feet, he isn't accustomed to being rejected. And he's not about to let that change… To his surprise, she is everything he thought he'd never find. Pursuing her, and convincing her he's changed, is going to be the biggest challenge of his life. One he's completely up for…"
LATEST BOOK SALES
UPCOMING BOOK RELEASES
BOOKWORM STORE
WHAT KIND OF BOOKS ARE YOU LOOKING FOR?
__________________________________
Let me know if there are any other books you're loving right now too!!
LET'S STAY CONNECTED
To get these lists sent to you every week, subscribe by email.
FOLLOW THE BLOG
Facebook | Twitter | Instagram | Pinterest | BlogLovin' | Google+ | Goodreads