NEW REVIEW & TOP FAVORITE: Letters To Molly by Devney Perry (Read my Review)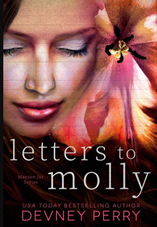 OMG OMG OMG SQUEEEEEEE!!! HOLY WOW!!! I have the happiest of happy tears streaming down my face because I just finished reading this book and it was definitely the most AMAZING, BEAUTIFUL, ROMANTIC book I've read all year!!! It's a story of love, loss, marriage, family, and second chances. It felt so believable, so real, so purely romantic.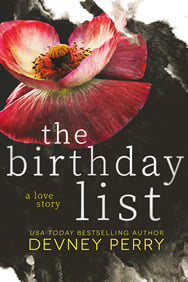 It was utterly ADDICTIVE in every way. I cancelled dinner plans so I could finish reading this without stopping. I just kept flipping those pages and getting more lost in this story. I ABSOLUTELY LOVE LOVE LOVED IT!!! Without any doubt, this was a 5 STAR FAVORITE!! Be sure to pre-order a copy! This is the second standalone in a series of interconnected standalones — each book is about a different couple but the characters are related and/or close friends. You could easily read it alone, or you could read the first one The Birthday List (which I also loved) first and then grab a copy of Letters to Molly because it just went live!!

RARE SALE ALERTS:
Creed by Kristen Ashley and the the entire 5-book Unfinished Heroes Series of interconnected standalones is currently ON SALE for a limited time!! Fair warning, the actual first one in the series is a little hard for some people to read (the hero is very controversial and I personally had a lot of issues with him), but the second book Creed (my review) can be read alone and it's also one of the BEST BOOKS EVER!!! It's one of my rare 6-star ratings so I can't recommend it highly enough! So you might choose to read them in order but just in case you're not liking the first one, just skip it and read the second because that one is amazing and so are the rest! And at the very least be sure to grab your copy of Creed and don't miss the whole series on sale too!
WEEKLY NEW RELEASES RECAP

HOT NEW RELEASES (NOW LIVE):  
DETAILED LIST: NEW RELEASES
Satisfaction Guaranteed by Lauren Blakely — New Release!!
Can standalone: "Look, she started it. She issued me a challenge I couldn't back down from… Fine, she's my business partner's daughter. All right, I'm also working in the same damn practice with her. Yes, she happens to be my ex-fling. But that was seven years ago, and it was barely a week-long thing. Except, she's still the one I can't stop thinking of — brilliant, sexy, captivating… Maybe a week of taking her to new heights will get her out of my head. So what if we spend a few nights on the town too? So what if I romance her across Manhattan? It's all in the name of scientific pursuit of more magnificent Os. Until the rules change…"
The Edge of Us by Jamie McGuire — New Release!!
"Widowed before thirty, she has been through a lot. Her husband sacrificed his life to save his Marine brothers. Daughter of the US modern militia's founder, she joins the Marines in his place, too-ready to do anything to help protect his team—men who are like brothers to her now. Retiring together to the town of Colorado Springs, they've assembled to take on the job of security at the top-secret military base. As they struggle to adjust to their civilian lives, they also discover new dangers… He has been alone since being bumped out of the foster system at age eighteen, and now his rag-tag family consists of his hotshot brothers and sisters. Shattered by his first love, he never planned to fall for someone again, especially not during fire season in the Colorado mountains, but she is unlike anyone he's ever met…"
Fix Her Up by Tessa Bailey — New Release!!
Standalone: "He was major league baseball's hottest rookie when an injury ended his career. Now he's flipping houses to keep busy and trying to forget his glory days. But he can't even cross the street without someone recapping his greatest hits. Or making a joke about his… bat. And then there's his best friend's sister… When she proposes a wild scheme—that they pretend to date, to shock her family and help him land a new job—he agrees. What's the harm? It's not like it's real. But the girl he used to tease is now a funny, full-of-life woman and there's nothing fake about how much he wants her…"
The Defender by Donna Grant — New Release!!
Can standalone: "A loner who exudes danger, he has spent his life in service to one man, someone he loves and respects. But things are changing. Rapidly. He and his boss have allies and friends and a new mission more important their than business… what he doesn't expect is to be at the mercy of a woman who makes him crave more than he ever thought to want… Determined and dedicated, she's used to danger and living on the edge… When her cover is blown, she is forced to trust a man she just met, fighting their way out of one battle after another. But there's something about him that she knows she can trust. And love. She needs him [and] together they're an unstoppable force. And with their friends, they just might succeed in their mission."
Take Me Down by Carly Phillips — New Release!!
Can standalone: "Coming off an emotionally abusive marriage, Emily has an immediate bias against suave, city guys … But despite the slick exterior, Emily discovers Parker is sweet, charming and eager to help… Yet no matter how hot they burn or how well they mesh, Parker's time with her has an expiration date. And Emily has an ex who refuses to accept that their relationship is over. Parker isn't a man who gives up. Sweet, sexy Emily Stevens is his chance to reclaim his life. He wants to take care of this woman who makes him feel … everything. If only he could figure out how to merge his two lives, everything would be perfect. But when her ex makes his move, Parker realizes what's important. He only hopes he isn't too late."
Getting Played by Emma Chase (audiobook) — New Release!!
Standalone: "Dean Walker is all about keeping life simple… Then he meets Lainey Burrows. And his simple, easy life gets turned upside down. One wild one-night stand was all it was ever supposed to be, so Lainey is shocked when she discovers that her sizzling summer fling is also her son's new math teacher. But that's nothing compared to the most unexpected twist of all – their hot hook-up left Lainey knocked up, and now they're about to become parents. Together. What ensues is an addictive, insatiable, sweet and tender romance that won't be simple, but it will be more than worth the fight."
Gimme Some Sugar by Juliette Poe — New Release!!
Can standalone: "She prides herself on making [her] town just a little sweeter. As owner of Sweet Cakes Bakery, she gets all the town gossip – the sugar, the spice, and the everything not so nice. [Then] she finds herself on the tip of everyone's tongue thanks to an encounter with a mysterious and handsome stranger… He has spent his life traveling the world with no particular destination in mind. But when he rolls into [town] on his Harley, he just knows there is something different about this town. What he doesn't know is that out of all the places he's traveled and all the people he's met, the gorgeous bakery owner might just entice him to put down some solid roots…"
Waiting for Tom Hanks by Kerry Winfrey — New Release!!
Standalone: "She spends her days writing screenplays [and] waiting for her movie-perfect meet-cute. If she could just find [a] man who's sweet, sensitive, and possibly owns a houseboat, her problems would disappear and her life would be perfect… When a movie starts filming in her neighborhood and she gets a job on set, it seems like a sign. Then she meets the lead actor, a cocky prankster… Their meet-cute is more of a meet-fail, but soon she finds herself sharing some classic rom-com moments with him. Her [man] can't be an actor who's leaving town in a matter of days…can he?"
28 Dates by Stacey Lynn — New Release!!
Can standalone: "She's a lifelong commitment-phobe. The closest thing she's had to a relationship in the last few years was a friends-with-benefits thing that fizzled out because the guy wanted more. So when she and her best friend design a new app that promises to find "the one" in 28 Dates, she's the perfect guinea pig. Little does she know that she may have already met her match… He has tried his best to move on after she didn't want take things to the next level. Now they really are just friends… without benefits. She's even a regular at his bar. But when he learns that she plans to beta-test a new dating app on his home turf, he senses a golden opportunity to win her heart. Even if he has to slide into her DMs to do it…"
Recursion by Blake Crouch — New Release!!
Standalone: "Memory makes reality. That's what New York City cop Barry Sutton is learning as he investigates the devastating phenomenon the media has dubbed False Memory Syndrome—a mysterious affliction that drives its victims mad with memories of a life they never lived. Neuroscientist Helena Smith already understands the power of memory. It's why she's dedicated her life to creating a technology that will let us preserve our most precious moments of our pasts. If she succeeds, anyone will be able to re-experience a first kiss, the birth of a child, the final moment with a dying parent. As Barry searches for the truth, he comes face-to-face with an opponent more terrifying than any disease—a force that attacks not just our minds but the very fabric of the past. And as its effects begin to unmake the world as we know it, only he and Helena, working together, will stand a chance at defeating it. But how can they make a stand when reality itself is shifting and crumbling all around them?"
A Girl Like You by Samantha Chase — New Release!!
Can standalone: "He has always been the family hell-raiser, but as an adult he's enjoyed not being under the constant watchful eye of his family. That was until his great-grandfather passed away. Forced to move to [a] small coastal town, he can't escape the reputation that has followed him since his teenage years. But he'll have to do it to get his inheritance… She was always the good girl – it's what happens when you're the pastor's daughter in a small town. Now, she's ready to leave that image behind. For years she's heard about [him], but she never though she would be the one to catch his eye…"
Winter Flower by Charles Sheehan-Miles — New Release!!
Standalone: "Every day, Cole Roberts reminds himself that life wasn't always this bleak. He was once passionately in love with Erin… That was before Brenna disappeared. It was before Cole lost his job and they lost their home. Every day it gets worse. Erin drinks wine out of the bottle and spends her days with a tormented expression, searching the web for signs of their daughter. Sam hides in his room and rarely speaks. And Cole works himself to a stupor for a paycheck a fraction of the size of his old salary. Until one day a phone call changes everything."
Storm and Fury by Jennifer L. Armentrout — New Release!!
"Eighteen-year-old Trinity Marrow may be going blind, but she can see and communicate with ghosts and spirits. Her unique gift is part of a secret so dangerous that she's been in hiding for years in an isolated compound fiercely guarded by Wardens—gargoyle shape-shifters who protect humankind from demons. If the demons discover the truth about Trinity, they'll devour her, to enhance their own powers… When Wardens from another clan arrive with disturbing reports that something out there is killing both demons and Wardens, Trinity's safe world implodes. Not the least because one of the outsiders is the most annoying and fascinating person she's ever met. Zayne has secrets of his own that will upend her world yet again—but working together becomes imperative once demons breach the compound and Trinity's secret comes to light. To save her family and maybe the world, she'll have to put her trust in Zayne…"
LATEST BOOK SALES
UPCOMING BOOK RELEASES
BOOKWORM STORE
WHAT KIND OF BOOKS ARE YOU LOOKING FOR?
__________________________________
Let me know if there are any other books you're loving right now too!!
LET'S STAY CONNECTED
To get these lists sent to you every week, subscribe by email.
FOLLOW THE BLOG
Facebook | Twitter | Instagram | Pinterest | BlogLovin' | Google+ | Goodreads