NEW REVIEW & RECOMMENDATION: Say You Still Love Me: A Novel by KA Tucker (My Review)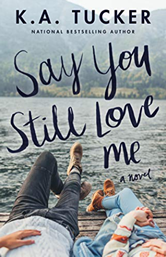 SQUEEEEEE!!!!!! Omg! I just finished reading this book and it was just AMAZING!!!! As soon as I saw the blurb, I knew I wanted to read this book, plus this author writes SO beautifully and I've loved her books for so many years (actually her debut novel was one of the first books I ever reviewed!) And as soon as I started reading the first few pages I was captivated by this second chance love story about a privileged girl who falls for the boy from the wrong side of the tracks over a summer, but they're torn apart for many years until they're finally reconnected after more than a decade apart and she thinks he doesn't know who she is!!! I LOVED everything about this book. My heart raced as I read and I couldn't put it down! Captivating and beautifully emotional, this was the ultimate HEART-WARMING ROMANTIC ESCAPE and a new top favorite!!! Be sure to pre-order your copy so you don't miss its release!
WEEKLY NEW RELEASES RECAP

HOT NEW RELEASES (NOW LIVE):  
LATEST BOOK SALES
UPCOMING BOOK RELEASES
BOOKWORM STORE
WHAT KIND OF BOOKS ARE YOU LOOKING FOR?
__________________________________
Let me know if there are any other books you're loving right now too!!
LET'S STAY CONNECTED
To get these lists sent to you every week, subscribe by email.
FOLLOW THE BLOG
Facebook | Twitter | Instagram | Pinterest | BlogLovin' | Google+ | Goodreads