UPCOMING TOP RECOMMENDATION: The Birthday List by Devney Perry (Read my Review)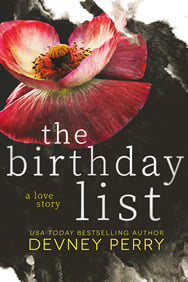 OH MY SWOOOOOOON!!!!! This was one of my most highly anticipated books of this year and I read an early copy and LOVED IT!!! It was such a beautifully written love story — the ultimate slow-burning romance full of HEART, HEALING, and HAPPINESS that truly showed that even after the most heart-breaking loss imaginable, it was still possible to find a second chance at love and life. This hero was SO patience and gentle and understanding… he just MADE MY HEART MELT over and over. And the heroine was strong and relatable. While some parts of the story were painful, I would definitely describe this book as a FEEL-GOOD ROMANCE and one that left me with the biggest smile on my face. This book is a complete standalone NOT related to any of her other amazing books and I would highly recommend pre-ordering a copy so you don't miss its upcoming release!! This is a NEW FAVORITE!!!!

UPCOMING 5 STAR FAVORITE: All Your Perfects: A Novel by Colleen Hoover (Read my Review)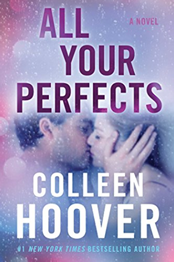 I got to read an early copy of this book and you guys, it was one of the most POWERFUL, BEAUTIFUL, HEART-BREAKING, and HEALING LOVE STORIES I've ever read! It's about a married couple struggling through some dark days and HOLY EPIC FEELS!!!! I read the book in one sitting and just DEVOURED this story. I FELT SO DEEPLY and STRONGLY for this couple and everything they were going through. And then there was just this MOMENT where everything CLICKED and I swear I just literally burst into tears and then SOBBED my way through the whole rest of the book. But in the BEST WAY. These weren't tears of sadness, rather an EMOTIONAL OVERFLOW. And the EPILOGUE was PERFECT. This book was PERFECT. Everything about it was perfect. You have to read it!! It's one of the BEST BOOKS OF THE YEAR!!! Be sure to pre-order a copy because you do NOT want to miss this book!

LATEST BOOKWORM NEWS:

WEEKLY NEW RELEASES RECAP

NEW RELEASES (NOW LIVE):  
LATER WEEK RELEASES (PRE-ORDER NOW):  
DETAILED LIST: NEW RELEASES
Only You by Melanie Harlow — New Release!!
Standalone: Nate Pearson is ridiculously handsome and wears the hell out of a suit and tie, but I've seen the parade of beautiful women leaving his apartment across the hall—a different one every time—and I want no part of it. When it comes to romance, I'm looking for something real, something that will last: the happily ever after.
As a divorce attorney, he loves to tell me there's no such thing. As a wedding planner, I choose to disagree.
We disagree on almost everything, in fact. Everything except James Bond. The only time we really get along is when we're watching 007 flicks together, and I'll admit—he has rescued me from a disaster or five. So when one of the baton twirlers from his parade leaves a baby girl at his door with a note that says "I'll come back for her" and he begs me for help, I can't turn him down.
But it's a mistake.
Because watching him with his daughter, I start to see another side of Nate, a side that has my breath coming faster, my body craving his, my heart longing for him to change his mind about love and tell me there's a chance for us.
I don't want to be just another girl leaving his apartment in the morning. I want to be the one he asks to stay.
The Scars I Bare by J.L. Berg — New Release!!
Can standalone: He was the quintessential guy next door. Strong and dependable, with a heart of gold, he knew exactly where his life was headed. Until one fateful night at sea ripped away everything. Now he's adrift, a man without a purpose.
She thought she had the perfect life. A successful career, an affectionate husband and a daughter who adores her. But soon that perfect world is crashing down around her, and she's in need of a fresh start. Moving to a remote town seems like the perfect plan. That is, until she finds herself face to face with a kindred soul from her past.
They have more in common than either are willing to admit. Both deeply rooted in their pain, they can't help but find hope in each other's eyes and passion entwined with every touch. But can two broken hearts make a whole? Will the scars they've bared to one another poison their happily ever after, or can love truly heal all?"
No Ordinary Love by Melody Grace — New Release!!
Can standalone: "For journalist Eliza Bennett, summers were her happiest childhood memories. Now that she's been unceremoniously fired, evicted, and dumped (all in the same week), she hopes the small town will work its magic again and help get her life back on track. She definitely isn't looking for a distraction like the handsome stranger she meets on her way into town… especially when she discovers he might be the man behind her recent misfortunes.
He's adjusting to (or escaping from) his new role as head of the family company. He's always prided himself on his cool logic, but reckoning with the outspoken spitfire is making him forget his responsibilities – and why falling in love would be such a bad idea.
The sparks between them are red-hot, and soon, their passion is heating up the summer nights. But can they find a way through their differences – or will this opposites-attract romance burn out before it even begins?"
The Hook-Up Experiment by Emma Hart — New Release!!
As the owner of New Orleans' premier hook-up website, my job is simple. Connect two people for a no-strings, no-expectations hook-up.
My problem? My brother doesn't believe it's possible to hook up with someone three times and not fall in love. I disagree. I know it's possible. And my disagreement is exactly how I end up reconnected with my high school nemesis. The guy who asked me to junior prom and then stood me up. Who egged my car when I rejected him, and convinced my senior homecoming date to ghost me…
It should be easy to hate-screw him. If only he was still that person, instead of a hot-as-hell single dad, working as a builder to make ends' meet, fighting for custody of his daughter… Three hook-ups. One outcome. Right?"
Dearest Ivie by J.R. Ward — New Release!!
Can standalone: "The last place she expects to be approached by a devastatingly handsome male is in a crowded, smoky cigar bar rarely frequented by vampires—yet here he stands. He is flirtatious, gallant, and, above all, mysterious. She is anything but. A nurse at the healer's clinic and the daughter of a biker, she is accustomed to speaking her mind. So she does…
Despite her guarded exterior, she surrenders to the fierce desire she feels for him. And yet, just as their courtship is heating up, he reveals that it cannot last, for he is bound to return to the Old Country. Their bond only deepens as they make the most of their precious time together. But when she learns the truth, she must find a saving grace—before all is lost…"
Let Me Lie by Clare Mackintosh — New Release!!
Standalone: "The police say it was suicide. Anna says it was murder. They're both wrong.
Last year, Tom and Caroline Johnson chose to end their lives, one seemingly unable to live without the other. Their daughter, Anna, is struggling to come to terms with her parents' deaths, unwilling to accept the verdict of suicide… Now with a baby herself, Anna feels her mother's absence keenly and is determined to find out what really happened to her parents. But as she digs up the past, someone is trying to stop her.
Sometimes it's safer to let things lie…"
The Flight Attendant by Chris Bohjalian — New Release!!
Standalone: "A flight attendant wakes up in the wrong hotel, in the wrong bed, with a dead man – and no idea what happened.
She is no stranger to hungover mornings. She's a binge drinker, her job with the airline making it easy to find adventure, and the occasional blackouts seem to be inevitable. She lives with them, and the accompanying self-loathing. When she awakes in a Dubai hotel room, she tries to piece the previous night back together, counting the minutes until she has to catch her crew shuttle to the airport. She quietly slides out of bed, careful not to aggravate her already pounding head, and looks at the man she spent the night with. She sees his dark hair. His utter stillness. And blood, a slick, still wet pool on the crisp white sheets. Afraid to call the police – she's a single woman alone in a hotel room far from home – Cassie begins to lie. She lies as she joins the other flight attendants and pilots in the van. She lies on the way to Paris as she works the first class cabin. She lies to the FBI agents in New York who meet her at the gate. Soon it's too late to come clean-or face the truth about what really happened back in Dubai. Could she have killed him? If not, who did?"
Sometimes I Lie by Alice Feeney — New Release!!
Standalone: "My name is Amber Reynolds. There are three things you should know about me:
1. I'm in a coma.
2. My husband doesn't love me anymore.
3. Sometimes I lie.
Amber wakes up in a hospital. She can't move. She can't speak. She can't open her eyes. She can hear everyone around her, but they have no idea. Amber doesn't remember what happened, but she has a suspicion her husband had something to do with it. Alternating between her paralyzed present, the week before her accident, and a series of childhood diaries from twenty years ago, this brilliant psychological thriller asks: Is something really a lie if you believe it's the truth?"
Ride Dirty by Laura Kaye — New Release!!
Can standalone: "He is all about rules. As the [motorcycle club] Sergeant-at-Arms, he prizes loyalty to his brothers and protection of his club. As a man, he takes pleasure wherever he can get it but allows no one close—because distance is the only way to ensure people can't hurt you. And he's had enough pain for a lifetime.
But then he rescues a beautiful woman from an attack.
Kids and school are kindergarten teacher Emma Kerry's whole life, so she's stunned to realize she has an enemy—and even more surprised to find a protector in the intimidating man who saved her. Tall, dark, and tattooed, he is unlike any man she's ever known, and she's as uncertain of him as she is attracted. As the danger escalates, he is in her house more and more – until one night of passion lands him in her bed.
But breaking the rules comes at a price, forcing him to fight dirty to earn a chance at love."
Justice for Milena by Susan Stoker — New Release!!
Can standalone: "It's been years since she has seen him. The last time, he was nearly a shell of a man… but he was her man… and he tore her heart out of her chest. Circumstances unbeknownst to him have ensured she never fully recovered.
He left his sniper days behind—for the most part—when he left the Army and become a respected Texas Highway Patrolman. He also left behind her. He's convinced it was the right thing to do at the time, but that doesn't mean he's ever forgotten the woman who loved him in his greatest time of need… or has stopped thinking of her since.
Neither thought they'd see each other again, until an evil man sets his vengeful sights on her. This could be their second chance, even though they have enough secrets and trust issues to end any relationship before it starts. But when the bad guy closes in, they'll have to set aside their fears and trust in each other, to save the one thing that means the world to them both."
Get It On by J. Kenner — New Release!!
Can standalone: "Fate's been messing with Army veteran Tyree Johnson. It took his buddies in combat and his wife in a fatal car accident. But he'll be damned if he'll let Fate take his beloved bar…
For years, he's avoided being Fate's whipping boy through sheer force of will, and now every bit of his focus is centered on saving his business. Until, that is, the first woman who ever touched his heart walks back into his life—along with a daughter he never knew.
After years of loneliness, he's not prepared for the way her sensual curves and sharp wit still capture his heart and rekindle his senses. All he knows is that for the first time in forever, he's found a passion other than his bar. But one final twist arrives when Fate pits the bar he can't bear to lose against the woman who's stolen his heart."
INK: A Love Story on 7th and Main by Elizabeth Hunter — New Release!!
Standalont: "It's everything but business as usual… She hadn't expected to come back to Metlin, California. She definitely didn't expect to stay. She returned to her childhood home with a mission: Sell the building that housed her grandmother's book store and move on with her life. But life doesn't always go according to plan.
To reopen her grandmother's book shop, she will need a hook. She'll need a strategy. She'll need an… Ox?
Miles Oxford doesn't have much interest in quiet bookstore owners. He's a tattoo artist without a space to work, and the last thing he wants is to get involved with anyone after his last disaster of a relationship. Work and pleasure don't mix for Ox, but since he doesn't have any interest in the cute girl with the bold business proposal, he should be safe from any awkward complications, right?
She sells ink. He tattoos it. Unusual? Yes. But a book shop/tattoo studio might be the ticket for both Emmie and Ox to find success on their own terms. As long as they keep their attention focused on business. Just on business."
Before and Ever Since by Sharla Lovelace — New Release!!
Can standalone: "She has her hands full with a stubbornly independent daughter, an ex-husband who sometimes tests her patience, and a mother who often does. But Emily also has a devastating secret, one she thought she'd buried long ago—along with her feelings for Ben Landry.
From childhood friends to young lovers, Ben and Emily shared an unbreakable bond and were as close as two people could get. Or so she'd thought, until he disappeared from her life without a word. Now, twenty years later, Ben is back, and seeing him does more than trigger memories and tug at her heart.
As Emily works to keep her secret safe and her heart safer, visions of her past begin playing out before her eyes, making her see herself, Ben, and every choice she's ever made in a revealing new light. And for Emily, seeing her life in rewind makes her realize she has some hard choices to make—choices that could forever change her life and the lives of everyone she loves…"
LATEST BOOK SALES
UPCOMING BOOK RELEASES
BOOKWORM STORE
WHAT KIND OF BOOKS ARE YOU LOOKING FOR?
__________________________________
Let me know if there are any other books you're loving right now too!!
LET'S STAY CONNECTED
To get these lists sent to you every week, subscribe by email.
FOLLOW THE BLOG
Facebook | Twitter | Instagram | Pinterest | BlogLovin' | Google+ | Goodreads