WEEKLY NEW RELEASES RECAP

HOT NEW RELEASES (NOW LIVE):  
DETAILED LIST: NEW RELEASES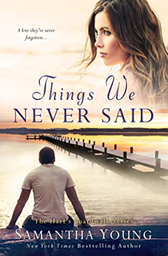 Things We Never Said by Samantha Young — New Release!!
Can standalone: "She likes her quiet life… It's the perfect place to hide from her family and the tragic events that led to their estrangement. However, when her father, the person she loves most in the world, needs her she has no choice but to return to Boston to face her ghosts. One of those happens to be her ex-boyfriend's best friend. The man she was never supposed to fall in love with… He has never forgotten her. Some might say he's never gotten over her. For years he lived with the anger of her desertion, and now, newly-divorced, he's finally ready to move on. That proves impossible when she returns to Boston and reawakens their explosive connection…"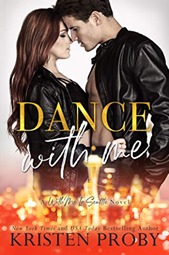 Dance With Me by Kristen Proby — New Release!!
Can standalone: "She doesn't have a last name, and she doesn't need one. Not with that many Grammys on her mantel. Everyone knows her… No one knows that America's Sweetheart is still living with the wreckage of four years ago, when her world was torn apart. Losing her fiancé was devastating, but she's channeled all of that into her music. Closing off her heart opened a hundred new doors. For almost twenty years, he has been consumed by the law. He eats, sleeps, and breathes work. Not just because he's a workaholic, but because he loves it. Sure, he doesn't have time for a woman and barely sees the rest of his family, but it's a trade he's always been happy to make. Until her."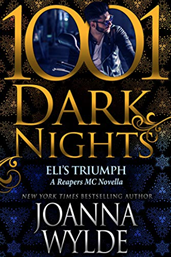 Eli's Triumph by Joanna Wylde — New Release!!
Can standalone: "Peaches Taylor spent the last seven years slinging drinks and dodging drunks at the Starkwood Saloon. Some might call it a dead end job, but to her it was an investment—another six months, and she'd have enough money to buy the place. Life would've been perfect if Eli hadn't come home. Eli King is ready to settle down. He stood by his brothers when they needed him, paying the price for their freedom with his own. Now it's time to claim his reward—the Starkwood Saloon. He's got the cash to buy the bar, the skills to run it, and just one person standing between him and his dream: Peaches Taylor. She's been driving him crazy since they were kids, and not in the good way. When she was six, she shoved a spider down his pants. When he was ten, he locked her in a closet overnight. Then she hot-wired his car at seventeen, and things got ugly… They're adults now, and the Starkwood isn't a toy to fight over—it's the hill they'll die on. No prisoners. No compromises. No mercy. Peaches Taylor and Eli King are going to war."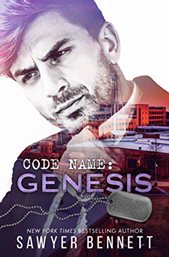 Code Name: Genesis by Sawyer Bennett — New Release!!
Can standalone: "Years ago, they were in love. She was an up-and-coming superstar and he was the devilishly handsome security professional hired to keep her safe. They fell hard and fast, no matter how they tried to resist one another. But not everyone around them was happy about their relationship, and a string of lies and deceit destroyed what they once had. Having just taken the helm of a nationally renowned protective services company, he is looking to rebrand and revamp his career [and] the last thing he has time for is to deal with his past. More than a decade has passed since their split, but even a bruised and battered heart remembers its first love. So when she comes to him for help, he reluctantly agrees to keep her safe from a terrifying stalker who keeps threatening her life. As the danger they face continues to intensify, he realizes he'll stop at nothing to protect the woman who turned her back on him all those years ago. Because one thing is certain—no matter how hard he tries to convince himself otherwise, she still has his heart."

LATEST BOOK SALES
UPCOMING BOOK RELEASES
BOOKWORM STORE
WHAT KIND OF BOOKS ARE YOU LOOKING FOR?
__________________________________
Let me know if there are any other books you're loving right now too!!
LET'S STAY CONNECTED
To get these lists sent to you every week, subscribe by email.
FOLLOW THE BLOG
Facebook | Twitter | Instagram | Pinterest | BlogLovin' | Google+ | Goodreads