BOOKWORM NEWS:
Tethered Souls: A Nine Minutes Spin-Off by Beth Flynn was just announced! It's a standalone but connected to the Nine Minutes Trilogy! — "I haven't seen my closest childhood friend, Christian Bear, since I was a teenager—he hasn't changed a bit. He's still temperamental and plays by his own rules with the law following two steps behind him. Christian remembers me. But he doesn't know the first thing about me anymore. I should've shared my feelings with him the day before I moved away with my family, promising him I'd stay in touch. It broke my heart when he didn't keep his end of the bargain. As a consequence, we haven't spoken in years. Even though Christian and I have always had undeniable chemistry, I won't let him shatter my heart a second time… Christian has shown up in my life again with secrets of his own, and demanding answers. That doesn't mean I'm willing to give them. He'll know my secrets when I'm ready. Our secrets, the risks we're taking, and the danger he imposes make it impossible to know what our future holds. Either our tethered souls will bind back together, or our secrets will separate us forever."

The Lies I've Told by JL Burg was just announced!!! It's a By The Bay standalone novel! — "A few days at the beach could definitely help uncomplicate this crazy life of mine. Enter Aiden Fisher. Aiden is a guest at my sister's inn. He's wicked hot, a huge flirt and has one of the sexiest British accents I've ever heard. But beyond all that, I see a darkness in his soul, as if he's carrying a great weight upon his shoulders. I find myself pushing back my trip home to Florida in hopes that maybe I'll look into those hazel brown eyes and finally see truth shining back instead of lies. That maybe he'll stop running and tell me the truth for once. But you know what they say about liars? It takes one to know one and I've been telling the biggest lie of all – I've fallen hopelessly in love with Aiden. And isn't that the scariest truth of all? "

Ghostgirl by JB Salsbury was just announced! It's a standalone! — "Three years ago Milo Vega was abandoned with his two younger brothers and placed into foster care. Now a twenty-year-old high school senior, covered in gang tattoos, and the school's janitor, his life is vastly different from the one he was destined for. When another foster joins the family, this one from the psychiatric facility, Milo is skeptical. A rare genetic condition makes her unlike any girl he's ever seen and he wants nothing to do with the ghostgirl. Despite his reluctance, his protective instincts flare when she enrolls in school and eventually an unlikely friendship grows between them. When a tragic event snaps her fragile psyche Milo is faced with the possibility of never seeing her again. Unless he risks it all to save her."
WEEKLY NEW RELEASES RECAP

HOT NEW RELEASES (NOW LIVE):  
MOVIE RELEASE (NOW LIVE):  
DETAILED LIST: NEW RELEASES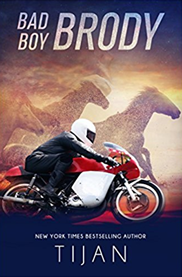 Bad Boy Brody by Tijan — New Release!!
Standalone: "One punch took him from Hollywood's Golden Boy to Bad Boy Brody. The media didn't care he was grieving his brother's death. They descended on him, but to change his reputation, his manager got him a deal. Act in an indie film, one that already had Oscar buzz, and he'd get the movie roles he needed to secure his future.
He took the deal. Yet he wasn't prepared for the real-life people behind the script. He wasn't prepared for the murder the movie was based on. And he really wasn't prepared for her, the biggest secret of all… She was wild. She was beautiful. She defied gravity. But was she the leading role that would tame him?"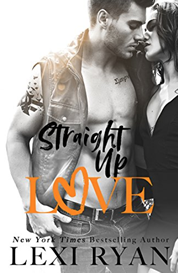 Straight Up Love by Lexi Ryan — New Release!!
Can standalone: Pregnancy romance about "a woman who'd do anything to have a baby and the man who'd do anything to have her…" — For my 30th birthday, I'm giving myself the one thing I want most: a baby… When I drunkenly confess my plans to my friends, they convince me to ask Jake Jackson for help. Jake, the best friend who's been there for me…
So when he takes me up on my request—with the stipulation that we get the job done the old-fashioned way—I'd be a fool to decline. The only problem? I don't know if I can separate sex from all the things I feel for this amazing man… He has his own reasons for granting my baby wish. But when I discover his secrets, it could mean the end of us. I have to choose—run or stay and fight for love."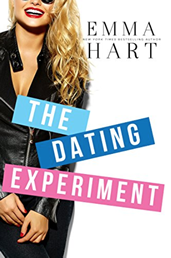 The Dating Experiment by Emma Hart — New Release!!
Can standalone: "Setting up a dating website with the guy I've been in love with since I was five wasn't my smartest idea. Especially since he's my best friend's brother—thankfully, she's okay with the fact I'm pulling a Sandy and I'm hopelessly devoted to him. Which is why it's time to get over him.
So I do something crazy and ask him to find me a date. He does—if I find him one, too. Since we own Stupid Cupid, it should be easy, right? And it is. My date is perfect. His date is perfect. Everything is perfect. Until he kisses me… Three dates. One kiss. And a big-ass mess…"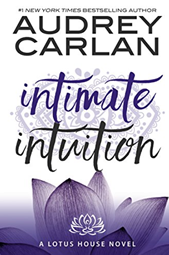 Intimate Intuition by Audrey Carlan — New Release!!
Can standalone: "He's rich, attractive, and loyal to his core. He's the man every woman wants but none can have. He's suffered immeasurable loss, and he doesn't plan on ever going through that hell again.
The quirky, stunning meditation teacher is also the owner of Sunflower Bakery. She's always dreamed of being a baker—and a mother. Having grown up an orphan, she knows what being alone and feeling unwanted is like… They meet one fated night and spend a single evening worshiping each other's bodies. All is beautiful until she discovers a secret and disappears before the sheets are even cold. Except they can't escape one another. Destiny has spoken, and these two are about to become far more intimate than they ever thought possible…"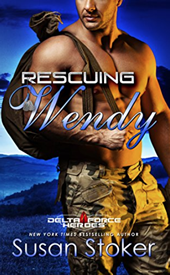 Rescuing Wendy by Susan Stoker — New Release!!
Can standalone: "He's the last of his Delta Force team to find love… and he's pretty bummed about that fact. Which might explain why he finds himself chatting up a telemarketer as if she's a long-lost friend. But she's surprisingly easy to talk to, so when they go from occasional calls during her work, to nightly conversations on their cells, it somehow feels right. So right, he eventually convinces the funny, sweet woman to meet him in person.
… Before long, she's allowing the handsome soldier to spend more time with her and the teen brother she's raising, than anyone she's ever dated. Though she knows there are limits to how close she can get to him, no matter how much she likes him. Limits carefully constructed to protect them from a past they've been running from for years…"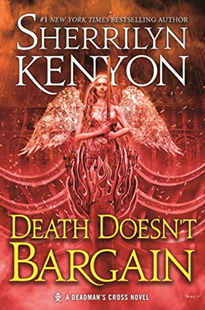 Death Doesn't Bargain by Sherrilyn Kenyon — New Release!!
Can standalone: "The Deadmen are back… But so are the demons who have broken free of their eternal prison and are bent on mankind's destruction. The worst of the lot is Vine, determined to claim their lives for taking hers. She will see the world burn…and has the perfect lure to destroy them all. One of their own.
He has never known a day of mercy. Born to the cruelest of mer-races, he sacrificed himself for his crew and is in Vine's hands. He expects no mercy or rescue. Yet she is determined to set him free. It's her calling, and she cannot allow even a not-so-innocent to be tortured for an act of kindness that spared her damnation…"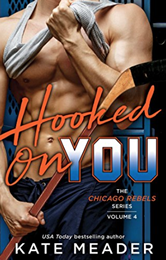 Hooked On You by Kate Meader — New Release!!
Can standalone: "She never met her biological father, so learning he left his beloved hockey franchise to her is, well, unexpected. Flat broke and close to homeless, she is determined to make the most of this sudden opportunity… [but] overseeing a band of hockey-playing lugs is not on her agenda…until she lays eyes on the team captain and knows she has to have him.
This season, getting his life back on track and winning the Cup are his only goals. With no time for relationships—except the fractured ones he needs to rebuild with his beautiful daughters—he's finding it increasingly hard to ignore her. And when he finds himself in need of a nanny just as the playoffs are starting, he's faced with a temptation he could so easily get hooked on…"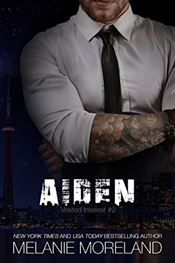 Aiden: Vested Interest by Melanie Moreland — New Release!!
Can standalone: "Haunted by memories of his past, he plays the part of the happy-go-lucky friend. Always ready with a teasing smile or a joke, he is good at hiding his pain. Using his impressive physique as a shield, he keeps his past buried beneath his rugged exterior. Except, one woman sees through his façade. Her green eyes see too much, even as her body tempts him. Even as his heart yearns for her. She is determined to make him realize that he is worthy of being loved. He pushes her away at every turn, yet finds himself unable to keep her at arm's length. Who will win this battle of love?"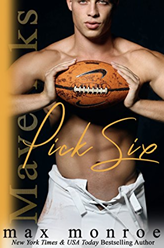 Pick Six by Max Monroe — New Release!!
Can standalone: "He's a sexy as sin enigma. Cocky. Promiscuous. The star wide receiver. His quick moves and sure hands extend way past the lines of the football field—and into the bedroom. Sure of himself and sure of his life, he's convinced he can handle anything. But when she delivers a challenge he's never faced before, his certainty starts to waver.
She's a force to be reckoned with. Feisty. Hilarious. The popular vlogger Pick Six. The chance to work with the Mavericks on a vlog series is the opportunity of a lifetime, and she knows it. But after an interesting first encounter turns into a head-to-head battle with cocky football star Sean Phillips, her attention shifts—to keeping herself from falling in love…"
LATEST BOOK SALES
UPCOMING BOOK RELEASES
BOOKWORM STORE
WHAT KIND OF BOOKS ARE YOU LOOKING FOR?
__________________________________
Let me know if there are any other books you're loving right now too!!
LET'S STAY CONNECTED
To get these lists sent to you every week, subscribe by email.
FOLLOW THE BLOG
Facebook | Twitter | Instagram | Pinterest | BlogLovin' | Google+ | Goodreads