NEW AUDIO SERIES ANNOUNCED: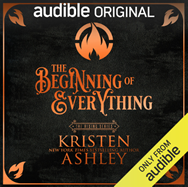 Kristen Ashley has just announced a new fantasy romance series releasing in audiobook format only as "Audible Originals". In order to listen to them, you can sign up for an Audible Membership and right now you can save 53%!! Subscribers get 1 audiobook and 2 Audible Originals each month. Alternatively, since it's the holiday season, you can give the gift of Audible membership too!
The audiobooks in this new fantasy romance "Rising" series are #1 The Beginning of Everything, #2 The Plan Commences, #3 The Dawn of the End, #4 The Rising.


NEW COVER ANNOUNCED: Riven Knight by Devney Perry (Tin Gypsies #2)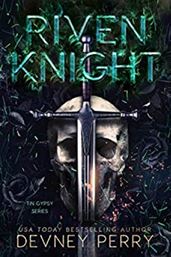 SQUEEE!! This is the second book in a new series I've been loving! I recently read the first book Gypsy King (my review) and can't wait for this!! — "Genevieve Daylee didn't expect to be standing in front of a judge on her twenty-seventh birthday. But ever since her life became entangled with a former motorcycle gang, she's learned not to expect anything but trouble. Her mother, a woman she once admired and adored, is gone, leaving behind a trail of secrets and lies. She's living in a tiny apartment above a garage owned by her brother, a man who loathes her very existence. And the father she met beside her mother's grave is as much of a stranger as Isaiah Reynolds, the broken man with soulless eyes standing beside her in front of the judge. Isaiah is her protector from the murderer at large in Clifton Forge. Though he's more like a riven knight in dented armor than a prince on a white stallion. She knows next to nothing about him, other than he works as a mechanic. As of tonight, he'll be sharing her bathroom. And, according to the judge, Isaiah is now her husband." — Grab a copy of Gypsy King and pre-order Riven Knight!

NEW SERIES ANNOUNCED: Runaway Road by Devney Perry 

MORE EXCITING NEWS!! This is the first standalone in a new series of standalones! I literally love everything this author writes so I can't wait! — "Londyn McCormack didn't have a typical childhood. She ran away from home at sixteen, escaping parents more interested in drugs than their daughter. She doesn't have loving siblings or an adorable pet. Her only family is the five other runaway kids who shared her junkyard home. Life pulled them all in separate directions, taking her to Boston. For a short time, she thought she'd found something permanent. But after a devastating divorce, she's running away again, this time to find a lost friend. She's driving across the country in her convertible. As a teenager, the rusty car was her shelter. As an adult, it's her ride to freedom. Except one flat tire derails her trip. Her life collides with Brooks Cohen. They walked away from the first crash. The second might destroy them both." — Be sure to pre-order a copy!

NEW BOOK ANNOUNCED: Come Back For Me by Corinne Michaels (standalone)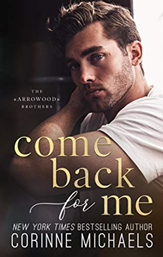 I also love this author's books so this is one I'm excited for! — "One night, eight years ago, she gave me peace. No names. No promises. Just two broken people, desperate to quiet their pain and grief. In the morning, she was gone and had taken my solace with her. I left for the military that day, vowing never to return to Pennsylvania. When my father dies, I'm forced to go home to bury him. At least I'll finally be rid of his farm, which is grown over and tangled with memories I've fought to forget. And that's when I find her. She's even more beautiful than I remember and has the most adorable kid I've ever seen. Years have passed, but my feelings are the same, and this time I refuse to let her go. They say you can't bury the past, and they're right. Because when long-ago secrets are exposed, rocking us both to the core, I have no choice but to watch her walk away again…" — Be sure to pre-order a copy!
WEEKLY NEW RELEASES RECAP

HOT NEW RELEASES (NOW LIVE):  
LATEST BOOK SALES
UPCOMING BOOK RELEASES
BOOKWORM STORE
WHAT KIND OF BOOKS ARE YOU LOOKING FOR?
__________________________________
Let me know if there are any other books you're loving right now too!!
LET'S STAY CONNECTED
To get these lists sent to you every week, subscribe by email.
FOLLOW THE BLOG
Facebook | Twitter | Instagram | Pinterest | BlogLovin' | Google+ | Goodreads