JUST ANNOUNCED: Only Love by Melanie Harlow (can standalone)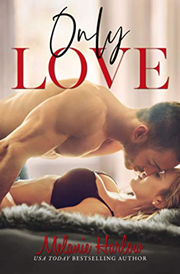 A gorgeous former Marine with a tortured soul. The beautiful, compassionate therapist living next door. A meddlesome grandma determined to get them together… "I was expecting a proposal on my birthday, and I got dumped instead. How could I have been so clueless? Grams knew exactly how to distract me. The "cute boy next door" who's been helping her with yard work clearly needs a little therapy. Who better to call than her newly single therapist granddaughter? She even fakes dementia to get me to visit, and now that I'm here she's doing everything in her power to throw us together. Not that I'm complaining. Ryan is the sexiest man I've ever met–I mean the full package, from the chiseled jaw to the massive shoulders to the rippling abs. He makes me want to get out of my head and follow my heart. He makes me want to take chances I never thought I'd take… But he's moody and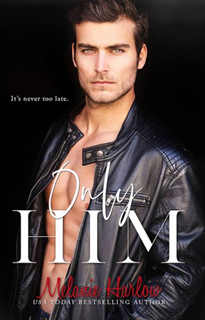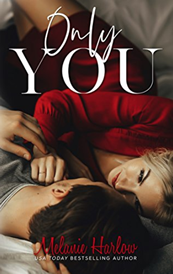 challenging–one minute he's an open book, and the next he's completely closed off. He holds me like he'll never let go, but insists he wants to be alone. Some wounds are so deep, only love can heal them. How can I convince him to let me try?" — I love this author's books and Only Love is the third standalone in a series of standalones. If you want to start reading now, you can grab Only You and Only Him, then preorder Only Love for later this month!
WEEKLY NEW RELEASES RECAP

HOT NEW RELEASES (NOW LIVE):  
DETAILED LIST: NEW RELEASES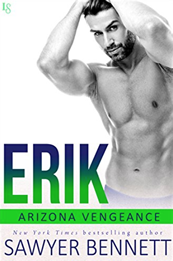 Erik: An Arizona Vengeance by Sawyer Bennett — New Release!!
Can standalone: "After notching some big wins, the entire league knows to watch out for me. The only person who doesn't seem to think I'm so great? The hot-as-f*** flight attendant on our team plane… but besides bringing me lukewarm coffee, she won't give me the time of day. Whatever I did to rub her the wrong way, my teammates think it's hilarious.
When I run into her back on land, I'm shocked to learn how she spends her time off: taking care of her handicapped brother. There are layers to this girl I never imagined, layers I can't wait to peel away. And that's a new feeling for me. But first I've got to find a way to melt that ice-cold stare. Because as much as I try to pretend I don't care what she thinks of me, how can you not care when you're falling for someone?"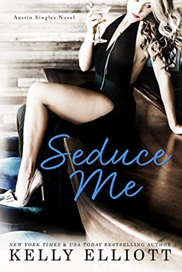 Seduce Me by Kelly Elliott — New Release!!
Can standalone: "I walked out of his bedroom seven years ago, leaving him hurt and angry. Now I need his help; the only way I can get it, is to make him think I want him back. The only problem is we have silently vowed to hate one another for the rest of our lives. In order to get him to help me—I have to seduce him.  Easy right? Hell yes! If I set my mind to something, I make it happen."
"She is playing me for a fool. If she believes for one second I'm going to let her walk into my life to help her save the very job that ripped her away from me, she's got another thing coming. She thinks she can seduce me, and I let her believe she can. After all, I'm getting what I've always wanted. Her."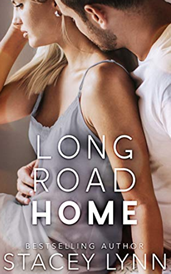 Long Road Home by Stacey Lynn — New Release!!
Can standalone: I left home ten years ago, promising myself I'd never return to the place where I had never been accepted. I was despised and ridiculed for circumstances completely beyond my control. But when my grandmother passes away, I'm forced to return to Kansas. I will have to face everyone who hated me. But they're not who I'm most afraid of. My biggest fear? Facing him. Jordan Marx. The boy I once loved more than life itself. The boy who defended me from them. The boy I'd disappeared on, leaving him nothing more than a horrible nasty lie and hastily scribbled note. When Jordan finds out the secret I have carried for so long, I'm in for the battle of my life. Or so I thought. I might have wandered for years on a path riddled with thorns but with Jordan by my side, taking the long road home means more than reuniting with the only man I've ever loved. It might just mean finding myself, and the family I never thought I could ever have along the way.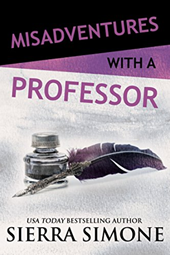 Misadventures with a Professor by Sierra Simone — New Release!!
Can standalone: "She never planned on going to grad school a virgin. So when her professor father finds her a job abroad as a research assistant the summer before she starts her master's program, she sees her chance. She's got one night in London to lose her V-card to a Mr. Darcy lookalike before she has to join some ancient professor in the country…
To her shock when she arrives at Professor Graeme's house a day later, the door isn't opened by a fussy old scholar, but by the wild, passionate man she met in London. Cold and reserved by day, he is ferociously greedy with her at night, and it's not long before she finds herself falling for both versions of him―the aloof professor and the generous, rough lover. The trouble is that summer only lasts so long, and she already has a plane ticket waiting to take her home…"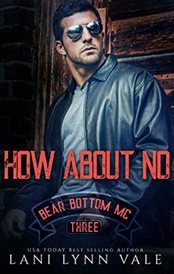 How About No by Lani Lynn Vale — New Release!!
Can standalone: "He had everything he could ever want in life…then he lost it. Now, his life—his forever girl—is living in a house he built for her while he's struggling to move on and find meaning where there isn't any to be found.
She was his girl. His everything. His first kiss. His first and only love. His old lady and wife. Then one day he does something monumentally stupid, and she walks away knowing she'll never come back.
Fast forward two years, and he's still just as in love with her now as he was when she left. The only problem is that she's moved on with her life… Just when they both think things can't get any worse, life kicks them both in the teeth, and she finds out really quick that the only person she can depend on is the one that let her walk away…"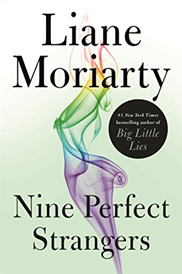 Nine Perfect Strangers by Liane Moriarty — New Release!!
Standalone: Nine people gather at a remote health resort. Some are here to lose weight, some are here to get a reboot on life, some are here for reasons they can't even admit to themselves. Amidst all of the luxury and pampering, the mindfulness and meditation, they know these ten days might involve some real work. But none of them could imagine just how challenging the next ten days are going to be.
Frances Welty, the formerly best-selling romantic novelist, arrives at Tranquillum House nursing a bad back, a broken heart, and an exquisitely painful paper cut. She's immediately intrigued by her fellow guests. Most of them don't look to be in need of a health resort at all. But the person that intrigues her most is the strange and charismatic owner/director of Tranquillum House. Could this person really have the answers Frances didn't even know she was seeking? Should Frances put aside her doubts and immerse herself in everything Tranquillum House has to offer – or should she run while she still can?
It's not long before every guest at Tranquillum House is asking exactly the same question.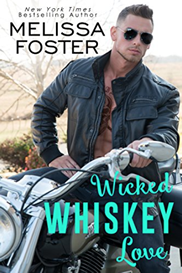 Wicked Whiskey Love by Melissa Foster — New Release!!
Can standalone: "With two small children to care for and another on the way, she's finally found a home with the brother she hasn't seen in more than a decade. She's still searching for her sister, but life is good. If only she could stop thinking about the sinfully sexy doctor/biker who has taken to her children like a loving uncle-and to her like a hungry man.
Trust doesn't come easily for her, but he is patient and protective, amazing with her children, and he looks at her like she is the only woman he could ever want-and more. With two little ones underfoot, she expects him to move on quickly, yet with every tender kiss and each trying moment with the children, he surprises her. But will the fiercely loyal biker stick around when her worst secret is revealed…?"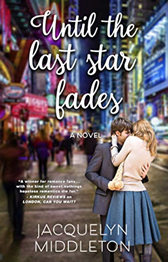 Until The Last Star Fades by Jacquelyn Middleton — New Release!!
Can standalone: "In her senior year at NYU, she appears to be on top of the world. But behind it, she's drowning. Racked with fears for the future, she battles to stay afloat amid life in the shadows of a heartbreaking illness.
And then, he comes crashing into her life. Twenty-three-years-old, British, and alone in the Big Apple after a disastrous pilot season in LA, the struggling actor is looking for an escape: booze, mischief, sex—minimum commitment, maximum fun—anything to avoid returning across the pond. 
As they form an unlikely bond, she keeps her reality from him so that he remains a happy refuge. But how long can she hold back the truth…and is he keeping his own secrets, too?"
LATEST BOOK SALES
UPCOMING BOOK RELEASES
BOOKWORM STORE
WHAT KIND OF BOOKS ARE YOU LOOKING FOR?
__________________________________
Let me know if there are any other books you're loving right now too!!
LET'S STAY CONNECTED
To get these lists sent to you every week, subscribe by email.
FOLLOW THE BLOG
Facebook | Twitter | Instagram | Pinterest | BlogLovin' | Google+ | Goodreads