BOOK ANNOUNCEMENTS:
Be The Girl by KA Tucker was announced!! — "Almost-sixteen-year-old Aria Jones is starting over. New postal code, new last name, new rules. But she doesn't mind, because it means she can leave her painful regrets behind. In the bustling town of Eastmonte, she can become someone else. Someone better. With the Hartford family living next door, it seems she will succeed. Sure, Cassie Hartford may be the epitome of social awkwardness thanks to her autism, but she also offers an innocent and sincere friendship that Aria learns to appreciate. And Cassie's older brother, Emmett—a popular Junior A hockey player with a bright future—well … Aria wishes that friendship could lead to something more. If he didn't already have a girlfriend, maybe it would. But Aria soon finds herself in a dicey moral predicament that could derail her attempt at a fresh start. It is her loyalty to Cassie and her growing crush on Emmett that leads her to make a risky move, one that earns her a vindictive enemy who is determined to splinter her happy new world."


ANGSTY NEW RECOMMENDATION: Trailer Park Heart by Rachel Higginson (Read my Review)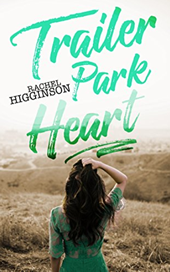 HOLY ANGST ALERT!!!! This book had my heart in KNOTS the whole way through!!! Without too many details, the heroine came from the wrong side of the tracks in a very small gossipy town and when an unexpected pregnancy rocked her world, her dreams of leaving come crashing down and her son became her world. But then six years later, the only man she'd ever fallen for and the one man she never thought she'd see again (not her son's father!) came back to town and the feelings between them were just as intense as ever even though she could never reveal the secret she'd kept since the day she got pregnant… OH MY GOD THE ANGST YOU GUYS!!!! This book was so well written and the ending was really EARNED!!! Definitely a new FAVORITE so be sure to grab a copy as it is now live!!

FUN SWOONY NEW RECOMMENDATION: The Simple Life by Tara Sivec (Read my Review)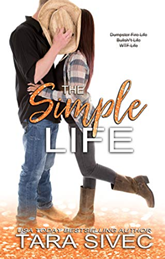 SQUEEEE!!! OMG This book was SO MUCH FUN!! It's an enemies to lovers single dad small town romantic comedy standalone!! It was totally HILARIOUS and the first book in forever that literally made me LOL — as in actually laugh. out. loud — several times!!! This book was genuinely FUNNY, swoonily ROMANTIC, pretty darn SEXY, and kept me smiling the whole way through!! I read it in one sitting and absolutely loved it!!! This is definitely romance with a whole lotta heart — there's a sexy single cowboy hero with two of the most adorable little daughters ever, a fiery, sassy, and strong heroine, no stupid drama, and a really HEART-WARMING love story!!! If you're looking for a GREAT new read, be sure to grab a copy!!

WEEKLY NEW RELEASES RECAP

HOT NEW RELEASES (NOW LIVE):  
DETAILED LIST: NEW RELEASES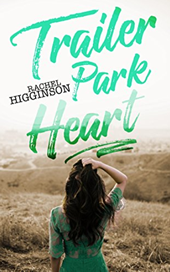 Trailer Park Heart by Rachel Higginson — New Release!!
Standalone: "Trailer park born and raised. It's the life I was born into and it's the life I swore I would leave the second I was old enough to make it out… An innocent decision the night of high school graduation led to a series of complications in my plans to escape. 
Seven years later, I've resigned myself to this small town and the roots I'm tied to. Nothing could make me leave. And nothing could make me spill the secrets that keep me here… Until he walks back into town with a chip on his shoulder and a stupid hunch nobody else in town has been smart enough to follow.
Levi Cole is my opposite. Born on the right side of the tracks with family money to spare, he's the kind of black sheep that can afford to be rebellious—because his family will always pay for his mistakes. He's also the only living heir to Cole Family Farms, after his brother Logan was killed in duty seven years ago.
He sees something in my life that he thinks he has a right to. But he's wrong. And obnoxious. And he needs to take his stubborn good looks and that intense way he looks at me and go back to wherever it was he came from. 
I know better than to trust men like him. I was born and raised in a trailer park, I know nothing good happens to girls like me—girls with trailer park lives and trailer park hearts. Especially from gorgeous, kind, pigheaded men like him…"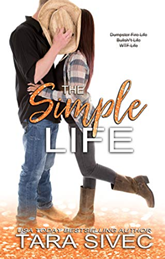 The Simple Life by Tara Sivec — New Release!!
Standalone: " She thought her life was perfect in every way, until it crumbled down around her and turned into a dumpster fire. With her pride wounded and her tail tucked between her legs, she goes back to her tiny hometown… She didn't think it could get any worse. But then he walked into the room and insulted her.
Her arch nemesis from high school [has] grown up to be a hot-as-hell cowboy, and she has no other choice but to be a smart ass right back to him. After all, it's what they do. It's what they've always done, and twelve years apart hasn't changed anything. Only this time, getting under each other's skin is a hell of a lot more fun than it used to be."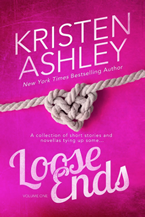 Loose Ends by Kristen Ashley — New Release!!
This is KA's first ever anthology and it features characters and series in the KA universe!! No Clue, a short story with Joe and Vi from At Peace. Rock Chick Renewal, a short story in the Rock Chick series featuring Todd and weddings. The Stars Aligned, a novella – the long-awaited love story of Hap and Luci, introduced in Heaven and Hell. The Favor, a short story with Deacon and Cassidy from Deacon. More Than Everything, a novella following Diesel, Maddox and Molly from The Greatest Risk. I so excited!!! Be sure to catch up on your Kristen Ashley books and grab Loose Ends!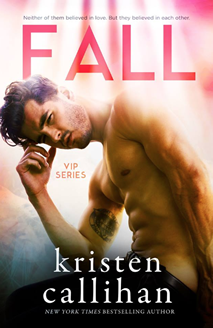 Fall by Kristen Callihan — New Release!!
Can standalone: "The first time I met Jax Blackwood things went a little sideways.
In my defense, I didn't know he was Jax Blackwood—who expects a legendary rock star to be shopping for groceries? More importantly, a blizzard was coming and he was about to grab the last carton of mint-chocolate chip.
Still, I might have walked away, but then he smugly dared me to try and take the coveted ice cream. So I kissed him. And distracted that mint-chip right out of his hands.
Okay, it was a dirty move, but desperate times and all that. Besides, I never expected he'd be my new neighbor…"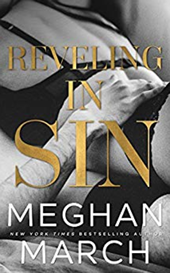 Reveling in Sin by Meghan March — New Release!!
Series: "She's the kind of woman you fight to the death to protect. 
To keep. 
To cherish. 
I've finally learned my lesson, and it's time to prove I'm the man who's worthy of her.
I don't care what it takes, because failure is not an option. 
No matter who or what stands in our way…
this time, she'll be mine forever."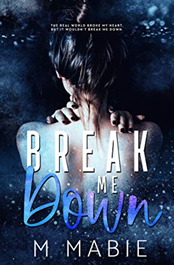 Break Me Down by M. Mabie — New Release!!
Series: "I wasn't the woman I once was, sheltered from reality. Through it all, one thing remained the same—I wanted him." A life outside the gates was never a choice I would have made on my own. Groomed into obedience, I was blind to their manipulation, their neglect, and their abuse. They are a cult. He saved me. Then the ugliest truths came out, and I ran. Regardless of how hard I push him away, there is no denying the security and comfort I found in his arms. No ignoring the pull he has on me or how his affection gives me strength. Hope. The will to fight. But I'll have to find myself before I can ever be truly his. The real world broke my heart, but it wouldn't break me down."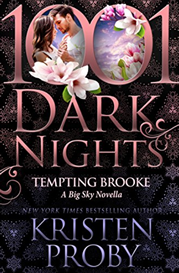 Tempting Brooke by Kristen Proby — New Release!!
Can standalone: "Brooke's Blooms has taken Cunningham Falls by surprise. The beautiful, innovative flower shop is trendy, with not only gorgeous flower arrangements, but also fun gifts for any occasion. This store is Brooke Henderson's deepest joy, and it means everything to her…
So, when her landlord dies and Brody Chabot saunters through her door, announcing that the building has been sold, and will soon be demolished, she knows that she's in for the fight of her life. But she hasn't gotten this far by sitting back and quietly doing what she's told…, and she has no intention of losing this fight, no matter how tempting his smile — and body — is."
Lost With Me by J. Kenner — New Release!!
Series: "My love for Damien fills me, and the intensity of our bond brings me to my knees. For him, there is no burden I wouldn't bear, no decadent punishment to which I won't submit. 
The dark days seemingly behind us, we have carved a life out of adversity, chiseling away pain to reveal strength and beauty. Now, all I want is to laugh with our children in the sunlight, then surrender myself to his embrace in the dark.
But lingering secrets and hidden menace threaten our family. Now, Damien and I must forge a new strength from our shared passion and hope the fire between will burn away the darkness and protect everything we hold most dear…"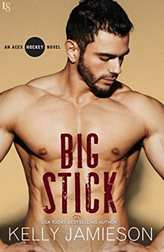 Big Stick by Kelly Jamieson — New Release!!
Standalone: "A brooding hockey hunk learns to embrace life—and love—from a single mom who takes the world one puck at a time."
When she moves to Chicago with her two-year-old daughter… all she needs is a place to live, and her best friend's boyfriend has just the answer… He has zero interest in socializing, partying, or flirting right now… [But] now he has a big problem—because the woman living in his empty coach house is a major distraction.
The more he tries to keep his distance, the more she needs him—around the house, that is. First he helps with the snowstorm, then the power outage. He even finds himself trying to impress her little girl. What the hell is wrong with him? She represents everything he doesn't want. But maybe she's just what he needs…"
LATEST BOOK SALES
UPCOMING BOOK RELEASES
BOOKWORM STORE
WHAT KIND OF BOOKS ARE YOU LOOKING FOR?
__________________________________
Let me know if there are any other books you're loving right now too!!
LET'S STAY CONNECTED
To get these lists sent to you every week, subscribe by email.
FOLLOW THE BLOG
Facebook | Twitter | Instagram | Pinterest | BlogLovin' | Google+ | Goodreads