NEW FAVORITE: Down Too Deep by J. Daniels (My Review)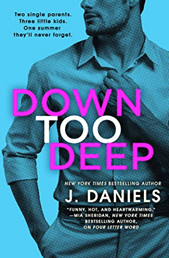 HOLY FREAKING SQUEEEEE!!!!! I just finished reading this absolutely GORGEOUS book!! I read it in one sitting and it was pure ANGSTY ROMANCE GOODNESS!!! The hero is a single dad and the heroine is a single mom and it was SO heart-warming to see them and their kids create a new family out of their two broken ones. It was a SWEET, SWOONY, ANGSTY love story and the ending brought tears to my eyes and just completely perfected the story! I seriously LOVED this book and highly recommend it!! — "I'm not perfect. And that family you want, the one I'm going to give you, it won't be perfect either, but I swear to God, it's going to be everything." — Be sure to grab a copy as it's NOW LIVE!!!
WEEKLY NEW RELEASES RECAP

HOT NEW RELEASES (NOW LIVE):  
LATEST BOOK SALES
UPCOMING BOOK RELEASES
BOOKWORM STORE
WHAT KIND OF BOOKS ARE YOU LOOKING FOR?
__________________________________
Let me know if there are any other books you're loving right now too!!
LET'S STAY CONNECTED
To get these lists sent to you every week, subscribe by email.
FOLLOW THE BLOG
Facebook | Twitter | Instagram | Pinterest | BlogLovin' | Google+ | Goodreads