NEW TOP RECOMMENDATION: From This Moment by Melanie Harlow (Read my Review)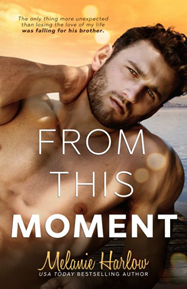 HOLY FREAKING SWOOOOOOOON!!! Omg. I can't stop SMILING!!!!! Ahhhh!!! I stayed up ALL NIGHT (yes, again) reading this seriously ADDICTIVE, ANGSTY, SEXY, SWOONY, GORGEOUS love story that was overflowing with FEEEEEEEEELS!!!! Yes, there are a lot of shouty caps in this post but the story deserves them!!! If you love heart-meltingly SWEET heroes, strong single mom heroines, angsty FORBIDDEN LOVE stories, and BEAUTIFUL epilogues, then this is a MUST-READ book!!!!! It was pure ROMANCE HEAVEN!!! — "When my late husband's twin brother moves back to our small town, I want to avoid him. Everything about Wes reminds me of the man I lost and the life we'd planned together, and after eighteen long months struggling just to get out of bed, I'm finally doing okay. I have a beautiful five-year-old daughter to parent. I don't want to go backward. But I'm drawn to him, too. He understands my grief and anger and guilt like no one else—and I understand his. Before long, that understanding becomes desire, and that desire becomes uncontrollable…" — Be sure to grab your copy!!!

NEW TOP RECOMMENDATION: Unloved, a Love Story by Katy Regnery (Read my Review)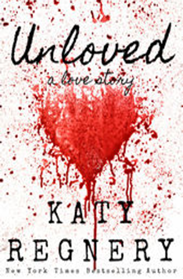 SQUEEEEEEE!!!! OMG!! This ADDICTIVE new book kept me up reading all night and I absolutely LOVED it!!!! The story had SO MANY FEELS and I honestly could not put it down and couldn't stop reading!! It's quite a heart-wrenching romance with the sweetest, swooniest hero hiding a huge secret and a strong, resilient heroine who was determined to show him that no matter what is in his past, he still deserved love!! And OMG. There was a TWIST!! My heart was RACING as I read and I loved that the story had both elements of a GORGEOUS ROMANCE and a MYSTERY entwined in it. And of course, a beautiful epilogue (love those so much!) so if you're looking for an amazing and addictive new book to read today, THIS IS IT! Be sure to grab a copy because it's a standalone and it's now NOW LIVE!!! 😀

JUST ANNOUNCED: Darker: Fifty Shades Darker as Told by Christian by EL James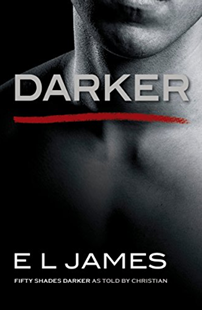 EL James revisits the world of Fifty Shades with a deeper and darker take on the love story that has enthralled millions of readers around the globe… Their scorching, sensual affair ended in heartbreak and recrimination, but Christian Grey cannot get Anastasia Steele out of his mind, or his blood. Determined to win her back, he tries to suppress his darkest desires and his need for complete control, and to love Ana on her own terms. But the horrors of his childhood still haunt him, and Ana's scheming boss, Jack Hyde, clearly wants her for himself. Can Christian's confidant and therapist, Dr. Flynn, help him face down his demons? And if Christian does win Ana back, can a man so dark and damaged ever hope to keep her? — If you're a Fifty Shades fan, pre-order an eBook or pre-order a paperback for Nov 28!!

JUST ANNOUNCED: The Hookup (Moonlight and Motor Oil) by Kristen Ashley (can standalone)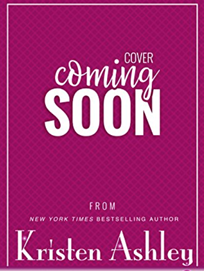 OMG!!! You all know Kristen Ashley is one of my TOP FAVORITE AUTHORS and she just announced a brand new book in a brand new series!!! — "She's not ready to meet the town's good, solid guy. She's definitely not prepared to engage in her very first hookup with him. Then she wakes up the next morning in his bed and she finds she likes being bad for him… Floating on air thinking this is going somewhere, she quickly learns why he holds distant. He's in love with someone else. Someone who left him and did it leaving him broken. Whoever was up next would be runner up, second best. Knowing the stakes, she will take what she can get from him. And even knowing his heart might never mend, he can't seem to stay away from her. Until out of nowhere, his lost love comes back to town. He's not going back, but he still knows the right thing to do is let her go. And she knew the stakes… — I've read and loved over 45 KA books so sure to pre-order a copy and check out this full list of Kristen Ashley books!

MORE KRISTEN ASHLEY NEWS:
The Greatest Risk by Kristen Ashley was just announced! This is the third standalone in the erotic BDSM Honey series! — "A woman unable to connect, struggling to hide another part of her. A man burning to learn her truth, and make her whole. Through explosive passion and deep exploration, they are about to take the greatest risk of all. But will they be able to take that leap, and come out on the other side together? In this next passionate novel in the Honey series, New York Times bestselling author Kristen Ashley delivers a stunningly romantic and intensely sexy novel that will stay with you long after you turn the final page."

Rough Ride: A Chaos Novella by Kristen Ashley was also announced! This is a standalone biker romance novella in the Chaos series! — She put it all on the line for the Chaos Motorcycle Club. Informing to Chaos on their rival club—her man's club—she knows the stakes… But as she drifted away from her man, she's been falling in love with a Chaos brother. He's the biker-boy-next door with quiet confidence and sweet disposition who was supposed to keep her safe and fell down on that job. For him, it's always been her, from the first time he saw her. He's just been waiting for a clear shot. But he didn't want to get it after she was left bleeding on a cement warehouse floor. With her a casualty of an ongoing war, he has to guide her to trust him, take a shot with him, build a them… And fold his woman firmly in the family that is Chaos.
KRISTEN ASHLEY MOVIE NEWS ANNOUNCEMENT!!! I'm so excited to announce that both The Will by Kristen Ashley (my review) and Three Wishes by Kristen Ashley HAVE MOVIE DEALS!! As many of you know, Kristen Ashley is one of my favorite authors who writes AMAZING Alpha romance novels with heart-stopping love stories!!! Be sure to read those books before the movies release!! Both of them can standalone. And if you want to read more, here's a complete list of Kristen Ashley books! Stay tuned for movie details!!

MORE BOOKWORM NEWS:
Falling Fast by Aurora Rose Reynolds was just announced! It can standalone but features characters from Until June! — He's relieved to be back home. After a year of rehabilitation, losing his career as a Marine along with his fiancé, he's had to learn quickly what's really important. He grew up wanting to serve his country. Managing his parents' biker bar was never part of his plan, but after meeting her, he's beginning to think that's exactly where he's meant to be.

Prince Charming by CD Reiss was just announced! It can standalone! — Once upon a time there was a handsome and charming British hacker who fell in love with an ambitious and sensible agent… Keaton Bridge is exactly the kind of guy a straight-arrow like Cassie doesn't need. He's dangerous. He's criminal. He's going legit and the last thing a guy needs in the transition from black hat to white hat is an agent sniffing around. This shouldn't be hard for either one of them. Just stay away. But that's easier said than done. After a night of passion, the heat between them burns hotter than ever. It's not long before Keaton will do anything to make Cassie happy. So he does what any prince would do to win his lady. He hacks into a database to get her a promotion. After that, their journey to Happily Ever After turns risky, dangerous, and very sexy.

The Real Deal by Lauren Blakely was just announced! It's a standalone romantic comedy and sounds fun! — "Going home alone for her family's summer reunion is an invitation for every single relative to butt into her personal life. So when she finds the Craigslist ad for a boyfriend-for-hire, she's ready to pay to play… He has been running from the past for years. He's this close to finally settling all his debts, and one more job as a boyfriend-for-hire will do the trick. He's no gigolo. Please. He's something of an actor, and he knows how to slip into any role, including pretending to be her new beau — the bad boy with the heart of gold…"

JUST ANNOUNCED: All-New WATERPROOF Kindle Oasis – 7″ High-Resolution Display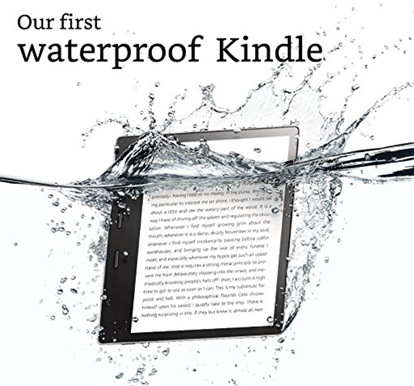 WOW!! The all-new Kindle Oasis is the first WATERPROOF Kindle and looks amazing!! It's their largest, highest resolution display that reads like real paper without glare, even in bright sunlight. Now with Audible, you can listen to the world's largest library of audiobooks and pair with Bluetooth to take the story with you anywhere. Thin and light ergonomic design with dedicated page turn buttons and adaptive front light. And a single charge lasts weeks, not hours! I totally want one!! Get yours here!
WEEKLY NEW RELEASES RECAP

HOT NEW RELEASES (NOW LIVE):  
DETAILED LIST: NEW RELEASES
From This Moment by Melanie Harlow — New Release!!
TOP FAVORITE! Standalone: "When my late husband's twin brother moves back to our small town, I want to avoid him. Everything about him reminds me of the man I lost and the life we'd planned together, and after eighteen long months struggling just to get out of bed, I'm finally doing okay. I have a new job, an amazing support group, and a beautiful five-year-old daughter to parent. I don't want to go backward.
But I'm drawn to him, too. He understands my grief and anger and loneliness like no one else—and I understand his. Before long, that understanding becomes desire, and that desire becomes uncontrollable… We make excuses. We blame our sorrow. We promise each other it will never happen again. But it does…"
Unloved, a Love Story by Katy Regnery — New Release!!
TOP FAVORITE! Standalone: My father was convicted twenty years ago for the brutal murder of a dozen innocent girls. Though I was only eight-years-old at the time, I am aware – every day of my life – that I am his child, his only son. To protect the world from the poison in my veins, I live a quiet life, off the grid, away from humanity. I promised myself not to infect innocent lives with the darkness that swirls within me, waiting to make itself known.
It's a promise I would have kept… if she hadn't stumbled into my life… Now I exist between heaven and hell: falling for a woman who wants to love me, while all along reminding myself that I must remain… unloved.
Tempt The Playboy by Natasha Madison — New Release!!
Standalone: "I have it all, money, looks, and any woman I want. Till I meet her and my universe is knocked on its ass and she wants nothing to do with me."
"My motto: never date the same man twice. I have less chance of breaking my heart that way. Till my eyes land on the only man I'll break my rule for."
She thinks she can run. That I'll let her get away.
He thinks he can handle a woman like me.
He has no idea.
A man who has it all needs one thing and one thing only. A temptress.
Watch me tempt the playboy.
Dirty Little Promise by Kendall Ryan — New Release!!
Conflicted in the depth of her feelings for bad boy Gavin Kingsley, lonely librarian Emma Bell knows he's all wrong for her—yet the heart wants what it wants. But if she gives into his dark, erotic desires will she lose herself completely?
Passion, drama and suspense combine in the conclusion to this love affair with the alpha and enigmatic brothers. Secrets will be exposed, sides will be chosen, and nothing will ever be the same.
Filthy Player by Stacey Lynn — New Release!!
Can standalone: Every woman knows he is nothing but a player. Yet the first time he walks into her restaurant and flashes his sexy grin, she feels a heat between them spark. Too bad he opens his mouth and ruins it. He may think his money, fame, and sexy looks will attract any woman—but he's wrong. She doesn't have time for a man. She's too busy keeping a roof over her head and taking care of her father to care about relationships.
Lucky for him, he's a man who's ready to use all the plays at his disposal and she has just become his new long-game. He also knows that sometimes, in order to win and claim your prize, you have to get a little bit filthy…
Turtles All the Way Down by John Green — New Release!!
Standalone: Sixteen-year-old Aza never intended to pursue the mystery of fugitive billionaire Russell Pickett, but there's a hundred-thousand-dollar reward at stake and her Best and Most Fearless Friend, Daisy, is eager to investigate. So together, they navigate the short distance and broad divides that separate them from Russell Pickett's son, Davis.
Aza is trying. She is trying to be a good daughter, a good friend, a good student, and maybe even a good detective, while also living within the ever-tightening spiral of her own thoughts.
In his long-awaited return, John Green shares Aza's story with shattering, unflinching clarity in this brilliant novel of love, resilience, and the power of lifelong friendship.
Sweet Time by Nina Lane — New Release!!
Can standalone: A rock-hard bodyguard gets a sassy, sweet treat… Stuck in a boring insurance job, she fills her time helping plan the wedding of her best friend to a CEO [and] she has also been trying to attract the impossibly rigid company security chief. But for well over a year, he has ignored her, despite her obvious flirting. And when he finally approaches her, it's only to assess the wedding plans for potential security risks.
A former soldier, he's determined to keep everyone safe [but is] forced to work with the maddeningly sexy woman of the thousand-watt charm and irresistible body… Irked by his many months of disregard, she takes her teasing flirtations to a whole new level. And when he exerts his full control, she discovers he can protect everything except her heart…
Misadventures with a Super Hero by Angel Payne — New Release!!
Can standalone: Working the night shift at a five-star hotel in downtown Los Angeles, I get my fair share of weirdos. But none of them prepared me for the night I met him. He saved my life.
Now, he's my super hero. Too bad he's actually my real-life boss. He's got some commitment issues thanks to his evil ex and global empire—and from having to save the city from a maniac out to destroy everything he loves. But there's something that just may interfere with all those plans. My heart.
Sure Thing by Jana Aston — New Release!!
Standalone: Have you ever set out to have a one night stand with a sexy stranger?
No? I'm the only one? Just kidding, I would never. Ever. Not usually.
But then I figured, why not? My entire life I've been good and it's gotten me nowhere. I'm owed a little fun, aren't I? A reward for being good.
Sure, a new pair of shoes would be more appropriate, but Mr. Sexy Stranger is more appealing. And when he speaks—in that British accent—it's a done deal. Every American woman has a hot British guy fantasy. Well, most do. I haven't taken a poll or anything, but I'm pretty sure it's a fact.
218 First Hugs by E. L. Todd — New Release!!
He won't let me date anyone because he's the biggest cockblock…
He still calls me his wife even though I don't remember our wedding day.
He said he'll never give up on me. Not now. Not ever.
Somehow, I forgave him for what he did in the past. But I'm not sure if I can do it again. But he's not giving me much choice.
Jax by Cristin Harber — New Release!!
Can standalone: A motorcycle club princess and the daughter of a notorious gangster, she's a straight-shooting single mom deadset on ridding a powerful motorcycle club of their drug cartel connection. But not all players are ready for the game to change, including the ones she can't see. The CIA.
He's a former Navy SEAL on their problem list since he showed up for work. Call him cocky. That's fine, because then you'd have to admit he's the best at everything. Except diplomacy. She becomes an unexpected bargaining chip and they're forced deeper into the seedy world drug cartel glitz. Can he be the hero she needs when her children disappear?
In Pieces by Danielle Pearl — New Release!!
Can standalone: Three years ago she was left in pieces…
As soon as he learned his best friend's little sister was enrolling at his school, he promised to look after her, and promised himself he'd keep a safe distance. But the sweet little girl he'd grown up with transformed into a gorgeous young woman, and she's attracting attention from people she shouldn't. But for him, the most troubling discovery is realizing that he doesn't just want her to be safe. He wants her to be his.
You Do Something To Me by Bella Andre — New Release!!
Can standalone: He has always believed he has it all. A billion-dollar private aviation business. A penthouse apartment in New York City. Beautiful women who know better than to expect him ever to fall in love. And great siblings for whom he'd do anything. But when his business partner passes away and leaves everything to a daughter he never knew about, in an instant everything in his life turns upside down… all because of her.
She always thought she was perfectly happy with her life. But she never counted on becoming the surprise heir to a fortune…or on meeting a man like him. A shockingly sexy billionaire who makes her heart race and melt all at the same time…
Holding Onto Forever by Heidi McLaughlin — New Release!!
Can standalone: The road for him has been carved out for him, long before he knew who his father was. Making sure he worked hard to deserve the opportunities provided to him, he is where he's dreamed of being [as] quarterback. Life can't get much better. Except that standing in his path is his life-long friend and the one woman he can never have.
She always knew her future would be in football and dreams of having a successful sports journalism career once she graduates college. After being given the assignment to cover a professional game from the sidelines, she believes that everything is going to plan. Until one fateful night changes her life… Harsh reality sets in for them. One could lose everything, while the other struggles to keep the families together.
Puck Me Baby by Lili Valente — New Release!!
Standalone: "You're going to be a daddy." Looking up into his dark eyes as I break the news, I'm scared out of my mind. This man is the most terrifying defender in the NHL, and if it weren't for my sporty new baby bump, I probably wouldn't believe we hooked up that night.
But the guy who goes to my doctor appointments, moves me into his guesthouse, and cooks me so many gourmet meals I look like I'm carrying twins? He isn't scary at all. He's sweet. And intense. And so sexy I want to smear him with honey and lick it off every inch of his powerful, protective, oh-so-swoony-worthy body. But that's not a part of our relationship anymore. We're friends who intend to raise a child together. That's all… Right?
LATEST BOOK SALES
UPCOMING BOOK RELEASES
BOOKWORM STORE
WHAT KIND OF BOOKS ARE YOU LOOKING FOR?
__________________________________
Let me know if there are any other books you're loving right now too!!
LET'S STAY CONNECTED
To get these lists sent to you every week, subscribe by email.
FOLLOW THE BLOG
Facebook | Twitter | Instagram | Pinterest | BlogLovin' | Google+ | Goodreads