NEW TOP RECOMMENDATION: Dear Bridget, I Want You by Penelope Ward & Vi Keeland (Read my Review)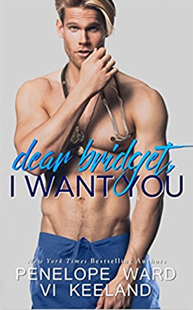 HOLY FREAKING SWOOOOOON!!!! I read this FANTASTIC new book in one sitting and I absolutely LOOOOVED it!!! I'm STILL swooning!!! These are two of my favorite authors and this was another huge winner from them!! The story starts off with a hilarious meeting between the hero and heroine and turns into a delightfully FUN, SEXY friends-to-lovers romance!!! The heroine is a single mom too and one of the most HEART-WARMING things ever was seeing the way this hero welcomed her son right into his heart. It was just GORGEOUS!!!! Not to mention that the romance was HOT HOT HOT and the story was ADDICTIVE and full of unexpectedly strong FEELS!! If you're looking for a new book to read, this is a TOP FAVORITE!!! Be sure to grab your copy!! It's a complete STANDALONE!

NEW TOP RECOMMENDATION: Exes With Benefits by Nicole Williams (Read my Review)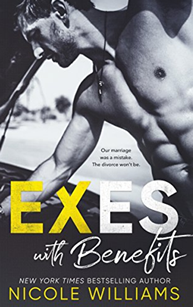 OMG. OMG. OMG!!!!! I read this AMAZING book in one non-stop sitting and I swear to you that MY HEART WAS RACING on every single page!!!! ***DEEP BREATH*** It's an INTENSE second chance romance between a married couple and the way this man LOVES this woman… His LOYALTY and DEVOTION to her. HOLY HELL. It'll take your breath away. This story had ALL THE FEELS and it's honestly probably the HOTTEST book this author has ever written!!! The CHEMISTRY between this couple was SCORCHING and you just KNEW they were soul mates. Seriously. My heart is STILL racing as I write this. I LOVE LOVE LOVED THIS BOOK!! If you're looking for a new amazing book to read, THIS IS IT!!!!! It's one of the best books I've read all year, it's a standalone, and it's LIVE! Be sure to grab a copy!
WEEKLY NEW RELEASES RECAP
NEW RELEASES (NOW LIVE):  
DETAILED LIST: THIS WEEK'S RELEASES
Dear Bridget, I Want You by Penelope Ward & Vi Keeland — New Release!!
TOP FAVORITE, standalone: Dear Bridget, I'm writing this letter because it's highly doubtful I'll ever garner the courage to say this to your face. So, here goes. We're totally wrong for each other. You're the proper single mum with a good head on your shoulders. I'm just the carefree British doctor passing through town and temporarily living in your converted garage. But here's the thing… for some bloody reason, I can't stop thinking about you in very inappropriate ways… I'm leaving [my] door cracked open from now on in case you'd like to visit me in the middle of the night sometime.
No questions asked. Think about it. Or don't. Whatever you choose.It's doubtful I'll even end up sliding this letter under your door anyway. —Simon

Exes With Benefits by Nicole Williams — New Release!!
Standalone: The only benefit I want from my ex is a divorce… When I left him, I swore I'd never go back. Never only turned out to be five years. He claims he's changed, but he hasn't. And yet, something is different. He thinks this is his chance for redemption. My disagreement comes in the form of divorce papers dropped in his lap. He refuses to sign them. Unless…
He wants a month to prove himself to me—that's his offer. One month to make me fall in love with him again and if I don't, he'll sign the papers. As much as I want to say no, I agree. I can suffer my ex for a short amount of time if that's what it takes to be free of him once and for all. I fell for him once; I won't make that same mistake twice.
He says we're not over.
I say we were over before we got started.
Only one of us can be right…
One More Thing by Lilliana Anderson — New Release!!
Can standalone: I didn't ask to slip on a piece of gum then fall in love with a man who would die before the ink was dry on our marriage certificate. But it broke me. I vowed I would never fall in love again… Five years later, another blasted stick of gum. Same place, only this time, it was a university lecturer, who slipped on the gum. He wasn't particularly happy about it [but] that stick of gum was the catalyst of a series of events where our paths would continue to cross. There would be a broken nose, a fractured hand, a cat on a lead and a crashed party that would align our hearts and make me realise that I wanted to be happy again. But there would be tears. Many, many tears. Because falling in love isn't easy, especially when you're still in love with another man.
King of Code by CD Reiss — New Release!!
Standalone: "He is a man on the edge. The edge of fame.
The edge of untold wealth. The edge of utter humiliation.
He built an unhackable system, and in front of everyone, it's hacked. His reputation goes from king to goat in a split second. Boom. Like that. Some dude in Barrington, USA (AKA Nowhere) has locked down his code, and if he doesn't get it back, he's going to be wearing a monkey suit for the rest of his life. Except, this guy? This hacker from Nowhere? He's not a guy. She's all woman. And she has a plan for him, his code, and his body…"
Catch My Fall by Jessica Scott — New Release!!
Can standalone: Former Army Sergeant Deacon Hunter is trapped. Trapped in the friend zone. The woman who captured his heart when they were deployed in Iraq has never looked back at the time they stole.
Former Army Sergeant Kelsey Ryder has scars, the kind of scars that no one ever sees, no one ever knows about unless she tells them. Working around the guys at the Pint, she's reminded of everything she lost when she left the Army behind.
But some scars refuse to stay hidden. One fateful night changes everything and neither of them know if their relationship will ever be the same. All Deacon knows is that he'll be there to catch her when she finally falls.
Breaching The Contract by Chantal Fernando — New Release!!
Can standalone: Katerina Dawson knows exactly what she wants from life. And as the new associate at the top law firm in the city, she's ready to live out her dreams of becoming a criminal lawyer. But going on coffee runs and babysitting kids during the day was definitely not what she had in mind. She knows that anyone else would kill to be in her shoes, but she has to draw the line somewhere. That's easier said than done, though, when Kat has to confront her handsome boss…
Tristan Channing and Jaxon Bentley run a successful law firm together and the two partners couldn't be busier right now. When Jaxon suddenly takes a leave of absence, Tristan begrudgingly assumes responsibility of the new associate, the hot new associate, who has curves for days. Needing to keep his distance from her, Tristan sends Kat on needless errands and has her doing work even an intern wouldn't touch, like picking up his kids. But his plan backfires when he sees his children grow attached to Kat and sees her getting comfortable in his home. It triggers something deep within him, and it feels right to have her there…
Beyond Reckless by Autumn Jones Lake — New Release!!
Can standalone: Blood doesn't make you family, loyalty does. He has always been two things–honest and responsible. At ten years old, he was already taking care of his baby sister. At eighteen, he patched into the Lost Kings MC and took a major role in shaping the club's future.
Three years ago, he thought he'd met the perfect woman, only to have her reject everything he is—a Lost King.
Now, after an accident that left a girl dead and Teller almost crippled, he's struggling through the darkest time in his life. Then, in the most unlikely place, he crosses paths with her again. The woman he once thought might be his perfect match. When Teller's brothers find out who he's falling in love with, it will create a storm of chaos for the Lost Kings MC. But if there's one thing Teller's turbulent life has taught him, it's that sometimes love is worth the chaos.
Lucas by Sawyer Bennett — New Release!!
Can standalone: He is only serious about one thing: hockey. The league's fun-loving charmer, he has no intention of settling down. But [after being traded] the last thing he wants is to let his new teammates down. To succeed, he will need to keep his head in the game and the most . . . er, demanding member of his anatomy in check. But when temptation hits, he hits back harder.
She has always put business before pleasure, which just about explains her nonexistent sex life. But when she meets him at a gala, she finds herself flirting like crazy—and going home with the uninhibited athlete. For one night, she learns what passion is all about. She just never counted on the little surprise he leaves behind…
My Image of You by Melanie Moreland — New Release!!
Standalone: A globe-trotting bad boy chases the one that got away…
— I'm the most daring freelance photographer in the world. But as good as I am, accidents happen—and thank god for that, because it's what leads me to her… My nurse. My savior. We soon find that we're perfect together. We just fit, physically and emotionally. And yet something isn't right. Something from her past is haunting her, and no matter what I do to help her break free, I lose her… Today is the day I try to win her back. Not only do I need an explanation, I need her in my bed once again. Because what we have is a love that never fades away…
Rock Me by Carly Phillips — New Release!!
Can standalone: Bodyguard Bad Boys… Sexy, Hot, and oh so protective!
A pop star in danger.
Her reluctant bodyguard.
A past they can't deny.
She is on the verge of ultimate fame.
He has sworn off mixing business with pleasure.
But keeping his hands off of the sexy songstress is easier said than done and once the threat is neutralized, will she choose fame over love?
The Life We Almost Had by Laura Miller — New Release!!
Standalone: Back before everyone left the little town of Sweet Home to the ghosts, she was the girl next door. And he was the boy, who could never get on her father's good side. But none of that mattered. The only thing that mattered was that her heart had picked him. But that was years ago. And now, her sister is praying for someone to show up to take her brother's mind off the girl from his past. And surely enough, that someone does. But will this girl be able to cut the chains of his first love or will she just make him fall harder for that little girl he left behind?
One week is all they have.
Five by JA Huss — New Release!!
Can standalone: He has known her for as long as he can remember. He played with her in the sandbox. He went to every damn horse show just to be supportive. He helped her with her French, walked her home from school, and faked his test scores just to stay with her a little longer and not be sent off to college early. But eventually he had to move on.
And so did she.
Never has a second chance meant so much to a boy who loves a girl.
Love Profound by Kelly Elliott — New Release!!
"I write about love, but I've never experienced it.
Sure, I've been with guys that I cared about.
Even thought I found 'the one'.
He turned out to be the frog and not the prince.
A few songs and a wildly handsome cowboy who calls me Darlin', will have me second guessing everything I ever thought I knew about love. Does happily ever after really exist…or is it only something I write about in books?"
The Queen by Skye Warren — New Release!!
Series finale: I have one chance at a new life. A college education. A future outside of Tanglewood's dark walls. For a breathless moment it seems like I might actually escape. Then I get a phone call from home.
He is my own personal dragon, the fight I've always lost, the secret hope of my heart. And he needs my help right now. Only my mind can solve the puzzle. Only my presence can keep him sane as the city fights against him. Only my heart can unlock a man with such a tragic past.
This is my final gamble, with everything at stake. One last game to win a future for both of us. And a love strong enough to break the city apart.
In Too Deep by Lexi Ryan — New Release!!
Can standalone: "I have four months to make my wife fall in love with me or let her go forever… I loved her long before she watched her loser ex take his last breaths. I held her while they lowered his coffin into the ground, stilled her shaking hands when the nightmares would tear her from sleep. I waited for her through her grief. But while she was always willing to let me in her bed, she refused to let me in her heart.
Tired of playing second string to a dead man, I let her go. I moved to Florida to begin my NFL career and tried to pretend my perfect life didn't leave me empty. I'd almost given up. Until one drunken night in Vegas, we stumbled down the aisle and said "I do."
Where The Heart Is by Jasinda Wilder — New Release!!
"I shouldn't be in love, but baby I am. I know it's crazy, but I don't give a damn. Shouldn't want you near me but you're inside me, can you hear me I'm praying you need me…"
I wrote those lyrics for him after he walked away. It was never meant to be between us; I knew it, he knew it, we talked about it. The trouble is, love never listens to logic. And for two people who have never really had a home or known love, logic is all that keeps us going: be smart, survive, do what has to be done. And, in my case, take care of my son. Forget my dreams, forget love…nothing matters but making it day by day. But then I met him, and everything changed.
Winning Her Brother's Best Friend by Noelle Adams — New Release!!
Can standalone: She loves men. And she loves dating. She just doesn't want a serious relationship. She's tried it before with her brother's best friend, Ryan, and it's clear she's not cut out for it. So she'll keep having fun and focusing on the new shop she recently opened. That's all she needs…
She definitely doesn't need Ryan, who is always hanging around. When he challenges her to prove which of them is more popular with the opposite sex, she takes him up on the bet. One month. Four Saturday nights. She'll show him she's not still holding on to old feelings. It doesn't matter if she can't seem to keep her hands off him…
LATEST BOOK SALES
UPCOMING BOOK RELEASES
BOOKWORM STORE
WHAT KIND OF BOOKS ARE YOU LOOKING FOR?
__________________________________
Let me know if there are any other books you're loving right now too!!
LET'S STAY CONNECTED
To get these lists sent to you every week, subscribe by email.
FOLLOW THE BLOG
Facebook | Twitter | Instagram | Pinterest | BlogLovin' | Google+ | Goodreads