JUST ANNOUNCED: Rough Ride: A Chaos Novella by Kristen Ashley (can standalone)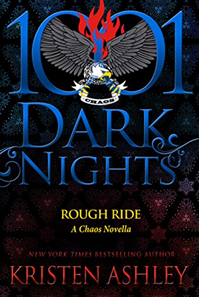 OH MY GOD!!!! This new KA release was just announced! It's a standalone story within the Chaos biker romance series which I LOVE LOVE LOVE!!! — She put it all on the line for the Chaos Motorcycle Club. Informing to Chaos on their rival club—her man's club—she knows the stakes… But as she drifted away from her man, she's been falling in love with a Chaos brother. He's the biker-boy-next door with quiet confidence and sweet disposition who was supposed to keep her safe and fell down on that job. For him, it's always been her, from the first time he saw her. He's just been waiting for a clear shot. But he didn't want to get it after she was left bleeding on a cement warehouse floor. With her a casualty of an ongoing war, he has to guide her to trust him, take a shot with him, build a them… And fold his woman firmly in the family that is Chaos. — Be sure to pre-order a copy and start the series here!

UPCOMING RECOMMENDATION: Most Of All You by Mia Sheridan (Read my Review)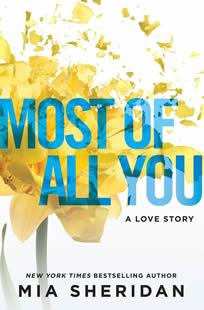 HOLY WOWWW!!!! *wipes happy tears* I read an early copy of this book and it was one of the most CAPTIVATING, BEAUTIFULLY written and HEART-FELT books of the year!!! I've loved so many of this author's books of the years and can confidently say this is one of her BEST!!! It's a DEEPLY HEALING, slow-burning LOVE STORY about two incredibly damaged people who fall unexpectedly into each others' lives and help mend each other's broken pieces. It's a story about never giving up on the ones you love and holding on to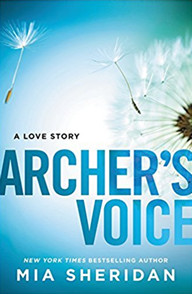 that that love even in the darkest of times. And even though Most Of All You is a completely and totally unrelated standalone novel, I can confidently say that if you LOVED Archer's Voice (my review), you will also FALL IN LOVE with this book!!!! It's an absolutely GORGEOUS romance and definitely a new TOP FAVORITE that I never wanted to stop reading so be sure to pre-order a copy!!!!!

WHAT I JUST FINISHED READING: The Kept Woman by Karin Slaughter (Read my Review)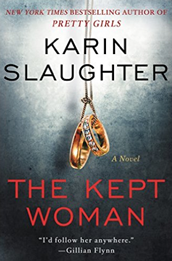 Sooooooo, I went and did something I rarely ever do and I read a VERY DIFFERNT style of book than my usual. You all know I'm a romance reader at heart but today I read this MURDER MYSTERY and it was SO GOOD!!! I was having a hard time deciding on exactly what kind of book I was in the mood to read and it was taking my forever to actually pick a book so instead I decided to just swap genres entirely for today and use this book as a "mental refresh" and it was exactly what I needed!!! This author has a very STRONG writing style that I love! Her mysteries are intriguing, addictive and always keep me guessing. It's so much fun when a story can surprise you so all in all this was a great read!! If you're either a romance reader wanting something DIFFERENT or if you're already a mystery novel lover, definitely grab a copy of this book if you're in the mood to read a well-written THRILLER!!
WEEKLY NEW RELEASES RECAP
NEW RELEASES (NOW LIVE):  
DETAILED LIST: NEW RELEASES
The Charmer by Avery Flynn — New Release!!
Can standalone: Hot, filthy rich, and usually irresistible, he just met the one woman who's immune to his legendary charm. She's a nerdy ant researcher who trips over air. And she's in love with totally the wrong man.
He can't stop thinking about her. His regular moves won't work here. He's going to need a new plan, starting with helping her win over the man she thinks she wants. And if she ends up falling for him instead? Even better. Step one, charm her panties off. Step two, repeat step one as frequently as possible…
Have My Baby by Taryn Quinn — New Release!!
Can standalone: "Have my baby."
That was what my single dad best friend said to me while I was waitressing at the diner. His little girl wants a sibling. But he's is a workaholic millionaire and doesn't have time to meet someone. Someone who won't screw him over, like his kid's mother. Only problem is this someone has secretly been in love with him since high school. I've been hiding it forever, not wanting to risk our friendship. Sleeping with him is my biggest fantasy. And I've fantasized plenty, being a virgin. Another thing he doesn't know. Now I have to make the biggest decision of my life…
Matched by S. E. Lund — New Release!!
Standalone: Everyone thinks he is in love with her and she is in love with him — everyone except them… They don't want something as crass as sex to mess up their beautiful relationship as her-owners of a tech business that's on its way to the Forbes 1,000.
When India's best friend matches them both with someone chosen using her new dating app, everything changes and they must come to terms with the truth about sex, love and business partnerships. Will their beautiful relationship survive?
Forsaken by Night by Larissa Ione — New Release!!
Can standalone: After accidentally shifting into a wolf—and getting stuck—Tehya, herself a vampire, has spent the last twelve years as the pet of Lobo, another vampire who has the unique gift of communicating with wolves.
When Lobo found Tehya starving and nearly frozen to death, he took her in and nursed her back to health, all the while completely unaware that she was really a fellow vampire. But there was always something special about her, and he finds out exactly how special after she's injured and returned to her true form. Desire collides with danger as he soon finds that he must protect not only her but also himself…
The Heiress by Cassia Leo — New Release!!
Standalone: How much is love worth? Twenty-two-year-old Kristin and her single mom have always struggled to make ends meet. When her mother's body begins to deteriorate, she must say farewell to her college dreams and hello to a full-time job waitressing. She doesn't really mind. After all, giving up on her dreams will be her penance for that one horrible night.
Her luck begins to turn when she meets Daniel Meyers. He is sexy and funny, but most importantly, he wants to get to know the real Kristin. It doesn't hurt that he's also extremely wealthy and intent on protecting her. She feels safe with him. She wants to open up to him, to share the details of the awful night that changed her life. But she can't shake the feeling that he may be keeping a dark secret of his own…
Too Beautiful to Break by Tessa Bailey — New Release!!
Can standalone: A love of a lifetime… Leaving him is the hardest thing she has ever done. From the moment they met, she knew he was the one, and getting up close and personal with him on his family's epic road trip has taken her desire to a new, even hotter level. But there's no way she can go there—not without revealing secrets that could devastate them both.
Losing her is not an option. His heart is hers, has always been hers. He knows she's hiding something from him, but nothing will stand in his way of telling her just how much she means to him. Finding her is easy. Saving her from her past could cost him everything…
How to Date a Douchebag by Sara Ney — New Release!!
Can standalone: "My friends want to get me laid. So much so that they plastered my ugly mug all over campus, in bold printed letters: Are you the lucky lady who's going to break our roommate's cherry? Him: socially awkward man with average-sized penis looking for willing sexual partner. You: must have a pulse. He will reciprakate with oral. Text him at: 555-254-5551
The morons can't even spell. And the texts I've been receiving are what wet dreams are made of. But I'm not like these douchebags, no matter how hard they try to turn me into one.
This isn't the kind of attention i want.
One text stands out from hundreds. One number I can't bring myself to block. She seems different. Hotter, even in black and white.
However, after seeing her in person, I know she's not the girl for me. But my friends won't let up—they just don't get it. Douchebags or not, there's one thing they'll never understand: Girls don't want me.
Especially her.
Completely by Ruthie Knox — New Release!!
Can standalone: After an Everest excursion takes a deadly turn, she is rescued by her quick-thinking guide, New York native. Her brush with death brings out a primal need to celebrate life—and inspires a night of steamy sex with the rather gorgeous man who saved her.
The son of a famous female climber with a scandalous past, he is still trying to find himself. In the Zen state of mind where he spends most of his time, anything can happen—like making love to a fascinating stranger and setting off across the world with her the next morning. But as their lives collide in the whirlwind of passion that is New York City, the real adventure is clearly just beginning…
Stud Finder by Lauren Blakely — New Release!!
Standalone novella: Man seeking woman: Hot, rich, smart, witty, self-made multimillionaire Internet genius seeks classy, intelligent, sexy, fun-loving woman who's interested in settling down and sharing all the good things.
There. Best. Ad. Ever.
I will absolutely find the woman of my dreams, someone who'll love me for me. Even if my sister thinks I need help dating, I'm confident I can pull this off, courtesy of the worldwide web. Let me just hit the upload button…
Smoke and Sin by Shayla Black & Lexi Blake — New Release!!
Can standalone: More than a decade ago, he had a scorching affair with the sister of one of his best friends. She drove him so crazy he thought of nothing but her. The only thing they did more often than heat the sheets was fight. Unprepared for the intensity of their relationship, he broke things off and concentrated on things that made sense to him: his career and putting his best friend in the White House.
Gorgeous and brilliant, she runs the press pool with the determination of a shark. No one dares to cross her, not when she's known for having a spine of steel…but long ago one man melted her down. Despite the fact that she'll never forgive him for breaking her heart, now that they work together she can't get him off her mind…
Chasing Christmas Eve by Jill Shalvis — New Release!!
Can standalone: Run for the hills—temporarily. That's her plan when she flees New York for San Francisco. Wrangling her crazy family by day and writing a bestselling fantasy series by night has taken its toll. In short, she's so over it that she's under it. She's also under the waters of a historic fountain within an hour of arrival. Fortunately, the guy who fishes her out has her looking forward to Christmas among strangers. But she's pretty sure he won't be a stranger for long…
Now the clock's ticking: Two weeks to cut loose. Two weeks to fall hard. Two weeks to figure out how to make this Christmas last a lifetime.
The Blackbird Season by Kate Moretti — New Release!!
Standalone: "Where did they come from? Why did they fall?" In a quiet town, a thousand dead blackbirds fall onto a high school baseball field, unleashing a horrifying chain of events that will rock the community.
Beloved baseball coach and teacher Nate Winters and his wife, Alecia, are well respected throughout town. That is, until one of the many reporters investigating the bizarre bird phenomenon catches Nate embracing a wayward student, Lucia Hamm, in front of a sleazy motel. Lucia soon buoys the scandal by claiming that she and Nate are engaged in an affair, throwing the town into an uproar…and leaving Alecia to wonder if her husband has a second life. And when Lucia suddenly disappears, the police only to have one suspect: Nate.
Nate's coworker and sole supporter, Bridget Harris, Lucia's creative writing teacher, is determined to prove his innocence. She has Lucia's class journal, and while some of the entries appear particularly damning to Nate's case, others just don't add up. Bridget knows the key to Nate's exoneration and the truth of Lucia's disappearance lie within the walls of the school and in the pages of that journal.
Theirs to Take by Laura Kaye — New Release!!
Can standalone: She's the fantasy they've always wanted to share…
Best friends Jonathan Allen and Cruz Ramos share almost everything—a history in the Navy, their sailboat building and restoration business, and the desire to dominate a woman together, which they do at an exclusive club. Now if they could find someone who wants to play for keeps…
All she has in the world is the charter sailing business she inherited from her beloved father. So when a storm damages her boat, she throws herself on the mercy of business acquaintances to do the repairs. She never expected to find herself desiring the sexy, hard-bodied builders, but being around Jonathan and Cruz reminds her of how much she longs for connection. If only she could decide which man she wants to pursue more…
Never Let Go by Cynthia Eden — New Release!!
Can standalone: "She didn't like wild, dangerous men yet she still found herself falling for a sexy Navy SEAL. He was her exact opposite — a man who lived for the thrill of danger… but he was also the man she found herself wanting. But their relationship ended in heartbreak when he was killed on a mission. Grieving for him, the last thing she ever expected was to find him listed as a test subject for the top secret government project she was heading…
For years, she had worked feverishly to unlock the secrets of life and death, and with her formula, she finally thought she'd made a breakthrough. Only she never expected to use it on her lover…
Hail No by Lani Lynn Vale — New Release!!
Can standalone: He doesn't do anything he doesn't want to do. At least, that is, until he's sent to prison. The four years he's incarcerated, he's had no choice but to do the things he's asked to do, when he's asked to do them. And now, if he doesn't, it will mean a one-way ticket straight back to hell.
Once he's free, it takes him twenty-four hours to get his old job back, his dog at home where he belongs, and an understanding that people aren't as forgiving as he once thought them to be. He's just about given up hope of ever integrating back into society when a woman slams into his heart, literally and figuratively…
Racer by Katy Evans — New Release!!
Standalone: He's the fastest, fiercest driver around.
Scouting new talent brings me to his doorstep… but his smile sends me to my knees. He's not the kind of man a girl like me falls for. He's secretive, reckless, elusive. This is our last chance to win, and he is our only hope. I'm supposed to watch him — make sure he doesn't get into trouble. But it's an impossible task. And now the one in heart wrenching, toe-curling, soul-crushing trouble is me. Because when your heart belongs to someone, their truths become your own, and their secrets become your salvation…or your curse. He says he wants me. He says I'm the One. But he also thinks he'll break my heart, one piece at a time until it's gone.
The Next Generation by S.C. Stephens — New Release!!
Fitting in can be hard for anyone. But for Julian and Nika Adams, it's especially challenging. Born as partial vampires, a rare offshoot of pureblood vampires, the twins have had to deceive people their entire lives—distancing themselves from their peers.
She desperately wants a hero, a soulmate, someone she can trust with every fiber of her soul. The boys at her high school aren't impressing her, but, luckily for her, Hunter Evans has moved into the neighborhood.
He desperately wishes he could sever the empathic bond he has with his sister. While it was fun to experience each other's emotions when they were kids, now that he finds himself pining for a girl he can't have, sharing his feelings is the last thing he wants to do…
LATEST BOOK SALES
UPCOMING BOOK RELEASES
BOOKWORM STORE
WHAT KIND OF BOOKS ARE YOU LOOKING FOR?
__________________________________
Let me know if there are any other books you're loving right now too!!
LET'S STAY CONNECTED
To get these lists sent to you every week, subscribe by email.
FOLLOW THE BLOG
Facebook | Twitter | Instagram | Pinterest | BlogLovin' | Google+ | Goodreads