TOP RECOMMENDATION: Timid: A Lark Cove Novel by Devney Perry (My Review)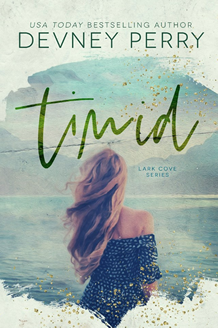 It's here, you guys!! HOLY FREAKING SQUEEEEEEEEEE!!!! YES YES YES!!! This was HIGHLY ANTICIPATED books of this whole year and is now one of my TOP FAVORITES!! Oh my gosh, for those of you who (like me) LOOOOOOVE reading about FUNCTIONAL couples who TALK through their issues and fall CRAZY IN LOVE, then this is the book for you!!!! These characters, their emotions, their romance, their everything FELT SO REAL!!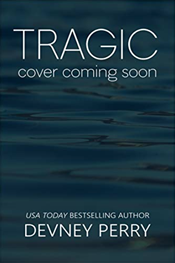 So genuine. So heart-felt. I seriously loved reading every word of this story! Plus, there was even a suspenseful twist towards the end that kept me GLUED TO THE PAGE!! I could not put this book down, I loved every word, and I recommend it to EVERYONE!!!!! It can standalone and it's LIVE so be sure to grab your copy!!! And then, preorder Tragic – the next standalone!

NEW BOOK ANNOUNCEMENTS:
WEEKLY NEW RELEASES RECAP

HOT NEW RELEASES (NOW LIVE):  
DETAILED LIST: NEW RELEASES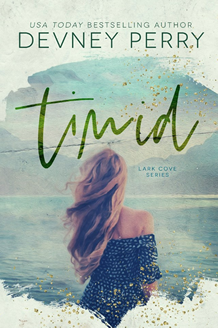 Timid by Devney Perry — New Release!!
Can standalone: "She has always been shy. Her quiet demeanor was something she's always embraced. That is, until he moves to town. The one man she desperately wants to take notice struggles to remember her name… Year after year, she stands by, watching as the bartender slash playboy drowns his demons in beer and sex. Then one night, he shows up at her door, suddenly aware that the girl he's seen around is now a beautiful woman. Except what he doesn't remember is that this visit isn't his first. They spent a night together once before. A night he's forgotten, thanks to a bottle of tequila. A night that crushed a timid girl's heart, and set a broken man on the path to heal them both."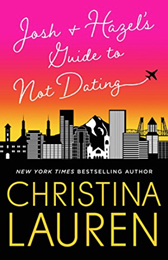 Josh and Hazel's Guide to Not Dating by Christina Lauren — New Release!!
Can standalone: "Hazel knows she's a lot to take—and frankly, most men aren't up to the challenge. If her army of pets and thrill for the absurd don't send them running, her lack of filter means she'll say exactly the wrong thing in a delicate moment. Their loss. She's a good soul in search of honest fun.
Josh has known Hazel since college, where her zany playfulness proved completely incompatible with his mellow restraint. From the first night they met—when she gracelessly threw up on his shoes—to when she sent him an unintelligible email while in a post-surgical haze, Josh has always thought of Hazel more as a spectacle than a peer. But now, ten years later, after a cheating girlfriend has turned his life upside down, going out with Hazel is a breath of fresh air.
Not that Josh and Hazel date. At least, not each other. Because setting each other up on progressively terrible double blind dates means there's nothing between them…right?"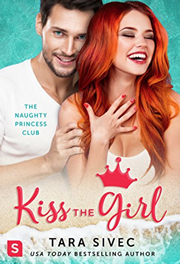 Kiss the Girl by Tara Sivec — New Release!!
Standalone: "A struggling antiques collector finds herself falling in love with a millionaire playboy; but can she ever be a part of his world?
While her friends have broken free of their insecurities, she's struggling to come out of her shell. Her ex-husband took away her voice and her self-confidence, and she's drowning under a sea of debt to afford the alimony she has to pay him. She refuses to ever fall for a man's charms again, and is determined to make her own way.
When her house and her beloved antiques are taken by the bank after too many missed payments, she finds herself adrift until the infuriatingly charming Eric Sailor comes to her rescue. Although she can't stand the millionaire playboy, his kindness and unconditional support reveal hidden depths and a love that she never imagined she could find…"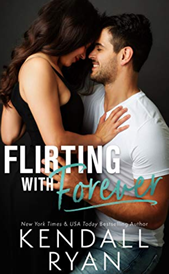 Flirting with Forever by Kendall Ryan — New Release!!
Standalone: "I've waited years for the perfect girl, yet she was right in front of me all along.
My best friend, Natalie, has been by my side through everything. Leaning on my shoulder, borrowing my sweatshirts…and making my pants too tight when she flashes me that sassy smile that drives me crazy. But she has no idea about that last part. She doesn't have a clue I've felt this way about her for years. Until one night after too many cocktails, we fall into bed together. I'm flirting with my forever…she just doesn't know it yet."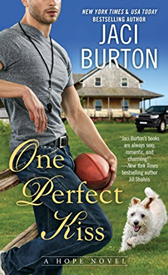 One Perfect Kiss by Jaci Burton — New Release!!
Can standalone: "She has always craved a sense of home. She bought a house, has a new job as an English teacher, she's made wonderful friends, and she's taking in stray animals that no one else wants. Now she's flirting with fellow teacher and hot high school football coach Zach Powers…
A former pro football player, he had to pull back when a career-ending knee injury forced him to rethink his future. Now he's happy calling plays as Coach. If he could just get her to stop benching his players for their poor grades, life would be perfect. Instead, she drives him crazy as the stern teacher at school and the sexy woman of his dreams outside of the classroom. He knows she's been hurt in the past, but he wants to be that guy she can trust…"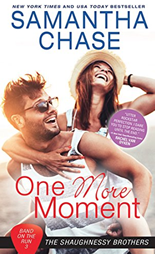 One More Moment by Samantha Chase — New Release!!
Can standalone: "Julian Grayson is taking a break …from his cheating fiancée, from his band, from his life in the spotlight. Charlotte Clark is devoted to her work to save the world, to help the homeless, to get a broken man back on his feet.
When she offers to pay for his coffee, the world-famous drummer assumes she wants something from him. But she has no idea who he is, and he can't resist keeping up the charade—being incognito is a novelty and a relief. He'll have to tell her…eventually. But as she cheerfully undertakes to transform his life, he realizes there's something about her that gives him what he hasn't felt in years: hope."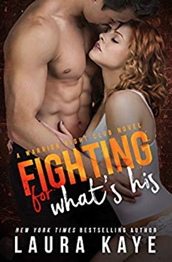 Fighting for What's His by Laura Kaye — New Release!!
Can standalone: "Private investigator Billy Parrish is good at three things—fighting, investigating, and sex. MMA training keeps his war-borne demons at bay—mostly, and one night stands ensure no one gets too close. But then his best friend from the Army Rangers calls in a favor.
Shayna Curtis is new to town, fresh out of grad school, and full of hope for the future. With a new job starting in a month, she's grateful when her brother arranges a place for her to stay while she apartment hunts. But she never expected her roommate to be so brooding. Or so sexy…"
UPCOMING BOOK RELEASES
BOOKWORM STORE
WHAT KIND OF BOOKS ARE YOU LOOKING FOR?
__________________________________
Let me know if there are any other books you're loving right now too!!
LET'S STAY CONNECTED
To get these lists sent to you every week, subscribe by email.
FOLLOW THE BLOG
Facebook | Twitter | Instagram | Pinterest | BlogLovin' | Google+ | Goodreads