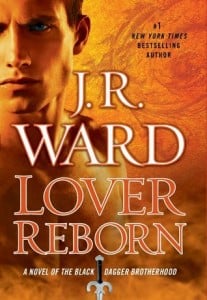 5 stars
"Life was short, no matter how many days you were granted. And people were precious, each and every one, no matter how many you were lucky enough to have in your life. And love… love was worth dying for. Worth living for, too." ~Tohrment
I know I have mentioned this before, but Ward is a SERIOUSLY gifted author!! This book had a delightfully strong start and continued on in that vein. By the end, my cheeks were streaked with mascara stains from my tears. There were 2 scenes at the end that really ripped me apart.
I squeed and gulped a lot while reading this book. I laughed and cried. It was a wonderful read!
I knew going in to this book that it was going to be a very hard book for me to read. I'm a HEA kind of reader… I'm good with characters going through just about any amount of torment (no pun) so long as  there is a happy ending where they end up with the love of their life. So with the way this one went, although I alsolutely LOVED the book, I still had a few issues with Tohr's storyline (addressed below the picture in spoilers). But despite the issues, the book was hot, touching, wonderful, and engaging!! Tohr really sizzles in it!!
"I'm going to give you the chance to get away from me. Right Now…. Do you understand what I'm saying? If you don't go… I'm going to be inside you in another minute and a half."
The depth of pain to which Tohr was in at the loss of Wellsie just honestly ripped my heart to shreds.
"God, I miss you," he said in a voice that cracked. "Every night. Every day…"    *sob*
No'One/Autumn's character was also very likable – she definitely had her own issues to work through but if Tohr had to have ended up with anyone other than Wellsie, I'm really glad it was her.
"As she squared her shoulders, he thought that anyone who believed this female was weak had another think coming."
I really love Lassiter!! He needs his own book! Stat!  (Ward has confirmed that he will in fact be getting, just don't know when)… there were little hints dropped about his past and it seems like he's covering up a pretty tragic story behind his chipper outer self.
"My name's Lassiter… I'm an angel first and a sinner second…I'll never hurt you, but I'm prepared to make you pretty goddamn uncomfortable if I have to, to get my job done. I like sunsets and long walks on the beach, but my perfect female no longer exists. Oh, and my favorite hobby is annoying the shit out of people. Guess I'm just bred to want to get a rise out of folks – probably the whole resurrection thing."
And I can't say how much I LOOOOOVE Wrath. I don't know why but I can't stop grinning nearly the entire time I'm reading any scene he's in. Not because he's funny, but just because he is SO well written as a character. You can just tell that Ward has a special place in her heart for him. There is just something about his character that makes me squee uncontrollably 😛
I wasn't honestly so interested in the Band of Bastards/Xcor storyline. I didn't mind it as much as I minded the lessers' parts from the earlier books, but I just really didn't find that they made me that interested in them.
I loved the dynamic between Tohr and John in this too. How John was the one other person out there who really felt Wellsie's loss, not just out of sympathy, but from his own personal feelings since he lost his adoptive mother too.
"Then again, he supposed the healing process, in contrast to trauma, was gentle and slow… The soft closing of a door, rather than a slam." – John
I wish there was more of Rhage in this book. He was only in a few scenes but, of course, he totally stole everyone he was in. I'm so excited that he and Mary are getting a novella!!
Qhuinn and Blay's storyline is one of my favs – and we see a fair bit of them (well, especially Qhuinn) in this book 🙂 Those boys really really need a HEA. And there are some twists that happen at the end of the book that are gonna make for a veeeery interesting next book I think! I absolutely CANNOT WAIT for their book!! I just read some spoilers about the relationship dynamic that's going to happen and I LOVE IT!!!!!!!!!! squeeeeee *happy dance*
"Enough, Qhuinn thought. Enough with the excuses and the avoidance, and trying to be someone else, anyone else. Even if he got shanked, even if his precious little ego and his dumbass little heart got shattered into a million pieces, it was time to stop the bullshit. It was time to be a male. As Blay started to straighten like a message had been message been recieved, Qhuinn thought, Thats right buddy: Our future has come" 
And it was wonderful that there were scenes where all the Brothers came together and acted as a unit. Those parts are some of my favorite throughout the series. Seeing such rich, developed characters interacting and working together is utterly squee-worthy. With the writing in the books, you REALLY feel like you know each of them personally. So much so that if you read a line, you hardly need to be told who said it because you just KNOW. Its so much fun to read!
I really liked Tohr and Autumn together but I guess I was prevented from fully feeling for them as a couple because, in a way, I myself hadn't HAVEN'T moved on from Wellsie yet. I feel like maybe Tohr's story should have waited for a few years at least.
Click here for the complete reading order of the Black Dagger Brotherhood series.
***
***
***MINOR SPOILERS AHEAD (detailing some of my issues with the story)***
***
Something that bugged me in this book was I still don't see why, other than for drama and heart ache's sake, Wellsie couldn't have been brought back. In another book world, I'd say sure, death is final. But in this world, death is kind of just something many of the characters go through and come back from.
I'm really torn about this because on one hand, even if I were to accept the whole Wellsie permanently dying storyline, I felt that given the centuries long lifespan of these vampires, that the mourning period should have been longer. Especially with the depth of the love that Tohr and Wellsie shared. I felt that the new relationship was rushed. I wasn't ready for it. Even though I did like No'One/Autumn as a new mate for Tohr, I felt like their relationship should have developed like a decade later. I understand the theme of not allowing a person's death to ruin your life, but I felt that the centuries that Tohr and Wellsie had been together warranted more than a one year mourning period.
And regarding the storyline of Tohr having to move on in order to save Wellsie and their unborn son from being stuck in the In Between, because his grief was keeping them stuck and unable to go to the Fade whereas in all the previous cases of other mates being lost, they just crossed over directly, it just didn't make much sense to me. With all the other mated couples that lost their shellan or hellren (mentioned in history books), are the books saying that the deceased was able to able to just cross over to the Fade right away Wouldn't that mean that the mate that was left behind would have had to move on relatively immediately? Are they allowed no mourning period? What about those mated couples who never move on? Who would prefer to live on alone than be with anyone else… in this world, is that not an option? … that just didn't sit right with me.
And the fact that they hadn't yet done Wellsie's Fade Ceremony seemed a little shocking. Well, no wonder she hadn't moved on!
***
So why, you might ask, given my above mentioned issues, did I still give it a 5 star rating? Because I can see why it was written the way it was even if I might have preferred it to go another way. And the writing, characters, dynamics, action, lines, and really just everything were wonderful and I just can't get enough of the BDB world.