COVER ANNOUNCEMENT: Gypsy King by Devney Perry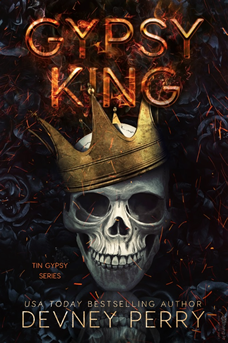 I AM SOOOO EXCITED FOR THIS!!! As many of you know, Devney Perry is one of my favorite authors EVER and I've literally loved every book she's written so I'm incredibly excited for this brand new series she's releasing!! — "The former Tin Gypsy motorcycle club has everyone in Clifton Forge, Montana convinced they've locked their compound doors and ripped off their patches. Everyone but Bryce Ryan. There's more happening at the club's garage than muscle car restorations and Harley rebuilds. Her instincts are screaming there's a story—one she's going to tell. As the new owner of the small town's newspaper, Bryce is hungry for more than birth announcements and obituaries. When a woman is brutally killed and all signs point to the Tin Gypsies, Bryce is determined to expose the club and their leader, Kingston "Dash" Slater, as murderers. Bryce bests Dash match after match, disappointed her rugged and handsome opponent turns out to be an underwhelming adversary. Secrets are exposed. Truths defeat lies. Bryce is poised to win this battle in a landslide. Then Dash breaks all the rules and tips the scales. One kiss, and she's fighting to save more than just her story. She's fighting to save her heart from the Gypsy King." — Be sure to pre-order your copy and if you're new to her books, here's her full book list!
WEEKLY NEW RELEASES RECAP

HOT NEW RELEASES (NOW LIVE):  
DETAILED LIST: NEW RELEASES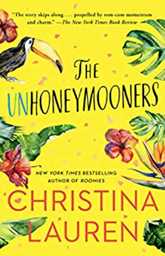 The Unhoneymooners by Christina Lauren — New Release!!
Standalone: "For two sworn enemies, anything can happen during the Hawaiian trip of a lifetime—even love—in this witty and swoonworthy romance… Olive is always unlucky: in her career, in love, in…well, everything. Her identical twin sister Amy, on the other hand, is probably the luckiest person in the world. Her meet-cute with her fiancé is something out of a romantic comedy (gag) and she's managed to finance her entire wedding by winning a series of Internet contests (double gag). Worst of all, she's forcing Olive to spend the day with her sworn enemy, Ethan, who just happens to be the best man. Olive braces herself to get through 24 hours of wedding hell before she can return to her comfortable, unlucky life. But when the entire wedding party gets food poisoning from eating bad shellfish, the only people who aren't affected are Olive and Ethan. And now there's an all-expenses-paid honeymoon in Hawaii up for grabs. Putting their mutual hatred aside for the sake of a free vacation, Olive and Ethan head for paradise, determined to avoid each other at all costs. But when Olive runs into her future boss, the little white lie she tells him is suddenly at risk to become a whole lot bigger. She and Ethan now have to pretend to be loving newlyweds, and her luck seems worse than ever. But the weird thing is that she doesn't mind playing pretend. In fact, she feels kind of…lucky."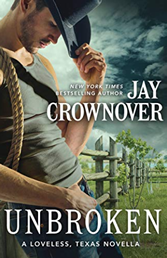 Unbroken by Jay Crownover — New Release!!
Can standalone: "When rodeo star Crew Lawton loses everything in a bad bet, he has no choice but to take a new job to pay off his debts – even if it means becoming the face of an expensive male skincare line.
He's used to getting sweaty and rustling in the dirt, not posing for photo shoots. And he's certainly not used to being bossed around by a woman who doesn't even know the difference between bulls and broncs. But he owes money to dangerous criminals, and he'll do anything she says in order to pay them back and keep them far away from his family…"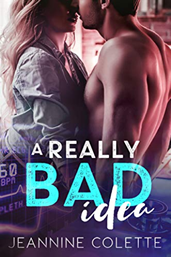 A Really Bad Idea by Jeannine Colette — New Release!!
Standalone: "Everyone has a best friend. Mine just happens to be the gorgeous, green-eyed heart surgeon who wants to have a baby with me. Yes, you read that correctly. When my mother approached me on my thirty-third birthday with a brochure for egg freezing, it was a glaring reminder that my biological clock is ticking toward its expiration date. I've always dreamed of being a mom and had a plan — one that was destroyed when I caught my professional hockey player husband in bed with another woman. Despite my broken heart I still believe in love. I want the happily ever after, but I also want a child desperately and won't settle in order to make it happen. That's why when I decided to take my mother's advice, he came up with his own plan: Let's have a baby together. It's a bad idea… And yet…I can't stop thinking about how great it could be. There's just one condition… he is adamant we go on three dates. Sounds easy, but it's not [and] the dates are only making me fall for the man I've known almost my entire life."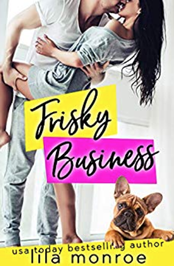 >Frisky Business by Lila Monroe — New Release!!
Standalone: "Noah Hathaway is infuriatingly hot, annoyingly charming… and my new room-mate?! This pet-sitting gig was supposed to be a vacation from drama, but that was before the hunky guy in the pool-house started sticking his nose (and his annoyingly chiseled abs) in my business. I'm looking for Mr. Right, not Mr. Most Likely to Sneak Out of Bed (And Steal Your Breakfast Pop Tart On the Way Out the Door), so despite the red-hot sparks between us, I'm determined to stay away. But when one little party gets way out of hand, we're suddenly both on the wrong side of trouble. Unless we can come up with ten thousand dollars in the next three weeks, we're screwed. And not just when it comes to the adorable pooches. With the clock ticking, we have no choice but to team up and embark on a madcap scheme to save our asses – with the help of a few furry friends. But with the chemistry between us reading Defcon-69, can I keep my hands (and heart) to myself? Or will this pup-tastic scheme leave us both in the doghouse?"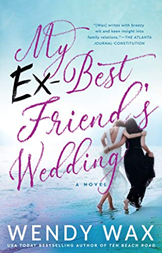 My Ex-Best Friend's Wedding by Wendy Wax — New Release!!
Standalone: "Prized and stored away for safekeeping, the timeless ivory wedding dress, with its scooped neck and cleverly fitted bodice, sits gently folded in its box, whispering of Happily Ever Afters. To Kendra, Brianna, and Lauren it's a reminder of what could have been, the promise of a fairy tale, and a friendship torn apart. But as Kendra knows firsthand: it wasn't the dress's fault… Now on the eve of her daughter Lauren's wedding, Kendra struggles with a secret she's kept for far too long. And vows to make sure the dress will finally bring Lauren and Bree back together—knowing they'll need each other to survive the coming storm."
LATEST BOOK SALES
UPCOMING BOOK RELEASES
BOOKWORM STORE
WHAT KIND OF BOOKS ARE YOU LOOKING FOR?
__________________________________
Let me know if there are any other books you're loving right now too!!
LET'S STAY CONNECTED
To get these lists sent to you every week, subscribe by email.
FOLLOW THE BLOG
Facebook | Twitter | Instagram | Pinterest | BlogLovin' | Google+ | Goodreads