WEEKLY NEW RELEASES RECAP

HOT NEW RELEASES (NOW LIVE):  
DETAILED LIST: NEW RELEASES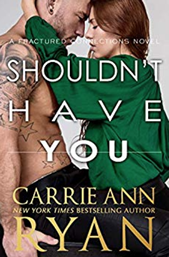 Shouldn't Have You by Carrie Ann Ryan — New Release!!
"I've been many things in my life: daughter, friend, student, lover, wife…and now, widow. Getting past those labels and finding who I could be without them was the hardest thing I've ever done. Then I became friends with Brendon Connolly. Every time I look at him, I see a past, I see a present, and I'm afraid if I look too hard, I'll see a future." ~~ "I've known Harmony Wynham since before she got married. Before she lost everything. I didn't know that one day she wouldn't be just my friend but the woman I wanted to spend the rest of my life with. Only I don't think that can happen. Not when every time she looks at me, she sees what she lost, and I can only see what I can't overcome. I love her, even though I shouldn't. Somehow, we need to find a balance. Because if we don't, walking away will be the hardest thing I've ever done—even if it's the only thing I should do."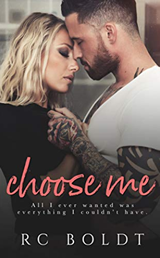 Choose Me by RC Boldt — New Release!!
"Wearing the nicest suit I own, I stand in the very back with a flask full of whiskey in my inner pocket. I put on a brave face as I watch her walk down the aisle. Because it's too late. I refuse to be the bastard who makes her cry on her wedding day, but I'm dying to tell her what I've always known. She's my best friend, but she doesn't realize she owns my f*cking heart and soul, too. Each step down that aisle takes her farther away from me and brings her closer to him, forcing me to face the truth: I've fallen in love with someone who can't be mine. If she'd just turn around, maybe she'd realize I love her more than he ever could. I won't ruin her perfect day, but my broken heart begs me to try and convince her. Choose me."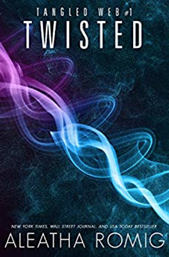 Twisted by Aleatha Romig — New Release!!
"The underworld of Chicago is far from forgiving. It's a world where knowledge means power, power money, and money everything. While I paid the ultimate price to have it all, it wasn't my decision to give my life.. That doesn't mean I ceased to exist, only to live. Going where the job takes me and living in the shadows, with deadly accuracy I utilize the skills inherent to me, not knowing from where they came, not recalling what I'd lost. And then I saw her. Laurel Carlson. I shouldn't want her, desire her, or need her, yet with each sighting I know she is exactly what I have to have. Laurel has the ability to do what I thought was impossible. She sees what others don't. My gut tells me that it's a deadly mistake to change my plans and open my world to her. My mind says she'll be repulsed by my twisted existence. None of that matters, because my body won't take no for an answer. I've made dangerous mistakes before. This time, will the price be too high?"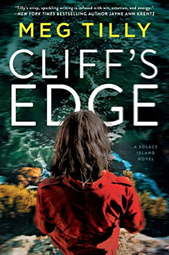 Cliff's Edge by Meg Tilly — New Release!!
"Eve Harris is all set to house-sit and run the bakery she shares with her sister while Maggie goes on her honeymoon, but there's one problem—the house is already occupied. By a movie star. He claims to be her brother-in-law's friend, and not only does he insist on staying, he also offers to help. Playing house has never been so tempting… Rhys Thomas is looking for a place to lie low after wrapping up his latest film, so when Luke offers up his house as a safe haven, Rhys sees the perfect opportunity for a little R & R. But rest is the last thing on his mind as he and Eve grow close. But Eve and Rhys are not as alone as they think. And as danger trails Eve, it will take everything Rhys has to save the woman he loves."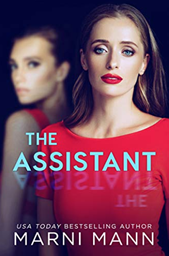 The Assistant by Marni Mann — New Release!!
"At forty-two, I'm married to my best friend, and we have two beautiful children. Everything about my life is perfect until my father gets sick. Before: I owned and operated a massively successful women's shapewear company. After: I stay home with my family because I've learned the importance of time. Before: My husband could rely on me to take care of everything. After: I hire him the perfect assistant. My entire life can be summed up in before and afters, but something happens in the middle. A meeting. And it changes the course of everyone's lives forever."
LATEST BOOK SALES
UPCOMING BOOK RELEASES
BOOKWORM STORE
WHAT KIND OF BOOKS ARE YOU LOOKING FOR?
__________________________________
Let me know if there are any other books you're loving right now too!!
LET'S STAY CONNECTED
To get these lists sent to you every week, subscribe by email.
FOLLOW THE BLOG
Facebook | Twitter | Instagram | Pinterest | BlogLovin' | Google+ | Goodreads