NEW RECOMMENDATION: Dream Maker by Kristen Ashley (Read my Review)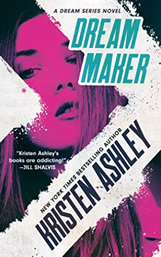 HOLY FREAKING SQUEEEEEE!!!!! OMG!!! I can't stop smiling!!!! I just finished reading an AMAZING, GORGEOUS new book that made my heart so happy! I'd been looking forward to this book for a long time and it was EVERYTHING I'd hoped for and more!! It had a SWOONY ROMANCE, it was action-packed and brimming with non-stop Alpha goodness and badass EPIC scenes. But it was also more than just a romance – it was about love, brotherhood, sisterhood, loyalty, and family. This book had ALL THE FEELS and I'll almost certainly re-read it one day in the future so I can definitely highly recommend it to pretty much anyone who loves ALPHA ROMANCE!!!!! I LOVE LOVE LOVED IT!!!! To answer the 'standalone' question: Dream Maker is the only book about this couple (and it concludes their romance) so yes, technically it can be read as a standalone, but it is a spinoff of the Dream Man and Rock Chick series so the general pool of characters are interconnected between all the books.
WEEKLY NEW RELEASES RECAP
LATEST BOOK SALES
UPCOMING BOOK RELEASES
BOOKWORM STORE
WHAT KIND OF BOOKS ARE YOU LOOKING FOR?
__________________________________
Let me know if there are any other books you're loving right now too!!
LET'S STAY CONNECTED
To get these lists sent to you every week, subscribe by email.
FOLLOW THE BLOG
Facebook | Twitter | Instagram | Pinterest | BlogLovin' | Google+ | Goodreads