WOW!! What an amazing, unique story!!
Never Never was fast-paced, thrilling, mysterious, exciting, romantic, and kept me guessing the whole way though. I literally could not put it down and I can't wait for the next book in this fantastic new series!!!
Best friends since they could walk.
In love since the age of fourteen.
Complete strangers since this morning.

He'll do anything to remember.
She'll do anything to forget.
— Spoiler-free review. —
This is the first book of a series co-written by Colleen Hoover and Tarryn Fisher. Colleen wrote the guy's POV, Tarryn wrote the girl's, and the two halves of the story were blended together seamlessly.
This is going to be a shorter review because my honest opinion is that it's best to go into this book knowing as little as possible about the actual story so I won't tell you anything that'll ruin the experience here. But I can say that I was hooked from the very first page and completely drawn into these characters' lives.
The only things I knew before starting it other than what the blurb said was that it was a real-world story (somewhere between YA and NA) with a very slight paranormal twist to it. Just to clarify that a little: there are no vampires or ghosts or any such beings, it's more just in the background in a subtle, undefined, but enthralling way. But I don't want to say more though because I want you to let it unfold as you read.
Dozens of theories about what could be happening to these characters were constantly playing in my head as I flew through the pages, and then just when I began to think I had an idea where the story was going, a surprising new layer to the mystery was revealed that sent full body chills running through me!!
The ending was a bit of a cliffhanger, but it was a very exciting one (not an oh-crap-why?! one). It was a very logical stopping point but it also spun the story in a crazy cool new direction that opened up such thrilling possibilities for the next book! Really, truly… don't wait to start this series — just dive right in!
There's a reason we've come to love Colleen and Tarryn's writing. They've earned our trust and fully deserve it. With Never Never, they delivered a suspenseful, captivating, heart-pounding page turner with a love story at it's core. I'm absolutely addicted to this series and can't wait to see what happens next!
"I'm gonna make you fall in love with me again."
____________________
Click covers to purchase. There will be 3 parts in total.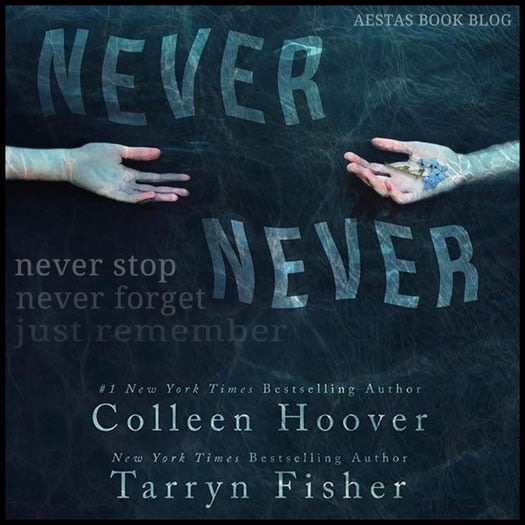 *** SIGNED GIVEAWAY ***
Open Internationally. Void where prohibited by law. Must be over 18 to enter.
1 winner will a signed copy of Never Never.
CLOSED: a Rafflecopter giveaway