"If she's not careful, I might just fall in love with her. Tonight."
*** SPOILER-FREE REVIEW **** WOW. WOW. WOW!!!! November 9 blew me away!!! I read it in one sitting with my heart racing the whole time!! The story was SO unique and unexpected that it took me completely by surprise over and over again!! I swooned, I fell in love, my heart was broken, and then healed again. And THE TWIST!!!!! Holy hell, that twist!!! Total shocker but I LOVED it. This book was perfect from cover to cover and definitely one of the BEST BOOKS of the year!! 5 stars!!
I went into this story completely blind without knowing anything other than what the blurb said and knowing the fact that it was a standalone. My personal recommendation is that you do the same thing. Try not to read anything about the plot and just dive right into the story! As such, I'm not going to talk about the storyline at all here — this is a spoiler-free review — and instead, I'm only going to share the blurb:
Fallon meets Ben, an aspiring novelist, the day before her scheduled cross-country move. Their untimely attraction leads them to spend Fallon's last day in L.A. together, and her eventful life becomes the creative inspiration Ben has always sought for his novel. Over time and amidst the various relationships and tribulations of their own separate lives, they continue to meet on the same date every year. Until one day Fallon becomes unsure if Ben has been telling her the truth or fabricating a perfect reality for the sake of the ultimate plot twist…
Now in complete honesty, blurbs usually over-exaggerate when they say things like "for the sake of the ultimate plot twist" but I promise you that wording is fully deserved here!! I genuinely did not see the twist coming and I absolutely loved that it surprised me! It just gave the story that extra *ooomph*!
This book starts off by just throwing you right into the story. You hit the ground running and it's a non-stop ride until the very end. As you can guess from the blurb, the story takes place over several years focusing on Fallon and Ben's single day together each year. I fell in love with them together. Each time, I desperately waited for them to reconnect and couldn't wait to see where each new year would take them.
"You can't leave yet. I'm not finished falling in love with you."
I was especially impressed with the way their relationship was set up so strongly that even after spending an entire year apart with literally no contact, they could pick up like they'd never been separated.
"He slowly plants kisses down my neck, keeping my hands secured to the bed, not allowing me to touch him back while he explores my skin. God, I've missed him. I've missed the way I feel when I'm with him. I wish I could have this every day. Once a year isn't enough."
PS: this is a complete standalone (not part of a series) but there's a secret something in this book that's guaranteed to make you SQUEE if you're already a fan of Colleen Hoover's books!!! 😉
Anyways, I started this book late at night but ended up staying up til the wee hours of the morning to finish it because I just needed to find out what happened next for Fallon and Ben. The more I read, the more my heart squeezed. I was deliriously excited for their reunions, while being kinda scared about what would happen each year while they were apart. My heart was in my throat!!!! I felt ALL THE FEELS!!!
"She's the only one I want with me today, and here she is.
Just for me. Because she missed me.
If she's not careful, I just might beg her to stay.
For good."
Ohhhh and this story really built up. My gosh, there was this one specific point where seriously guys, I was raging!!! OMG. My stomach dropped. I was so mad that I was practically shedding angry tears. I was furious to the point of not believing I could ever forgive [that person]. I was done. MAD!!!!! But ohhhhh how the grovel was epic! It was so epic that it actually did make me genuinely feel for and understand that character and believe the apology in a way that made me forgive what I thought would probably be unforgivable and still fully love that character. To me, that's a sign of damn good writing!!
In the final hour of reading this book, I went from full on freaking out, angst-filled, stomach dropping rage to sitting with the biggest silliest, happiest grin on my face basking in all the warm happy feels.
I really found it to be amazing how these two characters could literally spend only a matter of hours together over the years and still have me wholeheartedly believe their love for each other. But I really did. I felt the feels, believed their love, understood the mistakes, cheered for the victories. I loved it so much!
"This is real life, and in the real world you have to bust your ass for the happy ever after… When you find love, you take it. You grab it with both hands and you do everything in your power not to let it go."
Isn't that an awesome quote??
This book was unique, unexpected, gripping, addictive, a lot of fun, but angsty at times, and also totally swoon-filled and beautiful because the truth is that no person is perfect and even the best of us make mistakes. What counts is whether we learn from them, and how we repair the damage, and how far we are willing to go to prove our love for each other no matter what happens. I really felt like (regardless of whether I agreed with them), I understood these characters and I absolutely adored their beautiful yet unconventional love story. I laughed, cried, swooned, and fell completely in love.
I have loved every single book that Colleen Hoover has written. Her stories just reach right into my heart and this book was another top-notch winner — a truly fantastic top recommendation!
"I think about you every second of every day and I don't know how to get over you," she says.

"Don't," I beg her. "Please don't get over me."
November 9 is a complete standalone and just trust me here and get yourself a copy.
This is one of those books you'll want to drop everything to read!
Rating: 5 STARS!!
Note: pre-orders are not charged until release day.
— ALL COLLEEN HOOVER BOOKS —
SLAMMED | POINT OF RETREAT | THIS GIRL
HOPELESS | LOSING HOPE | FINDING CINDERELLA
MAYBE SOMEDAY (standalone) | MAYBE NOT (novella)
UGLY LOVE  (standalone)
CONFESS (standalone)
NOVEMBER 9 (standalone)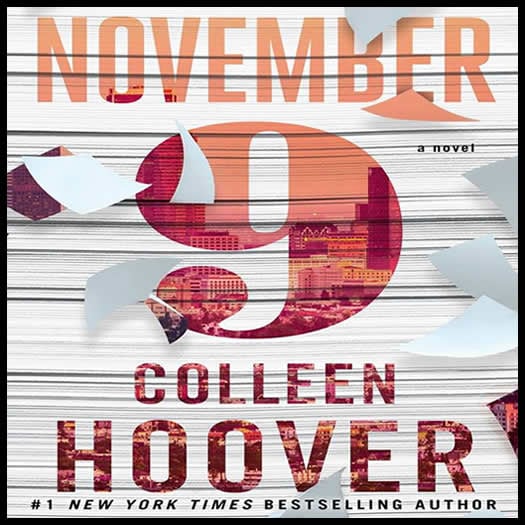 — PAPERBACK GIVEAWAY: CLOSED —
Giveaway sponsored by publishers. Open internationally.
Void where prohibited by law. Must be over 18 to enter.
1 winner will a paperback galley copy of November 9.