To celebrate the exciting release of One With You by Sylvia Day, the final novel in the passionate and addictive Crossfire series, and the fact that it hit #1 on the New York Times Best Sellers List, here is an EPIC GIVEAWAY!!!
Are you ready for the huge prize??
FIVE (5) lucky winners will be getting signed paperback copies of One With You, an audiobook copy of the book, a special One With You tote bag, and swag (a button and car USB port adapter).
If you're new to the series or haven't read this final book yet, I've linked up all the info down below. So check it out and then scroll down to the bottom of the post and ENTER THE GIVEAWAY!!!! Good luck 😀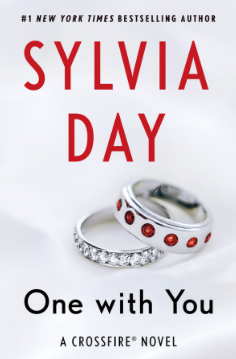 Gideon Cross. Falling in love with him was the easiest thing I've ever done. It happened instantly. Completely. Irrevocably.
Marrying him was a dream come true. Staying married to him is the fight of my life. Love transforms. Ours is both a refuge from the storm and the most violent of tempests. Two damaged souls entwined as one.
We have bared our deepest, ugliest secrets to one another. Gideon is the mirror that reflects all my flaws … and all the beauty I couldn't see. He has given me everything. Now, I must prove I can be the rock, the shelter for him that he is for me. Together, we could stand against those who work so viciously to come between us.
But our greatest battle may lie within the very vows that give us strength. Committing to love was only the beginning. Fighting for it will either set us free … or break us apart.
Heartbreakingly and seductively poignant, One with You is the breathlessly awaited finale to the Crossfire saga, the searing love story that has captivated millions of readers worldwide.
New to the series? That's ok! Here's the first book: Bared To You
  SIGNED PRIZE PACK GIVEAWAY
Open Internationally.
Void where prohibited by law. Must be over 18 to enter.
5 winners will get One With You Prize Packs with a signed paperback, an audiobook, a tote bag, & swag.