Spoiler-free review. 
WOAH. 
My mind is blown! This book is wildly addictive and one of the most original, suspenseful and sexy books I've read this year! It's intense and unputdownable. Once you start reading, you won't be able to stop!!
So before anything, you should know that this book has a cliffhanger. But wait!!!! Don't run away. Hear me out. I am literally the most cliffhanger-phobic person you can imagine. I hear that word whispered and I'm usually already running in the other direction. But I was feeling adventurous and I think my intense love of unique stories outweighed my cliffhanger hate in this case. This story was just too unique for me to resist and once I read what it was about, I couldn't stop thinking about it. I had to read it. Here, look…
Emma has just gotten away from a really bad family situation and is starting her life over. David is her neighbour who comes over to fix her kitchen cabinets. He's calm, collected, and makes her feel safe but he has a chilling past: his six previous girlfriends have all disappeared without a trace. <—- OMG!!!
O.M.G.
So then I took a peek at the prologue and holy shit!!!!!! — I. WAS. HOOKED.
My heart was racing, pounding even. I suddenly had a million questions, countless feelings and a desperate need to know more. Like I said before, I just had to read it. No choice.
Every turns of events, every development in the story kept my mind spinning and kept me glued to the page. It was intense.
I had no idea what to think of David! There was no doubt that I was falling for him. That alone disturbed me. Was I falling for a monster? Was he a monster? If he was, how could this monster also be so intensely loving, caring, and protective? Or maybe was he a hero? Or even… a little of both?
The story was told primarily from Emma's POV — both in the past, and in the present — but there were also two key scenes from David's perspective, and also six other scenes from the perspectives of each of his previous girlfriends. All of these sides of the story wove together to build a riveting, multilayered story that kept me guessing the whole way through.
Emma was such a refreshing heroine! She was strong, feisty, and fearless. Her past was downright horrific but she was toughened by her life, not weakened by it. Her stepfather was one of the most disgustingly abusive pigs you can imagine (ps. it's not sexual abuse) and the rage that had been building in her since childhood was completely understandable. The things he made her do made my blood boil. But she survived it and came out stronger even though in her heart she longed to feel protected for once in her life and when David came into her life, she felt safe for the very first time.
David was honestly not what I was expecting at all. To picture him, he was tall, gorgeous, with messy short hair, and was covered in tattooes of birds. Personality wise though, he wasn't "hot/cold" or anything in what we saw in the present day. He treated Emma with love, care, and respect. But he was hiding secrets… sooo many secrets. It was hard to decide how I felt about him though because he was just *shivers* woahhhh. One minute, I was sure he was a monster, and the next minute I felt like he was the sweetest and most balanced guy ever. It's like… I felt uncomfortable about how much I liked him!
Together, David and Emma just genuinely felt right. Strangely enough, they were a very functional couple who really understood each other, and were open with their feelings… I loved their banter, their texts (so brilliant!!!), and their possessiveness over each other, not to mention the smoking hot sex… gahh, it all just left me reeling. What was I supposed to think?? It was so messed up but I couldn't stop reading!!
Just wow. *deep breath*
This author is really gifted. I love her writing style! The whole story just flowed from start to finish and I was also really impressed with one technical aspect of it: the POVs of his girlfriends (both Emma, and the previous six) each had a very distinct voice to them despite only having one small chapter each. Not to mention the fact that she seamlessly swapped between past, present, and these different POVs and with no sticking points. I really thought she did a fabulous job!
This book put me through a range of nearly every emotion. It gave me chills and shivers. It made me swoon and fan myself. It made me cringe in horror. It was like one moment I was falling in love with David, swooning over them together, then I'd discover something chilling to remind me that things were not okay, quickly followed by something that made me wonder if I just wasn't seeing the whole picture?
As you can probably tell, this book consumed me. I read it in one sitting — I literally didn't move from my couch from start to finish — and just could not put it down.
The ending again is a cliffhanger. But even me, the ultimate anti-cliffhanger girl, loved this book. Admittedly, the cliffhanger is brutal but it's not an unexpected one. It's not a crazy shocking twist or anything and it totally fits in with the storyline. Truthfully, that was the moment I figured it would end on when I started and yes, I am intensely frustrated that I don't have any information on the sequel yet BUT (and this is the important thing) the journey was so freaking awesome that I don't regret reading it.
Let me just say this though: my trust here is very very very fucking fragile. I am NOT a cliffhanger girl. Why? Apart from the fact that I don't like waiting, it's because I have no trust that things will work out the way I like. And if, in the next book, this one vitally important thing doesn't happen, I'll be upset beyond all reason and will probably write my very first ever angry, ranting 1-star review. Fair warning. On the flip side, if that one thing is taken care of, then I'll stay in the oh-my-freaking-God-this-is-one-of-the-best-stories-I've-read land (which is where I am right now)… So yeah. I'm putting my emotions regarding the next book on hold for now and can say that I am SO glad I read this book. Honestly, ranting and raving aside, I LOVED IT!!!!!
Addictive. Intense. Unique. Sexy. Unpredictable. Twisted. Crazy. Suspenseful. Romantic. This book was totally unlike anything else I've ever read. If you're feeling adventurous too, take a chance on it.
It'll take you on a wild ride 😉
Rating: 4.5 — 5 stars. Not a standalone.
**** GROUP DISCUSSION **** I've started a private group on Facebook for anyone who has finished the book to discuss theories, rant, rave, and chat about the book. BEWARE OF SPOILERS!! But once you're done reading, come join us. I can't wait to see all your theories! Click here to join group  😉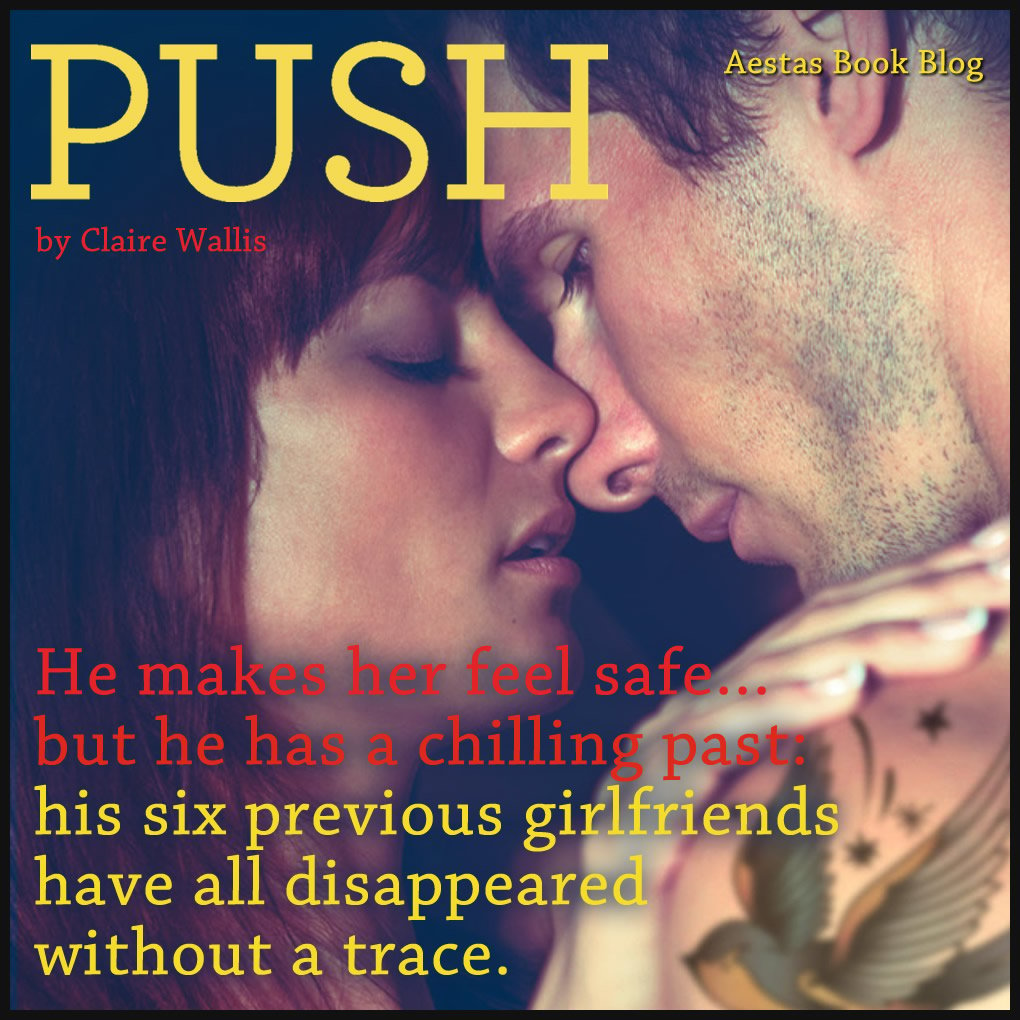 SEQUEL: PULL (Push #2) by Claire Wallis
"It is impossible for someone like me—someone with a sin-list capable of wrapping itself around the world—to find redemption. To be repaired."
David Calgaro has secrets, and the only woman he's ever loved is about to pay the ultimate price to protect them. He's spent a lifetime searching for purpose and control. And the only place he's managed to find them is in a single, perfect moment; a moment in which he has absolute control over someone else's life.
David is unredeemable, unfixable, unsalvageable. But Emma Searfoss has forced a tiny sliver of hope to penetrate his soul. Hope that, even though redemption is impossible, maybe life isn't. Maybe he isn't who he thought he was. Maybe he's meant to be more.
Note: PULL is the continuation of PUSH. Release date: November 6th, 2014.