JUST ANNOUNCED: Great and Precious Things by Rebecca Yarros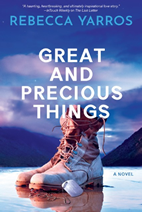 I LOVE this author's books and she just announced this new one! It's described as a "gripping and heart-wrenching stand-alone novel that explores issues of family, humanity, and faith." — "Six years ago, when he came back from war without his younger brother, no one in [his] small town would forgive him—especially his father. He left, swearing never to return… But a desperate message from his father brings it all back. The betrayal. The pain. And the need to go home again. But home is where the one person he still loves is waiting. The one woman he can never have. Because there are secrets buried [there] that are best left in the dark. If only he could tell his heart to stay locked away when she whispers she's always loved him, and always will…" — Be sure to pre-order a copy!

JUST ANNOUNCED: All I Ask by Corinne Michaels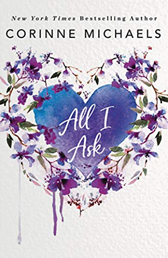 I also LOVE this author's books and this is her newest book announcement! It's described as "a breathtaking story about first love, second chances, and starting over." — "She is trying her best. A single mom raising a precocious teen, she may have given up on her dreams, but she's accepted her life in her small beachside hometown. Now the one person who abandoned her when she needed him the most has returned, bringing back memories of what might have been… He arrives in town with a teenage daughter – and he's full of guilt over his failed marriage and the way he ended his friendship. He's determined to set things right with her, but first he needs to gain her trust. Something he's not convinced he deserves…" — Be sure to pre-order a copy!
WEEKLY NEW RELEASES RECAP

HOT NEW RELEASES (NOW LIVE):  
LATEST BOOK SALES
UPCOMING BOOK RELEASES
BOOKWORM STORE
WHAT KIND OF BOOKS ARE YOU LOOKING FOR?
__________________________________
Let me know if there are any other books you're loving right now too!!
LET'S STAY CONNECTED
To get these lists sent to you every week, subscribe by email.
FOLLOW THE BLOG
Facebook | Twitter | Instagram | Pinterest | BlogLovin' | Google+ | Goodreads