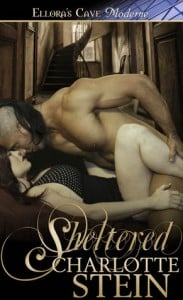 4 stars
Big, tall, tattooed badboy, Van, meets Evie, a 19 year old virgin from an abusive, strict, religious home and the sparks fly in this pretty freaking hot, very sweet and tender read about breaking free and following your heart.
The beginning was a little slow, with a too much inner monologue from the heroine, Eve, but about 25% of the way in, I started to really like it once she and her hot, tattooed, sweet and adorable badboy started to get serious.
I loved how tender and patient Van was with Eve, never pushing her into anything she wasn't absolutely ready for, and how he just quietly showed her that a world beyond the one she grew up in, where she could make her own decisions and be her own person was possible if she wanted it.
"…you're just waiting for things to turn bad, honey. You're just waiting – and that's okay. I got time to prove that's not going to happen."
The book leaves you with warm, happy and satisfied feeling. Its quite short, about 150 pages and very quick paced.
It didn't make me grin or cry, but it did make me smile and kept me turning the pages. I'd say its a good read for in between very emotional books or if you are just looking for a light evening read.