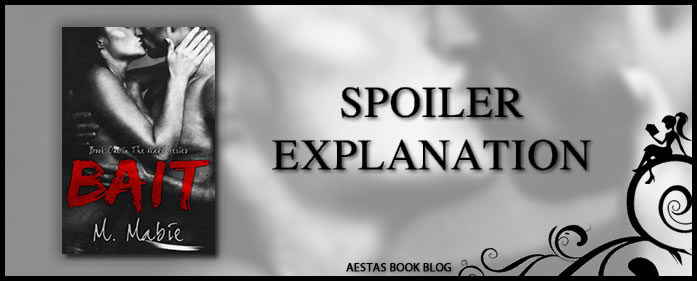 *** FULL PLOT SPOILERS AHEAD ***
Short version: The heroine has a boyfriend who is safe, predictable, and just a regular good guy. He represents a stable, guaranteed future, but there is no spark between them. She meets the hero by chance one night in a bar and they spark. A one-night stand becomes an unforgettable experience that neither of them can let go of. She wants to be with the hero and gravitates back to him but is too scared to leave her boyfriend and take a full chance on him. She's essentially driven by her fear.
She ends up getting engaged (there's a reason) and married (grrrr) even though the hero begs her not to. She's not brave enough to take that chance, even now. But it's not over, and even though it's a messy, heart-wrenching tangle, they both agree in the end that they're going to find a way out of it so that they can genuinely be together. Even if that road is filled with even more pain.
Long version (this is basically a full explanation of the entire plot)
The heroine (Blake) has a boyfriend (Grant) who is a really nice, good guy. He's kind, predictable, has a great career, does the right things, and she does love him. But… there's no spark. He's a safe, guaranteed future for her and being with him gives her a sense of security and control over her life and her future.
The story begins when she goes to another city to visit her best friend. Grant cancels last minute and she goes alone. There, she meets the hero (Casey) in a bar. THEY SPARK. They have this instant connection.
She's not the cheating type but can't help but be drawn to him…. and they end up having a one-night stand. A passionate, unforgettable night.
PS: He has a girlfriend (I use the term loosely because they weren't serious) that he was breaking up with that night anyway. So for the rest of the book, Casey is actually not in a relationship with anyone else.
*** etc etc… more story ***
Basically, they can't really stay away from each other. Casey doesn't want to let her go — he's falling for her, he sees that she's not in love with Grant, and he wants her any way he can get her. Ideally, he wants her to be truly with him, but she's not ready to throw away her life and take a chance on him. Casey represents the uncertain road. Yes, he has a good job, but he lives out of a suitcase, he's not predictable, and she's terrified of leaving her safe, certain future to be with him only to have that end badly.
"She'd go back the next day and probably try to forget me. Probably try to forget we met at all. Well, fuck that. If I had anything to say about it, she wouldn't ever forget me."
So… she goes back to Grant and she and Casey hook up in different cities as they both travel for work. They text all the time. They try to stay friends… but they are so much more.
He's crazy about her. She's crazy about him. She's just too scared to let go and take a chance.
*** etc etc… more story ***
One day, his ex-girlfriend sees their texts on his phone and sneakily sends Blake a text telling her to essentially stay the hell away from her boyfriend. Blake is shocked and hurt because she had no idea he had a girlfriend (which he didn't, but she didn't know that that girl was lying) so she feels like this is the validation of all her fears coming true and is heartbroken.
On that same night, Grant proposes and, having had her hopes dashed, she accepts.
*** etc etc… more story ***
She gets married. Casey shows up at the wedding begging her not to but she's not strong enough to walk away from her future yet. IT. IS. GUT-WRENCHING.
Side note: THIS was "that thing" I found out about early on that made me originally walk away from the book and promise myself I'd never ever read it. I was SO mad that she would do this that I pretty much just nope'd out of the whole book. — I'm SO glad I decided to pick it back up again though!
And Casey. Gah. I'll just let his words speak for him…
"My fight for her wasn't over. As long as both of us could keep finding out way back to each other, it might never be. In that moment, I didn't care about her marriage with Grant. It didn't matter who she chose to marry. It mattered we had something that you couldn't put down on paper. Something you couldn't choose, but was chosen by. Something bigger than merely changing your last name. What we had was only for us. It was indefinable. We were both slaves to it."
So then they don't talk for a while but life just keeps throwing them back together… and several months later, when it does, things have changed. She's ready to commit to him. She realizes her mistakes and she wants to set things right.
At this point, you think you're in the clear but you're not. Not yet. She asks him for a year to set her life straight. She literally just got married and she's worried that if she divorces Grant right away, her parents would hate Casey. She wants to do things "right" (according to the way she feels is right) and wants to be able to be truly his. Casey essentially tells her that he'll wait for. And she leaves.
But you know she'll be back.
"Casey, I love you so much that it ruins me… But I do, I love you so much… But I'm not free. I can't give you my heart until it's mine. But you can bet your life on it, I will."

"I'll wait for you. Probably, forever if that's what it takes."
NOTE: I just want to point out that, just for me, being the super anti-cliffhanger type of reader that I am, I actually didn't find this cliffhanger to be all that brutal. I felt like it gave me hope for their future and even though there is SO much more to their story to tell, I feel like it was a good stopping point. — I mean, their ENTIRE story is angsty and heart-wrenching… the cliffhanger wasn't more so, it just was part of their story. Personally, I'm weirdly glad that I read it and I'm absolutely hooked on this story!