"I loved this girl, and I couldn't do anything about it." 
WOW!! I was hooked on this book from the moment I started it and I could not put it down until the end!! An angsty, unconventional love story and such a roller coaster! It was absolutely unputdownable.
When Greta's stepbrother came to live with them during her senior year, she never expected him to be such a jerk, and she certainly never expected to feel so drawn to him. He was stunning. Gorgeous. Hot. Tattooed and pierced (yes, there!!) with bad habits and a bad attitude to match. And yet she sensed something behind his abrasive behaviour… something that showed her a vulnerability and hurt that she could see was eating away at him, and she was determined to get through to him one way or another.
He was rude, he lashed out with his words, paraded girls in front of her, and toyed with her emotions… and yet the next moment he was putting himself in harms way to protect her. One thing was certain: there was more to Elec  than met the eye.
Once they got past their initial differences, he made it still clear that there were some lines he would not cross. And once she got to know him it became clear that underneath all the anger that he showed the world was a guy with a very good heart who wanted her just as much as she wanted him.
"You're the only girl in the entire world that's forbidden, and fuck me if that doesn't make me want you more than anything."
But just when things were looking up, one night and one phone call changed everything. Forever. And just as quickly as he entered her life, he was gone again. And she didn't see him again for seven years.
When a family tragedy brought them both back home, they were both shocked to see how some things (heartbreaking things) had changed so much and others hadn't changed even one bit.
This is a sexy, angst-filled story of first love and forbidden desires. It's a story with imperfect people who sometimes choose wrong. It's a story with heart break and angst, but also with healing and growth. And most of all it's a story of learning to follow your heart. Sometimes, you just have to listen to your heart.
"I want to be the only one to show you everything and to be the one you'll always remember for the rest of your life."
Oh my gosh, their reunion just punched me in the gut. Again. And again. And again. That little twist. My poor heart was just shredded. But at the same time, I understood what had happened. It made sense given the timeline… but it didn't make it one but easier to read.
"I know I'm not supposed to care. But when it comes to you, what I'm supposed to be feeling has never seemed to matter."
There are no good stopping points in this book and it keeps you desperate to find out what happens next. But especially from about 54% on til the end, I'm pretty sure I didn't move once from my spot on the couch and just sat there madly flipping pages and devouring the story.
"I'm… fighting the urge to back you up against this wall and fuck you so hard that I'll have to carry you back to your room."
This is the kind of book where, once you start reading, you'll want to cancel all your plans for the rest of the day so that you can just keep reading it. I loved the way the author incorporated both sides of the story. It was a very unique way to show the dual POV and I thought it really worked well for this. There was so much that I loved about the story but it also wasn't perfect for me. There were some things (in the second half) that I might have wanted a little differently but they didn't stop me from loving the story and there's really no doubt that this book was completely unputdownable!!
If you want a sexy, unique, unconventional romance to fall in love with, try this one!!
Rating: 4.5 stars. Standalone New Adult Romance.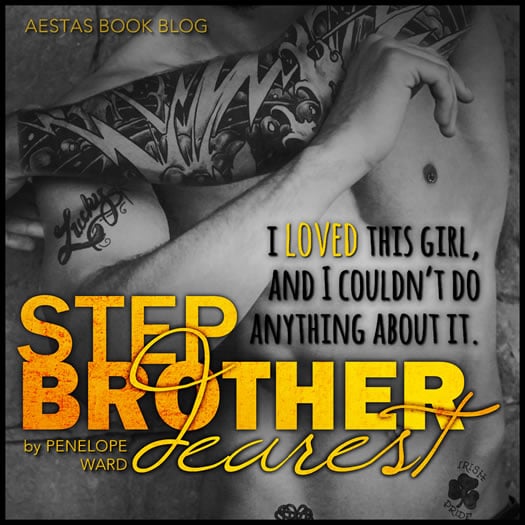 ___________________________________
SIGNED GIVEAWAY – NOW CLOSED
Open Internationally. Void where prohibited by law. Must be over 18 to enter.
3 winners will signed copies of Stepbrother Dearest.