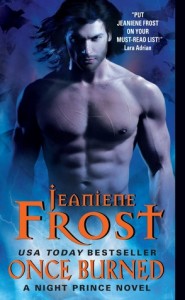 Almost 4 stars
"I want to know what your end game is."
Another flash of teeth, this time showing his fangs. "To have you screaming my name within the hour."
The Vlad we have come to love from the Night Huntress series finally gets his own series!
I liked it the book – it was a good light PNR read. But honestly, Vlad felt a little different here than he did in the NH series and this book just didn't have quite the same heart-racing intensity that the Cat & Bones books have, but still, it did not disappoint.
An accident has left Leila scarred and with an ability to both electrocute people and see their pasts, futures, and darkest sins. Vlad is THE Vlad, the man behind the Dracula myth – but really a very old, very strong, psychokinetic vampire with a lot of enemies. When Leila is caputured by said enemies in an attempt to seek out and destroy Vlad, he swoops in to the (flaming) rescue and takes her back to his castle, determined to use her abilities to help him hunt the enemies down. What neither of them counted on was their attraction to each other and Vlad is determined to make her his.
Despite it having been almost a year since I read the last book in this world, I was very pleased that the writing made it such that it didn't take long to reenter it and refamiliarize myself with all its rules.
The writing style is very laid back and fun, the story has fast-paced action, great dialogue and of course hot steam! *fans self thinking of the shower scene*
"Beautiful and diabolical. You make me impatient indeed to claim you."
I shivered… If he used that same tone of voice in bed, he could probably get away with skipping foreplay."
Vlad was his usual  kick ass, arrogant, ruthless, bossy, smarter-than-his-enemies survivor, but in this book, we also get to see a different side of him as well and get insight into what happened in his life to make him into the vampire he is today.
"I'm the only authentic Vlad. Everyone else is merely an envious imitation."
Leila was a wonderful match for him – she was soft, yet also very strong, stubborn, and kick ass in her own right.
"Two Leila's seemed to be battling it out inside of me. The first was outraged that he still considered it a fair accompli that I'd give in to him, and the second… That slutty bitch was wondering what Vlad looked like naked."
There were a lot of things they had to come to terms with – Vlad had to battle his inner demons that make him very wary of completely giving his heart over to love, Leila has to come to terms with the fact that the man she is falling in love with can also be a ruthless vampire, and there is a constant stream of danger keeping them on their toes.
And of course there was a BRILLIANT cameo from Cat & Bones that had me grinning and squeeing and totally wanting to go back and reread their series. Love love love that couple!!!! <3
The ending was a bit abrupt, not a cliffhanger, sort of a "happy for now but with lots of unanswered questions" ending.