City girl Calla Fletcher attempts to reconnect with her estranged father, and unwittingly finds herself torn between her desire to return to the bustle of Toronto and a budding relationship with a rugged Alaskan pilot…
WOW! WOW! WOW!! This was one of the best books I've read all year! And since we're in the last few weeks of 2018, that's saying quite a lot! It was breath-taking, captivating, and beautifully written — a story of family bonds, heart-break, healing, and unexpected romance. The story was both slow-building and slow-burning and yet there were times when the sheer depth of emotion had me sobbing like a baby even while I was smiling. I was enthralled by the story and it was really one of those books that just sweeps you away on an adventure — a true escape!
So just to back up a little here, I'd been saving this book ever since it came out in August. I knew I would love it as I've loved so many of KA Tucker's books over the years — in fact, I've loved every book of hers that I've read! But unfortunately this book was released during an insanely busy part of my summer and I just did not have the time to read it then so I saved it for just that right time when I knew I'd need a winning read and I was right because only a few pages into this book and I was already completely drawn into the story and hooked!
Calla Fletcher was two when her mother took her and fled the Alaskan wild, unable to handle the isolation of the extreme, rural lifestyle, leaving behind Calla's father, Wren Fletcher, in the process. Calla never looked back, and at twenty-six, a busy life in Toronto is all she knows. But when her father reaches out to inform her that his days are numbered, Calla knows that it's time to make the long trip back to the remote frontier town where she was born.

She braves the roaming wildlife, the odd daylight hours, the exorbitant prices, and even the occasional—dear God—outhouse, all for the chance to connect with her father: a man who, despite his many faults, she can't help but care for. While she struggles to adjust to this new subarctic environment, Jonah—the quiet, brooding, and proud Alaskan pilot who keeps her father's charter plane company operational—can't imagine calling anywhere else home. And he's clearly waiting with one hand on the throttle to fly this city girl back to where she belongs, convinced that she's too pampered to handle the wild.

Jonah is probably right, but Calla is determined to prove him wrong. As time passes, she unexpectedly finds herself forming a bond with the burly pilot. As his undercurrent of disapproval dwindles, it's replaced by friendship—or perhaps something deeper? But Calla is not in Alaska to stay and Jonah will never leave. It would be foolish of her to kindle a romance, to take the same path her parents tried—and failed at—years ago.

It's a simple truth that turns out to be not so simple after all.
I loved the vibe of this story! It had a thrill that came with unexpected adventure, deep family feels, a bit of mystery from the unknown nature of her travels, and once you threw in a grumpy sky cowboy into the mix it had an unlikely romance that I couldn't help rooting for!
"Just don't make the same mistake I did and fall in love with one of the pilots."
I chuckle. "I'll try my best not to."
"I'm being serious."
"It's not a firehouse, Mom."
She holds her hands in the air in surrender. "Fine. I know. But there's something about the guys that work up there. I can't explain it. I mean, they're crazy, landing on glaciers and mountain ridges, flying through whiteouts. They're like…" Her eyes search for words within my walls. "Sky cowboys."
"Oh my God!" I burst out laughing. "Do I seem like the kind of girl who'd fall for some Alaskan sky cowboy?" I can barely get the words out.
She levels me with a flat look. "Do I?"
He saw her as a stuck up high maintenance city girl, and she saw him as a grouchy close minded and judgmental recluse. Even though she was totally out of her element and in a whole new upside down world to the only one she'd really known, the longer she stayed in the wild the more she began to understand and respect their way of life… and the more she began to see that the grouchy sky cowboy she couldn't stand at first might have a soft spot hidden inside. They each had so much to learn about the other and I absolutely loved seeing them slowly bicker and banter their way to falling in love.
"You should stay another week or two. Or even longer…"
I give him a flat look.
But there's no hint of humor on his face. "Trust me, Calla, you'll regret it for the rest of your life if you don't."
Even though this story was slow-burning, everything that happened was deeply meaningful and in its own quiet, all-consuming way this book had so much heart!! I cried, I laughed, and I felt it with everything I had.
"We both knew this was never going to be easy," I hear him whisper.
"Yeah, I guess. I just didn't think it'd be this hard."
Bottom line, THIS BOOK WAS AMAZING!! A stellar story and one of my only 5 STAR FAVORITES of the year!
Rating: 5 STARS! Standalone Contemporary Romance.
EDIT: The author has released an unexpected sequel continuing this story!!! Details below: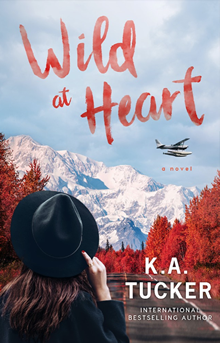 now live
Purchase