SURPRISE NEW RELEASE & TOP RECOMMENDATION: Seek by Mia Sheridan (standalone)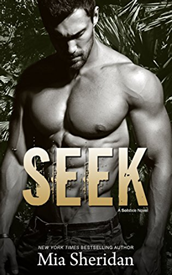 SQUEEEEEE!!!! HOLYYYY!! I just INHALED this awesome new book that I literally didn't put down for a single moment!!! It was an ADDICTIVE, ADRENALINE-FUELED, FAST-PACED ROMANCE with a sexy, brooding, mysterious and totally badass hero!!!! Omg. Seriously. This was such a fast-paced read. I LOVED IT!!!! And I was also surprised by the TWIST. It wasn't what I expected — and I love when books can surprise me!!! The writing was STRONG, the story was UNIQUE, the romance was HOT, and I highly recommend this if you're looking for a great new read!!!! It's a complete standalone and best of all it's NOW LIVE EARLY so be sure to grab a copy now because it's at a limited time "introductory" price and it will increase soon!! — "She never imagined her fiancé would disappear on a routine business trip. She's even more heartbroken and confused when a hired private investigator tracks him half a world away, to a seaside town in Colombia [recently] ravaged by a deadly tsunami, making travel all but impossible. Still, she is determined to to find the answers she so desperately seeks. What she needs is a guide—a mercenary… The man named Thomas arrives in shadows, an unmistakable air of danger about him, promising to help lead her through the ruined, crime-infested country. But when they find themselves fighting an undeniable attraction, danger takes on a whole new meaning… all the rules are different and they are about to discover that sometimes the thing you seek, isn't necessarily the thing you find…" — Now available at this link!

MIDNIGHT RELEASES (PRE-ORDER NOW):
Don't Go by Alexa Riley goes live at midnight!! It can standalone! — A virgin-hero insta-love contemporary romance! — "I've spent the past ten years convincing myself that what I felt for her was teenage infatuation. That love so consuming couldn't be real. Then everything went to shit, and in an instant, she was gone… She's mine. She always has been. I've waited this long for her…but time's up. I'll use all my power, all my connections, to convince her she's the one." She knew returning to New York meant running into him. The way her heartbeat picked up at just the thought was nervousness—not anticipation. Oh, no. She never expected to find him on her doorstep looking as handsome as ever. She ran from a boy, but a man of power and persuasion now stands in his place."

A Touch of Cinnamon by Bethany Lopez goes live at midnight!! It can standalone! — For the past year, she has thrown herself into her catering business, but she's been keeping a secret. The hot, moody owner of Prime Beef, is the only man she ever loved. The man she left behind in college, and thought she'd never see again, until he showed up across the street… For the past year, he has been waging a war with himself. Did he want to know why she had broken his heart and left without looking back, hell yes. But he'd found himself paralyzed by the glimpses he'd gotten of her and knew he wasn't ready for a confrontation… Neither of them are content with their lives, but so much has happened in the time that has passed. Can the right amount of spice remind them of the love they'd shared?

NEXT WEEK RELEASES (PRE-ORDER NOW):

2018 TOP RECOMMENDATION: The Bitterroot Inn by Devney Perry (Read my Review)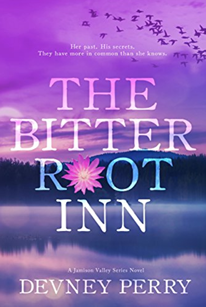 HOLY FREAKING SQUEEEEE!!! OMG. OH MY GOD. OH. MY. GOD!!!!!!!!! This was an absolutely PERFECT BOOK. I had happy tears POURING down my face when I finished it. My heart was RACING. I seriously was just OVERFLOWING with emotion because this book was INCREDIBLE!!! Pure swoon-filled ALPHA MALE ROMANCE PERFECTION with a very strong single mom heroine, her utterly adorable little son, and one of the SEXIEST, SWOONIEST, most PROTECTIVE HEROES you'll ever read about!!!! I can't recommend this highly enough. IT WAS AMAZING!!!! I LOVE LOVE LOVED IT!!!! This is my first 5 STAR TOP FAVORITE of the year!!!! And best of all, it's NOW LIVE so be sure to grab a copy!!!!
Note: this is the last standalone in the amazing Jamison Valley series which is a series of interconnected standalone romances and is one of the only series EVER that I have rated EACH BOOK 5 STARS!

2018 TOP RECOMMENDATION: Sex, Not Love by Vi Keeland (Read my Review)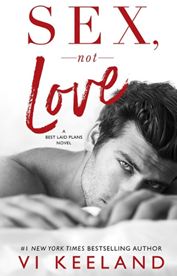 OH MY SWOOOOON!!!!! I read this AMAZING new book in one sitting and absolutely ADORED it!!!!! It was crazy ROMANTIC and honestly the direction the storyline took was totally UNEXPECTED! Based on the title, I made certain assumptions about the story but I LOVED that it SURPRISED me several times!! This hero is PURE SWOON and he has a big, heart-breaking secret that I honestly didn't see coming but it completely answered all my questions!! This book is both a FUN, SEXY AND HOT slow burning romance but is also equally HEART-FELT AND EMOTIONAL!!! It's purely addictive and I highly, highly recommend it to anyone looking for a FANTASTIC NEW BOOK to read!!!!! It's a complete standalone (no series) so sure to grab a copy as it went live early!!!

BOOKWORM NEWS:
Tons more new releases for this week are listed below!! Scroll down to check 'em all out 😀
WEEKLY NEW RELEASES RECAP

HOT NEW RELEASES (NOW LIVE):  
DETAILED LIST: NEW RELEASES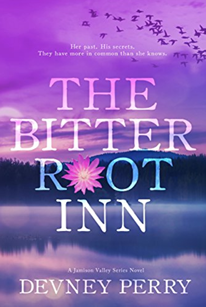 The Bitterroot Inn by Devney Perry — New Release!!
TOP FAVORITE!! Standalone: "She is happily content with the life she's built for herself and her young son… But when a handsome stranger walks into the lobby of her motel, her simple life is swept up in a wave of affection for his gentle heart. None of those feelings can be trusted, though. She made that mistake before with another man. The man she murdered.
He was a different man when he first saw her from afar. He took one look at her and ran in the opposite direction. But years later, he's back and unable to keep his distance. He shouldn't have tried to find her but he never was good at rejecting temptation. The promise of the good she could bring into his life is too hard to resist…"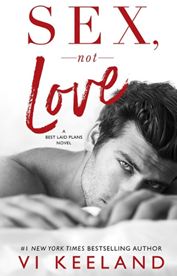 Sex, Not Love by Vi Keeland — New Release!!
TOP FAVORITE!! Standalone: "My relationship with Hunter Delucia started backwards.
We met at a wedding—him sitting on the groom's side, me sitting on the bride's. Stealing glances at each other throughout the night, there was no denying an intense, mutual attraction… I caught the bouquet; he caught the garter. He held me tightly while we danced and suggested we explore the chemistry sparking between us. His blunt, dirty mouth should've turned me off. But for some crazy reason, it had the opposite effect on me.
We ended up back in my hotel room. The next morning, I headed home to New York leaving him behind in California with the wrong number.
I thought about him often, but after my last relationship, I'd sworn off of charming, cocky, gorgeous-as-sin men. A year later, he and I met again at the birth of our friends' baby. Our attraction hadn't dulled one bit. After a whirlwind trip, he demanded a real phone number this time. So I left him with my mother's—she could scare away any man with her talks of babies and marriage—and flew back home.
I'd thought it was funny, until the following week when he rang the bell at Mom's house for Sunday night dinner. The crazy, gorgeous man had won over my mother and taken an eight-week assignment in my city. He proposed we spend that time screwing each other out of our systems.
Eight weeks of mind-blowing sex with no strings attached? What did I have to lose?
Nothing, I thought.
It's just sex, not love.
But you know what they say about the best laid plans…"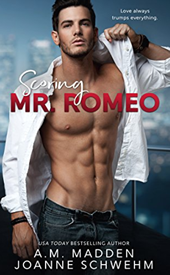 Scoring Mr Romeo by AM Madden & Joanne Schwehm — New Release!!
Can standalone: "Falling in love was the furthest thing from my mind. I'm a single mother raising a strong little boy, and he is my one and only priority. The universe felt otherwise, sending me―actually, my son's soccer ball―hurdling toward a stunningly handsome, perfect man, who said all the right things. He made it hard to ignore how much I missed romance.
In the past, when I met a man, they ran as soon as they heard I was a widow with a child. Not this guy. No, he fell in love with my son, and in turn, my son fell in love with him. But, it was hard to believe he felt the same about me. My job was to be the strong one―to protect our hearts…"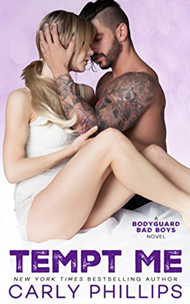 Tempt Me by Carly Phillips — New Release!!
Can standalone: "The single dad & the nanny …
Burned by an ex with a wandering eye, he has sworn off women. His sole focus is his young daughter — and despite his good intentions, the little girl's live-in nanny. He hired her to care for his child but he finds himself lusting after her instead. Keeping his distance isn't easy but he's determined to be a gentleman. Until her past comes back to haunt her and she's in need of his brand of protection. Suddenly she's his in every sense of the word — and he'll do whatever it takes to shield the woman who tempts him beyond reason."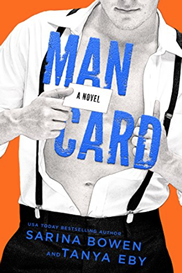 Man Card by Sarina Bowen & Tanya Eby — New Release!!
Can standalone: Her: "I still don't know how it happened. One minute I was arguing with my arrogant competitor—our usual trash-talk over who deserves the larger commission. But somehow I went from throwing down to kneeling down… It can never happen again. I don't even like him. He's too slick. He's a manipulating mansplaining party boy in preppy clothes. So why can't I get him out of my head?"
Him: "There are two things I know without question. One: she and I are destined for each other. Two: never trust a man with a unibrow. She is my missing my piece. She's the sweet cream to my gourmet espresso. And nothing gets me going faster than her contempt for me. Eventually I'll win her over… if my past doesn't ruin everything first."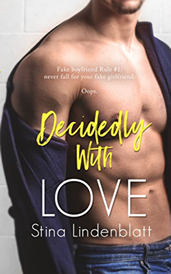 Decidedly With Love by Stina Lindenblatt — New Release!!
Can standalone: "Fake boyfriend Rule #1: never fall for your fake girlfriend.
Oops.
He realizes only a fake girlfriend will deter his grandmother's matchmaking scheme. Too bad the one woman who can help him is the sexy redhead who wants to assist him as much as she wants her eyeballs to be dunked in hot sauce and barbecued. To convince her, he promises to help her with her own dilemma. But sometimes fire and ice really do mix. Now he has to decide if love is in the air—and if together they make something hotter. Something stronger. Something real…"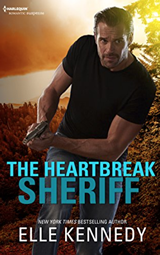 The Heartbreak Sheriff by Elle Kennedy — New Release!!
Can standalone (rerelease): A sheriff gets a second chance—but must balance his love for the law with his love for this woman—in the dramatic romantic suspense…
Single mom Sarah Connelly can't believe the man she used to be in love with is throwing her in prison! Sheriff Patrick Finnegan keeps assuring her he'll get her out of this mess, but her trust in him was annihilated long ago. Still, just being in his larger-than-life presence sets her pulse racing…. He knows in his heart she is innocent of murdering Teresa Donovan. But he can't ignore the overwhelming evidence against her—nor the desire he still feels for her. Somehow, he's got to find the real killer and convince the only woman he'll ever love to give him a second chance."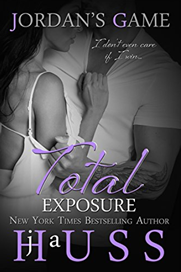 Total Exposure: Jordan's Game by JA Huss — New Release!!
"Not everyone needs a master. Not every everyone needs to really live, either. Some people are content to be a participant in the game of life. Others want to play for real. If you want to play for real, come to me, lovely. I'll give you that little push you need.
I'll open your mind, and your world, and soul.
Lay you bare. Let you feel the heat of my stare.
Take you places you've never been before.
Your body is my chessboard, sweets.
And if you give in to me, and you play, you might even win.
It's just… your prize might not be what you went looking for."
Fifty Shades Freed by E.L. James — New Release!!
Special movie tie-in edition: THE OFFICIAL MOVIE TIE-IN EDITION. The major motion picture releases on February 9 in time for Valentine's Day 2018 and is based on volume three of the phenomenal #1 New York Times bestselling trilogy with more than 150 million copies sold worldwide.
When unworldly student Anastasia Steele first encountered the driven and dazzling young entrepreneur Christian Grey it sparked a sensual affair that changed both of their lives irrevocably. Shocked, intrigued, and, ultimately, repelled by Christian's singular erotic tastes, Ana demands a deeper commitment. Determined to keep her, Christian agrees…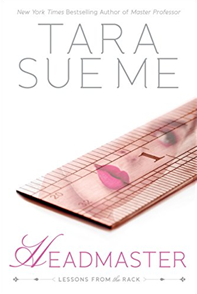 Headmaster by Tara Sue Me — New Release!!
Can standalone: "Lennox MacLure has sworn off the Dominant/submissive lifestyle. Years ago, his submissive, Winnie, died in a car accident for which he blames himself. Guilt-ridden and emotionally closed off, he sees the academy as both his punishment and penance for her death.
Mariela, a dance instructor and a natural submissive, was Winnie's best friend and longs to help him move past his grief. She's accepted that he will never see her as anything more than a friend, but she still wants to help him acknowledge what he needs. She comes up with a plan of seduction—but the passion they unleash could prove to be stronger than they are ready to handle…"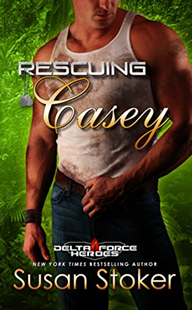 Rescuing Casey by Susan Stoker — New Release!!
Can standalone: "One minute, she was minding her own business, doing her job, teaching college students, and the next she was in the middle of the Costa Rican, jungle fighting for her life.
He has watched his friends fall in love, but never thought it would happen to him. Until he sees a picture of his teammate's sister. That was it. The absolute joy in her eyes calls to him in a way he can't understand. But that joy is currently being threatened by an unknown person who had her kidnapped and hidden deep in the jungle. It's up to him to find her and keep her safe until the threat can be neutralized. Surviving the dangers of the jungle turns out to be the easy part… Staying ahead of the killer is much more complicated… and deadly."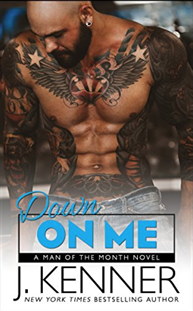 Down On Me by J. Kenner — New Release!!
Can standalone: "Certified bachelor Reece Walker wants two things—to save the local bar he manages and to get Jenna Montgomery into his bed.
He has a few ideas for the bar. But… well, he's going to have to rely on cold showers, because she's been his best friend for years, and that's a line he just can't cross. Until one wild kiss on a dark night changes everything. Now he is certain she's meant to be his. And with long nights in bed, sensual caresses, and deep, lingering kisses, he sets out to thoroughly convince her that friends can be lovers, too…"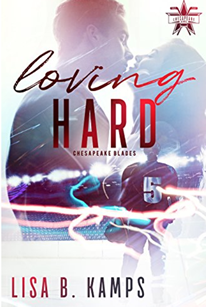 Loving Hard by Lisa B. Kamps — New Release!!
Can standalone: "She fell head-over-heels in love, blindly jumped into marriage and promptly had her heart broken when her husband served her with divorce papers while he was overseas. She picked up the shattered remnants of her life and took their daughter back home… Now if only she could ignore the emptiness that haunts her in the middle of the night…
Nobody who knew him would call him a coward, but that was exactly what he was. Two years ago, at one of the lowest points in his life, he walked away from the only woman who ever mattered—and lost a piece of his soul in the process. Now it's time to win his family back, and he'll stop at nothing to regain the love and trust of the one woman who means more to him than life itself…"
…