LIVE AT MIDNIGHT: Mister Romance by Leisa Rayven (Read my Review)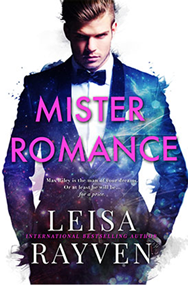 HOLY FREAKING SQUEEEEEEEEE!!!!!! OMG!!!! I just finished reading this AMAZING upcoming book and seriously, MY HEART IS STILL RACING!!!! It was the absolute perfect balance between sexy steamy ROMANCE, laugh-out-loud HUMOR, strong FEELS, and intense ANGST!!!! I seriously adore this author's writing and I have soooooo many quotes highlighted!!! The story was ADDICTIVE, intriguing and totally unputdownable!! The hero was mysterious, elusive, and heart-stoppingly SWOOOONY, while the heroine was strong, sassy, and very real. I loved them together and I LOVED this book! I read it in one non-stop sitting and it's easily a new TOP FAVORITE RECOMMENDATION!!!! It can standalone and it'll be LIVE AT MIDNIGHT so pre-order a copy because you don't want to miss this one!! 😀

MIDNIGHT RELEASES (PRE-ORDER NOW): So interestingly, tonight at midnight, there are actually several books releasing that sound good so be sure to check 'em out and pre-order!!

LATEST BOOKWORM NEWS:

NEW REVIEW (NOW LIVE): Lost Rider by Harper Sloan (Read my Review)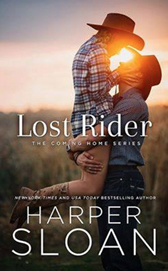 IT'S LIVE!!! This is an ALPHA COWBOY ROMANCE with a second chance love story set in a small town!! The hero left town ten years ago to escape a bad childhood and pursue his dreams. After becoming rodeo star, he's faced with one too many injuries and his career comes crashing down. And he returns to his hometown and also faces the one woman he always regretted leaving behind… For those of you who love seeing tortured jerk heroes redeem themselves, you'll probably love this guy! This is a sexy read with a lot of healing, heat, and a heart-warming romance!! It can standalone and it was just released so be sure to grab a copy!! — "All I have to offer you is my word, which isn't something I give without thought, but I'm giving that to you now. I've never broken my word once in my life, darlin'. We're both findin' our way here, but we will do that together and without holding back."
Plus, this week was a huuuuuuuge release week so check out all the new releases that are now live and ready to be read listed below!! Lots of great weekend reading there! HAPPY READING, EVERYONE 😀
WEEKLY NEW RELEASES RECAP
HOT NEW RELEASES (NOW LIVE):  
LATER WEEK RELEASES (PRE-ORDER NOW):  
DETAILED LIST: NEW RELEASES
Lost Rider by Harper Sloan — New Release!!
Can standalone: "He's forced to return home after a ten-year career as a rodeo star. After one too many head injuries, he's off the circuit and in the horse farming business…
She's his younger sister's best friend and someone whose heart he stomped all over when she confessed her crush to him ten years back. Now she's back in his life, no longer the insecure, love-stricken teen—and he can't help but take notice. Sparks fly between them, but will she be able to open her heart to the one man who broke it all those years ago?"
Before I Ever Met You by Karina Halle — New Release!!
Standalone: "I first met him when I was just a teenager. He was handsome [and] had just joined my father as his business partner. He was full of smooth charm, but back then he was barely a blip on my radar…
Fast forward ten years: I'm 25 years old and a single mom trying to make things right for her seven-year old son. I've made some mistakes, grappled with my demons and now I'm getting a second chance at a better life… I've started by working for my father's production company as an executive assistant. My first day on the job and I already know I could have a promising career there. That is until I see him for the first time in a decade.
Now recently divorced and as sophisticated as always, he has gone from being my father's friend and business partner to something so much more.
We're both older, for one thing, and he just oozes this worldly confidence and stark sexuality. Combined with his tall, muscular build and sharp suits, strong jaw and bedroom eyes, he has turned into one hell of a distraction. A distraction I'm having a hard time staying away from, considering his office is right across from my desk and I work with him in such close proximity.
But it's just a harmless crush, right?
It's just an innocent fantasy of screwing him on his desk, right?
It can't ever be more because he's my father's best friend, business partner, and my boss.
Right?
Wrong."
Ride Rough by Laura Kaye — New Release!!
Can standalone: He's the Motorcycle Club Vice-President, a man dedicated to protecting those he loves. So when he learns that the only woman who has ever held his heart is in trouble, he'll move heaven and earth to save her.
She thought she had it all… but when her dream quickly turns into a nightmare, she realizes she's fallen for a façade she can't escape—until the sexy, dangerous [biker] offers her a way out… Forced together to keep her safe, their powerful attraction reignites and he determines to do whatever it takes to earn a second chance…
Hidden Depth by Brenda Rothert — New Release!!
Can standalone: She was famous since but then "a single act of violence shattered my fairytale existence. In a matter of seconds, all the goodness in me was ripped to shreds… I gave up on myself, becoming a woman so dark and forlorn I no longer recognized myself.
But the stranger who saved me that day never gave up on me. He still saw light through my darkness. And as we grew closer, I started to see it, too. And I also started to see that before that terrible day, maybe I didn't really have it all. Maybe I was always missing the only thing that really matters…
Too Hard to Forget by Tessa Bailey — New Release!!
Can standalone: She [has] one goal in mind: confront the man who ruined her for all others, and remind him of what he's been missing. Even after three years, seeing him again is like a punch in the gut, but she's determined to stick to her plan. Maybe then, she'll finally be able to move on…
In the years since she left, he has kept his focus on football. No distractions and no complications. But when she walks back onto his practice field and into his life, he knows she could unravel everything in his carefully controlled world. Because the girl who was hard to forget is now a woman impossible to resist…
Bennett's Chance by Violet Duke — New Release!!
Can standalone: She's a reclusive heiress [and] after barely dodging a proposal for a future she doesn't want, she becomes the unwilling focus of her family's endless matchmaking shenanigans. Thankfully, an outrageously sexy knight-in-shining-armor has a solution: He'll run interference on the matchmaking if she helps him win the construction bid…
He grew up watching rich folks treat his parents like second-class citizens. So the last thing he expects is to strike up a business deal with the unexpectedly sweet, Chanel-clad hostess of his buddy's NFL charity—let alone to fall for her… But when all their secrets are revealed, he realizes that they have more in common than he assumed—and that the woman who couldn't be more wrong for him might actually be the one he's been searching for all along…
The Dead List by Jennifer L. Armentrout — New Release!!
Standalone: When she is mysteriously attacked on her way home from a party, her entire life changes as she finds herself at the center of an attempted murder investigation… She tries to move on, but her attacker isn't done yet. He shows himself in the form of horrifying signs and symbols. And as the weeks pass, it turns out that she isn't the only one being tormented.
With the help of an old flame, Jensen Carver, she tries to attain some sense of normalcy, but she can't seem to shake the feeling that there's a dark pattern hidden in the killer's every move. Suddenly, even those in her innermost circle seem suspicious. In her seemingly safe town, she starts to wonder who she can trust…
Purple Hearts: A Novel by Tess Wakefield — New Release!!
Standalone — When a soldier with a troubled past and a struggling songwriter agree to a marriage of convenience for the military benefits, neither expects much after saying "I do." Then tragedy strikes, and the line between what's real and what's pretend begins to blur in this smart and surprising romance…
Cassie Salazar and Luke Morrow couldn't be more different. Sharp-witted Cassie works nights at a bar to make ends meet while pursuing her dream of becoming a singer. Luke is an Army trainee, about to ship out for duty, who finds comfort in the unswerving discipline of service. But a chance encounter at Cassie's bar changes the course of both their lives.
Cassie is drowning in medical bills after being diagnosed with diabetes. When she proposes a deal: she'll marry him in exchange for better medical insurance and they can split the increased paycheck that comes with having a "family" what she doesn't know is that he has desperate reasons of his own to get married. In this unforgettable love story, Cassie and Luke must set aside their differences to make it look like a real marriage… unless, somewhere along the way, it becomes one…
Midnight Target by Elle Kennedy — New Release!!
Can standalone: Four years ago, her entire life changed when she discovered she was the daughter of a supersoldier. But his overprotectiveness has pushed her away. These days, she's working as a freelance photographer and living the dangerous life he never wanted for her. When she snaps a photo linking a corrupt politician with the leader of a notorious drug cartel, her mercenary father leads a team to rescue her—only to get shot and critically wounded in the process. As his operatives rally together on a revenge mission, they're faced with new alliances and old heartaches. She is forced to work with the man who broke her heart two years ago…
Feels Like the First Time by Marina Adair — New Release!!
Can standalone:
There are a lot of things she doesn't do: pink anything, a day without chocolate, and Hawk, her sister's ex-husband. Sure, he's a sexy former NHL star who can make her pulse pound with just a wink. But he belonged to her sister first. And no matter how long she's had a crush on him, how great he's always been to her dad, or that her sister is engaged to someone else now and she needs a date to their engagement party, she can't give in to temptation. Can she?
It's been years since his disastrous marriage crashed and burned, and he has finally moved on. So when his ex-wife blows back into town with her new fiancé, throwing the engagement party of the year, he could care less . . . until her sister tells one little lie that lands him smack dab in a fake relationship. After one promise to be her date and two of the hottest kisses he's ever had, Hawk can't deny how much he wants her. But what happens when this fauxmance starts to feel very, very real?
It Happened on Love Street by Lia Riley — New Release!!
Can standalone: She moved to Georgia, as step one in her plan for a successful legal career. But after this big-city gal's plans go awry, going home with her tail between her legs isn't an option. So when the town vet — and her sexy new neighbor — offers her a temporary dog-walking job, she jumps at the chance. No one needs to know that man's best friend is her worst nightmare… or that the hot animal whisperer leaves her panting.
The last thing he wants is to be the center of small-town gossip. After his first love left him at the altar, he's been there, done that. These days, life is simple, just the way he likes it. But things get complicated once sparks fly between him and the knockout next door…
Tempted By Fate by Cynthia Eden — New Release!!
Can standalone: You can't cheat Fate… and for the record, she really doesn't like it when you betray her, either. He is used to having power… He's a supernatural powerhouse and he's used to snapping his fingers and getting anything he wants. But when he fell for Fate, he learned that power didn't get a man everything. In fact, it didn't even get him the one woman he wanted most…
Fate has spent centuries hiding from her supernatural ex-lover. Most people fear him and rightly so… Some very, very bad things are coming for him. she shouldn't care about the danger he faces. She should turn her back on her ex. His heart is ice cold, she knows that, but her own heart… it's still a little weak where he is concerned.
He has tried to walk on the side of good for a long time… but his sins are coming back to haunt him. A darkness is trying to consume him, and if she can't help him…then it's not just him who will pay the price for his past. The whole world will change. You think you know the Lord of the Light? Think again.
Dr. OB(scene) by Max Monroe — New Release!!
Can standalone: "It's just a docuseries about your career as an OB/GYN, they said.
It won't interrupt your life during or after filming, they said.
Well, they—the television executives who seem intent on ruining my career and personal life with a fair number of creative liberties—lied… How's a guy supposed to convince the most perfect woman he's ever met that he's not as much of an idiot in real life as he appears to be on camera? But I can't get her out of my head.
I want her.
Good thing I've never been one to back away from a challenge…
Get ready, Melody. The doctor is in."
I Do, Babe by Tillie Cole — New Release!!
Hades Hangmen novella: "He loves his woman. Ever since he met her at the fence of the cult that had kept her captive as a child, he has never loved anyone else. He loves her black hair, her pale skin and of course, her ice-blue 'wolf eyes'. Since she came crashing back into his life, his only wish has been to marry her; finally to make her his wife. But now the wedding is booked, and only weeks from forever having her by his side, a lifelong problem is plaguing him. He wants to marry her; he has never wanted anything more…. if only he could speak the words and declare it to the world."
Retaliate by M.N. Forgy — New Release!!
Being the Vice President of the Sin City Outlaws Motorcycle Club comes with its perks. Respect, power, and easy women whenever I want. I have control in everything I do. Because of that, I wasn't expecting my president to put me on babysitting duty, and on a female cop of all fucking people. I kill law enforcement, not protect them.
She pretends to be the good-guy hiding behind that shiny badge. But I see the darkness dancing in her eyes, and it draws me to her in the worst way. I want to devour that act of innocence, pull her over the line of justice, and into my bed. I just wasn't expecting the handful of secrets I got behind that badge of honor I ripped from her chest. Because now, we're retaliating against a common enemy together.
Arranged by Lexi Blake — New Release!!
Novella: Kash Kamdar is the king of a peaceful but powerful island nation. As Loa Mali's sovereign, he is always in control, the final authority. Until his mother uses an ancient law to force her son into marriage. His prospective queen is a buttoned-up intellectual, nothing like Kash's usual party girl. Still, from the moment of their forced engagement, he can't stop thinking about her.
Dayita Samar comes from one of Loa Mali's most respected families. The Oxford-educated scientist has dedicated her life to her country's future. But under her staid and calm exterior, Day hides a few sexy secrets of her own. She is willing to marry her king, but also agrees that they can circumvent the law. Just because they're married doesn't mean they have to change their lives. It certainly doesn't mean they have to fall in love.
Wicked Abyss by Kresley Cole — Live at midnight!!
Can standalone: The terrifying king of hell meets his match…
As a boy, he had his heart shattered by a treacherous fey beauty who died before he could exact vengeance. Millennia later, a curse has transformed him into a demonic monster—just as she's been reincarnated. He captures the delicate but bold female, forcing her back to hell. Her people have hated and feared his for eons. When he imprisons her in his mystical castle, vowing revenge for betrayals she can't remember, she makes her own vow: to bring down the wicked beast… Can two adversaries share one happily-ever-after?
The F Word by Liza Palmer — New Release!!
Standalone: Olivia Morten is perfect. Maybe she's constantly hungry, but her body is to die for. Maybe her high-flying publicist job has taken over her life, but her clients are L.A.'s hottest celebrities. Maybe her husband is never around, but he is a drop-dead-gorgeous doctor. And maybe her past harbors an incredibly embarrassing secret, but no one remembers high school…right?
When Ben Dunn, Olivia's high school arch nemesis and onetime crush, suddenly resurfaces, all of her hard-won perfection begins to unravel. As she finds herself dredging up long-suppressed memories, she is forced to confront the most painful truth of all: sometimes who we become isn't who we really are.
Burntown by Jennifer McMahon — New Release!!
Ashford, Vermont might look like your typical sleepy college town, but to the shadowy residents who live among the remains of its abandoned mills and factories, it's known as "Burntown."
She has been a part of this underworld for years, ever since the night her father drowned in a flood that left her and her mother homeless. A respected professor, her father was also an inventor of fantastic machines, including one so secret that the plans were said to have been stolen from Thomas Edison's workshop. According to her mother, it's this machine that got him murdered… She has always written off this claim as the fevered imaginings of a woman consumed by grief. But when her mother dies under mysterious circumstances, and her boyfriend is murdered, she's convinced her mother was telling the truth. Now, on the run from the man called "Snake Eyes," she must rely on other Burntown outsiders to survive…
Son of a Beard by Lani Lynn Vale — New Release!!
Can standalone: She was supposed to be here today attending this wedding as the bride, not watching the festivities as a guest from the chairs she'd painstakingly purchased covers for while her ex-fiancé screwed around on her with another woman. The icing on the wedding cake that she refuses to eat? She's forced to attend the wedding due to her mother being the wedding planner.
However, the night doesn't turn out quite the way she expects it due to the hot-as-hell biker sitting in the chair directly beside her…
DETAILED LIST: LATER WEEK RELEASES
Mister Romance by Leisa Rayven — Live on Sunday!!
Can standalone: "Max Riley is the man of your dreams. Or at least he will be, for a price. As his alter-ego Mister Romance, he's a drop-dead gorgeous escort who makes romantic fantasies come to life. No sex, just swoon-worthy dates to die for, and the cream of New York's socialites can't get enough. Whether they want a dominating billionaire, bad boy with a heart of gold, hot geek, sexy biker, or best friend who loves them from afar, Max can make it all happen, but he's careful to keep his real identity a secret.
Enter investigative journalist Eden Tate. Having caught wind of the urban legend of Mister Romance from a lovestruck client, she's determined to publish a scathing expose on him and his ability to swindle lonely society women out of their fortunes.
Desperate to protect his anonymity and his clients, he challenges her to give him three dates. If she doesn't fall in love with him, she can run her story with his blessing. If she succumbs to his charms, the story dies.
She has no doubt she can resist his fake romance personas, but when the real Max admits he's falling for her, she has to decide if the professional liar is telling the truth, or if the passionate man with the mysterious past is just one more character designed to con her out of her career-making story…"
Riot Street by Tyler King — Live on Sunday!!
Standalone: As darkly charismatic as he is unpredictable, Ethan Ash knows me better than I know myself. He's spent years unraveling the family scandal I've tried desperately to escape. I once thought that made us adversaries. Now he's the closest ally I have left.
Ethan's both the chaos around me and the deep, calm center where I feel safe. People warn me about him, tell me he's dangerous. Don't fall for him. But it's too late. Because I can't tell where my addiction ends . . . and his obsession begins.
Live Out Loud by Marie Meyer — Live on Sunday!!
Standalone: "I'll never be able to hear, but music has always been a source of comfort for me. Rather than listen to the rhythm, I can actually feel the beat pulsing through me. It's pure bliss. So the moment I saw him playing his guitar, I was mesmerized. I'd never seen anything more beautiful… or intimate. I couldn't tell where his body ended and the song began. He's everything I need in my life. I'm falling fast, hard, and deep… I want him more than anything. But while I live in silence, he lives in secrets. He's holding something back — something that's keeping this intensity, this longing from being real. And the silence may be too loud to bear…"
Truly Helpless by Joey W. Hill — Live on Sunday!!
Can standalone: He has all the things a Mistress could want in a one-night-sub encounter. Hot body, loads of charm and a willingness to get her off in any way she pleases. That's his reputation. But he has a dark side… When he takes it too far one night, he's kicked out of the club and there's only one way back in—Lady Regina… She's been studying him for a while. She enjoys her submissives in all flavors, and she likes them challenging, though not usually the "knight-in-distress" type, so screwed up she'd need a backhoe to dig him out of his dysfunctions. But on that pivotal night, she sees something in him. He doesn't know what it means to be truly helpless to a Mistress, but he needs it, more than any sub she's ever encountered. And that's a challenge this Mistress can't resist…
…