RARE SALE ON TOP FAVORITE: At Peace by Kristen Ashley (Read my Review)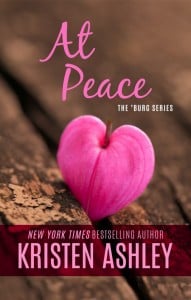 OMG!! This is one of my FAVORITE BOOKS by this author and it just went on sale!! You can read it as a standalone. The heroine is a single mom and the hero is one of the most ALPHA male heroes you'll ever read and this book is SEXY and FULL OF FEELS! — "Violet Winters once had it all but lost it when her husband was murdered. During a cold winter night Violet has to leave her warm bed to tell her neighbor to turn the music down. And that's when she meets sinister, scarred, scarily attractive security specialist, Joe Callahan. She wants to deny it, but Violet can't beat back the hunger she feels for Joe so she gives in again and again. Feeling it himself, Joe feeds Vi's hunger, breaking his own rules to keep her in his bed… Even though Violet had only one man in her life, she decides she's ready to take a second chance at life and love. But Violet doesn't know the dark secrets in Joe's past…"

BOOK ANNOUNCEMENTS:
Racer by Katy Evans was just announced! This is a sexy standalone! — He's the fastest, fiercest driver around. Scouting new talent brings me to his doorstep… but his smile sends me to my knees. He's not the kind of man a girl like me falls for. He's secretive, reckless, elusive. This is our last chance to win, and he is our only hope. I'm supposed to watch him — make sure he doesn't get into trouble. But it's an impossible task. And now the one in heart wrenching, toe-curling, soul-crushing trouble is me. Because when your heart belongs to someone, their truths become your own, and their secrets become your salvation…or your curse. He says he wants me. He says I'm the One. But he also thinks he'll break my heart, one piece at a time until it's gone.
WEEKLY NEW RELEASES RECAP
HOT NEW RELEASES (NOW LIVE):  
DETAILED LIST: NEW RELEASES
Because of Lila by Abbi Glines — New Release!!
Prim, proper, classic good girl, and her least favorite label – icy. Lila has heard them all. The last one, being the newest. She is not icy. She just doesn't care for Cruz Kerrington and his spoiled, selfish, careless ways. That doesn't make her icy, that makes him a jerk! Tired of being labeled and doing what is expected of her, she leaves Rosemary Beach ready for an adventure. Wanting to recreate herself, find a new path, and become something more.
Eli is ready to swear off women until he can get the rest of his life together. Two weeks into his no-women-rule he meets Lila. She's so damn sweet and polite. Like she walked right out of an etiquette book. But he'd already been drunk before she walked in so there was a good chance she might not be as stunning and perfect as he thinks. He's just too drunk to worry about that.
The next morning, he swears he can still smell her on his skin. He just can't remember why or what happened after that third dance. Their worlds are about to collide, and so are the secrets and lies.
Jilted by Sawyer Bennett — New Release!!
Standalone: She went to Los Angeles to make it big, not to be publicly humiliated by her cheating fiancé at a red-carpet premiere. But when she returns to her hometown to put the scandal behind her, the locals are worse than the paparazzi, and they all think she's turned into a spoiled brat. But in a strange twist of fate, the one person who seems to understand what she's going through is the boy she left behind.
Small-town charm is no match for the glitz and glamour of Hollywood. At least that's what he's been telling himself all these years. As her old flame, he feels some responsibility for getting her out of her funk. But as soon as he sees her smile, he's a goner. Soon they're making out like teenagers again. But when a life-changing role falls into her lap, he just hopes she doesn't give up on a love that's meant to be…
Wicked Intentions by J.T. Geissinger — New Release!!
Can standalone: In the Caribbean, he meets a beautiful woman in the hotel bar. Their connection is immediate and intense, and they spend a passionate night together… But when he wakes the following morning to discover she has vanished, along with millions worth of jewels, he realizes their meeting wasn't accidental and becomes determined to find her.
A notorious thief, she has one final job to complete before she's free from the oath that bound her to a life of crime, but the sexy-as-hell Marine she spent one explosive tropical night with is hot on her heels at every turn. She has to outwit him to stay out of jail, but fighting their magnetic attraction soon becomes a game neither one of them can resist…
Puck Aholic by Lili Valente — New Release!!
Standalone: I hate my new roommate. And I want to do dirty, delicious things to her in that swing she installed that we both know has nothing to do with aerial yoga. Neither of which is good, considering she's my NHL team captain's little sister, and he will break my face if I'm not a perfect gentleman.
I try to be. Really, I do. But when she runs screaming down the hall wearing nothing but a damp washcloth, all my gentlemanly intentions go out the window. She's got all sorts of mind tricks to make a man obsessed with getting her into bed, and I'm not gonna lie—I fall for every single one of them. Especially the one where she warns me not to fall for her.
Take Your Time by Julie Johnson — New Release!!
Can standalone: He's the best fighter to come out of Boston in years. Men want to be him, women want to be with him, and no one smart ever bets against him. He's more savage than knight-in-shining-armor, but that suits him just fine: he has no plans to ever allow a woman to domesticate him…
That is, until a certain sultry redhead finds herself in need of salvation. In the midst of sudden danger, their slow-burning attraction sparks into something far hotter…
Two is a Lie by Pam Godwin — New Release!!
Series: Two lies. Two men who don't share.
I never stopped loving Cole. Not when he left me. Not when he disappeared for three years. Not when he crashed back into my life. His sudden reappearance questions everything I thought I knew, including how I came to love another man… Trace is my rock. My second chance at forever… Together, they entangle me in a web of lies, rivalry, and desire that weaves as deeply as their devotion to me.
I love two men, and if I can only have one, I choose none.
The Red by Tiffany Reisz — New Release!!
Standalone: She made a deathbed promise that she would do anything to save her mother's art gallery. Unfortunately, it's in the red.
Just as she realizes she has no choice but to sell it, a mysterious man comes in after closing time and makes her an offer: He will save The Red if she agrees to submit to him for the period of one year… The man is handsome, English, and terribly tempting… but surely her mother didn't mean for her to sell herself to a stranger. Then again, she did promise to do anything to save the gallery…
Turn The Page by Sydney Logan — New Release!!
Standalone: "Sex. Drugs. Rock and roll. After completing his second stint in rehab, he heads home determined to leave the music world behind and focus on his family, his songwriting, and his sobriety…
Crippled with debt but determined to make it on her own, she pours her heart and soul into the town's bookstore. When he finds his debut album in her discount bin, sparks fly between the pretty bookstore owner and the rock star musician. He knows he's nowhere near good enough for a sweet girl like her but he wants to be…"
Carson by Melissa Foster — New Release!!
Can standalone: As the founder of a multimillion-dollar international security business, he exposes secrets for a living. He knows better than to forge relationships built on them. But for years he did just that with his best friend and secret lover. She brought a sense of calm and understanding to his life. Until one fateful night when a knock at the door changed everything.
She has lots of lonely nights to think about the only man she's ever loved—the one she ran away from all those years ago. She needs to move forward with her life, but how can she when he still owns her heart?
Maybe showing up in the middle of the night unannounced isn't the best route to unraveling the past and figuring out her future, but she has played it safe for ten long years, and it's only made her long for the man she never should have walked away from. Now she's back in his life, and he's determined not to make the same mistake twice…
Wicked Grind by J. Kenner — New Release!!
Can standalone: His photography career is on the verge of exploding. All he needs is one perfect model to be the centerpiece of his sexy, controversial show. Find her, and he is sure to have a winner.
Then she walks in. Stunning. Vibrant. And far too fragile for a project like this. He should know—after all, he remembers only too well how their relationship ended all those years ago… Desperate for cash, she sets her sights on his show. But only the show. Because she knows too well that he is a danger to her heart…
I Need You Tonight by Stina Lindenblatt — New Release!!
Can standalone: Old habits die hard. But in this sexy, heartwarming romance, a musician falls for a good girl who makes him want to clean up his act.
His band is a sensation, and he's having a blast on their biggest tour yet. Then he gets a call from his best friend asking him to find out why his sister isn't answering her phone. The dude once saved his life from a suicide attempt so the drive from L.A. to her small town is nothing… What he finds is a sweet, successful boutique owner who's too busy to notice when her phone dies. She has nothing better to do than work. She's bored of all the men she's been dating and he is a breath of fresh bad-boy air…
Shameless by Lisa Renee Jones — New Release!!
Finale: He sought her out with revenge as his agenda. He made her his obsession. He seduced her. He made her want him. He made her trust him. And then he trusted her. He wanted her. He loved her.
But now, the lies will be exposed, the truth revealed.
Hearts will be broken. Lives shattered.
The truth. The passion.
Train Wreck by T Gephart — New Release!!
Standalone: "No passion, no emotion, no originality—a train wreck of epic portions." Those were the words to describe her exhibition. Not even a fine arts degree from Yale could save her from the scathing reviews. And failure was a word she would never be comfortable with. Not even close… Plotting the demise of every critic who'd written her off was her first instinct. But that would come later.
She would prove everyone wrong, and she wasn't afraid to get her hands dirty. But when her journey for redemption crashed headfirst into Josh Logan, the sexy, talented tattooist from Queens, getting her hands dirty took on a whole new meaning…
The Lake Effect by Erin McCahan — New Release!!
Standalone: It's the summer after senior year, and Briggs Henry is out the door. He's leaving behind his ex-girlfriend and his parents' money troubles for Lake Michigan and its miles of sandy beaches, working a summer job as a personal assistant, and living in a gorgeous Victorian on the shore. It's the kind of house Briggs plans to buy his parents one day when he's a multi-millionaire. But then he gets there. And his eighty-four-year-old boss tells him to put on a suit for her funeral.
So begins a summer of social gaffes, stomach cramps, fraught beach volleyball games, moonlit epiphanies, and a drawer full of funeral programs. Add to this Abigail, the mystifying girl next door on whom Briggs's charms just won't work, and "the lake effect" is taking on a whole new meaning.
Smart, funny, and honest, The Lake Effect is about realizing that playing along is playing it safe, and that you can only become who you truly are if you're willing to take the risk.
Dark Saturday by Nicci French — New Release!!
Standalone: A decade ago, 18-year-old Hannah Docherty was arrested for the shocking murder of her family. It was an open-and-shut case, and Hannah has been incarcerated in a secure psychiatric hospital ever since.
When psychotherapist Frieda Klein is asked to meet Hannah and give her assessment, she reluctantly agrees. But what she finds horrifies her. Hannah has become a tragic figure, old before her time. And Frieda is haunted by the idea that Hannah might be as much of a victim as her family — that she might, in fact, be innocent.
As Hannah's case takes hold of her, Frieda begins to realize that she's up against someone who will go to any lengths to keep the truth from surfacing — even kill again.
Can't Take My Eyes Off Of You by Bella Andre — New Release!!
Can standalone: She escaped to Summer Lake to heal from heartbreak, but found so much more than that: a job she loves, a community of friends… But nothing is as it seems, especially when it comes to the gorgeous millionaire who sweeps into her life from out of the blue and turns it upside down.
The first time he lays eyes on her, he's a goner. He knows he should keep his distance… he's not capable of giving her the happily-ever-after she's looking for. But for the first time in his life, he can't hang on to his self-control. Not when the love she offers him is everything he never thought he could have, but now craves with every fiber of his being…
Cocky Client by Whitney G. — New Release!!
Standalone novella: "Today is officially the worst day of my life… I woke up five hours late after a reckless one-night stand with the sexiest, cockiest, and most arrogant man I've ever met…
Still, none of those things dimmed my excitement for what was supposed to be the best four o'clock signing session of my career. I was on the verge of signing the highest paying client in my company's history, taking on a so-called "impossible" job that no publicist had been able to handle… But at four o'clock, that sexy, arrogant one-night stand stepped into my office with a familiar smirk and introduced himself as my new, cocky client…"
LATEST BOOK SALES
UPCOMING BOOK RELEASES
BOOKWORM STORE
WHAT KIND OF BOOKS ARE YOU LOOKING FOR?
__________________________________
Let me know if there are any other books you're loving right now too!!
LET'S STAY CONNECTED
To get these lists sent to you every week, subscribe by email.
FOLLOW THE BLOG
Facebook | Twitter | Instagram | Pinterest | BlogLovin' | Google+ | Goodreads