I'm very excited to share with you the beautiful cover & blurb of A Measure Of Love by Sophie Jackson!!! This latest upcoming novel in the A Pound Of Flesh series tells the story of Riley and will be released on June 21, 2016, but you can pre-order your copy right now if you want! I can't wait to read it! 🙂
From award-winning fanfic phenomenon Sophie Jackson, the third novel in the sexy and emotionally intense blockbuster A Pound of Flesh series.

Life in New York for ex-con, Riley Moore is pretty damn good until a call from his mother shatters the calm–his father has suffered his second heart attack in two years and is in a critical condition. Leaving everything behind, and with his brother, Tate, Riley flies back home to Michigan for the first time in five years to support his mother and do his best to make amends with his father, all the while trying not to think about how close he is, once again, to the heartbreak of his past, Lexie Pierce, the only girl he ever truly cared about.

Inevitably, Riley sees Lexie, and is overcome with memories about their love and the pain they both suffered. Even with the hurt still surrounding his heart, Riley is eager to reconnect. As wary as she is, and with a secret she's hidden from him for five years, Lexie only has so much willpower when it comes to Riley, and agrees. Besides, she owes it to both of them to find out if, after all that has gone before, they can love each other again.

Can they both overcome their sorrow and secrets and finally share their life together?

A powerful new voice in modern romance, Sophie Jackson has crafted a passionate love story with stunning twists and unforgettable characters that will stay with you long after you've turned the last page.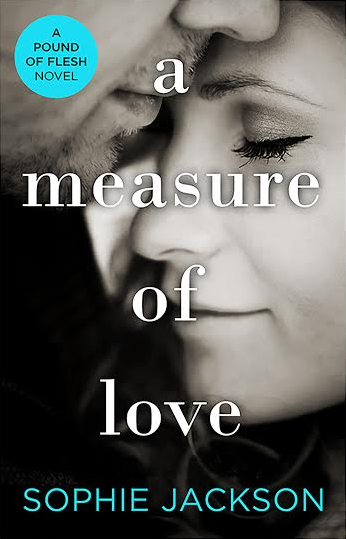 _____________________________
If you're new to the series, I recommend starting with A Pound of Flesh, which tells the story of Carter and Kat… It's about strong-minded prison tutor who discovers that her sexy bad-boy student is far more than he appears to be… (my review)
Note: A Pound of Flesh, An Ounce of Hope, and A Measure Of Love are interconnected standalones. Each book is about a different couple, but it is recommended to read them in order.