HUGE GIVEAWAY ALERT!!! To celebrate the recent release of Mists of the Serengeti by Leylah Attar, which is one of my rare 6 star recommendations, the author has very generously offered to giveaway a signed set of all three of her standalone novels! Each one of these is a unique and beautifully written romance! I've posted info on all of the books below so check 'em out and then scroll down to the bottom of the post to ENTER THE GIVEAWAY!!!! 😀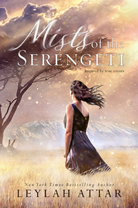 MISTS OF THE SERENGETI by LEYLAH ATTAR
Once in Africa, I kissed a king…
"And just like that, in an old red barn at the foothills of Mount Kilimanjaro, I discovered the elusive magic I had only ever glimpsed between the pages of great love stories. It fluttered around me like a newly born butterfly and settled in a corner of my heart. I held my breath, afraid to exhale for fear it would slip out, never to be found again."
When a bomb explodes in a mall in East Africa, its aftershocks send two strangers on a collision course that neither one sees coming.
Jack Warden, a divorced coffee farmer in Tanzania, loses his only daughter. An ocean away, in the English countryside, Rodel Emerson loses her only sibling.
Two ordinary people, bound by a tragic afternoon, set out to achieve the extraordinary, as they make three stops to rescue three children across the vast plains of the Serengeti—children who are worth more dead than alive.
But even if they beat the odds, another challenge looms at the end of the line. Can they survive yet another loss—this time of a love that's bound to slip through their fingers, like the mists that dissipate in the light of the sun?
"Sometimes you come across a rainbow story—one that spans your heart. You might not be able to grasp it or hold on to it, but you can never be sorry for the color and magic it brought."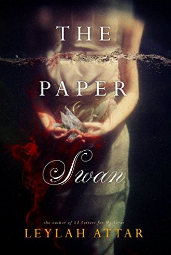 THE PAPER SWAN by LEYLAH ATTAR
They say it takes 21 days to form a habit. They lie. For 21 days she held on. But on Day 22, she would have given anything for the sweet slumber of death. Because on Day 22, she realizes that her only way out means certain death for one of the two men she loves.
A haunting tale of passion, loss, and redemption, The Paper Swan is a darkly intense yet heartwarming love story, textured with grit, intrigue, and suspense. A standalone romantic suspense novel, intended for mature audiences due to violence, sex and language. Subject matter may be disturbing for some readers. Please note: this is not a love triangle.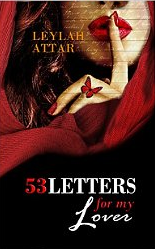 53 LETTERS FOR MY LOVER by LEYLAH ATTAR
This is not your typical love story. It's not so black and white. Lines are crossed. Walls are smashed. Good becomes bad. Bad becomes very, very good.
Shayda Hijazi – the perfect wife, the perfect mother, the perfect daughter. For thirty-three years, she has played by the rules, swallowing secrets, burying dreams and doing whatever it takes to anchor her family. Shayda Hijazi is about to become her own worst enemy.
Troy Heathgate – untamed, exhilarating, dangerous; a man who does exactly as he pleases. Life bends to his will. Until he comes across the one thing he would give it all up for, but can never have.
Born on the same day in opposite corners of the world, their lives collide. And nothing is ever the same again.
Spanning three decades, 53 Letters for My Lover is a fiercely sensual, emotional ride to the heart of an epic love that defies it all – an intimate exploration of love, loyalty, passion, betrayal, and the human journey for hope, happiness and redemption.
  HUGE SIGNED GIVEAWAY GIVEAWAY
Open Internationally. Void where prohibited by law. Must be over 18 to enter. Prize includes signed copies of all 3 Leylah Attar books listed above.