JUST ANNOUNCED: All Your Perfects: A Novel by Colleen Hoover (standalone)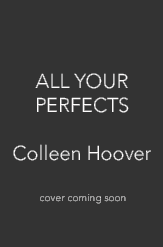 OMG!!! I absolutely LOVE everything this author writes and her next book was JUST announced: — Quinn and Graham's perfect love is threatened by their imperfect marriage. The memories, mistakes, and secrets that they have built up over the years are now tearing them apart. The one thing that could save them might also be the very thing that pushes their marriage beyond the point of repair… All Your Perfects is a profound novel about a damaged couple whose potential future hinges on promises made in the past. This is a heartbreaking page-turner that asks: Can a resounding love with a perfect beginning survive a lifetime between two imperfect people? — Be sure to pre-order a copy so that you automatically get your copy on the day it's released! I'm so excited to read it!
WEEKLY NEW RELEASES RECAP
DETAILED LIST: NEW RELEASES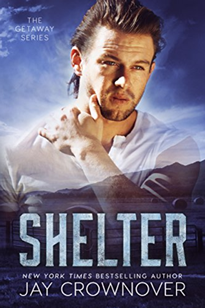 Shelter by Jay Crownover — New Release!!
Can standalone: "He's let a lot of people down lately, including his daughter. He always promised his little girl he would never disappoint her and that he would always be there when she needed him. Until he wasn't.
The truth is, he's used to disappointing the women in his life. First was his mother who couldn't find a reason to stick around. Then there's his ex. Luckily, his daughter is still young enough to believe her old man is some kind of hero. But, he knows the day is coming when she realizes [he's] just a man with some serious flaws and a list of ever-growing weaknesses. Finally, there's the woman he's desperately trying to forget…"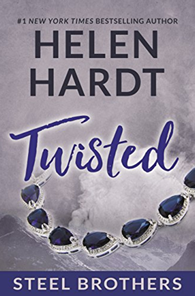 Twisted by Helen Hardt — New Release!!
Series: His world recently upended by an earth-shattering secret, he now faces yet another potential revelation surrounding his family mystery. He no longer fully trusts his siblings or the woman he loves. He's alone, terrified and immersed in a conundrum that becomes more twisted each day.
She loves him and desperately wants to help him. She'll do whatever she must to see him through this troubling time, but her own shrouded past still haunts her, and she's determined to put an end to both of their mysteries once and for all. But the more she uncovers, the more danger she's in… and she may lose him forever.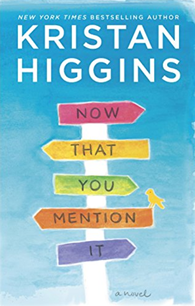 Now That You Mention It by Kristan Higgins — New Release!!
Standalone: One step forward. Two steps back. The scholarship that put her on the path to becoming a medical specialist was a step forward. Being hit by a car and then overhearing her boyfriend hit on another doctor when she thought she was dying? Two major steps back.
Injured in more ways than one, she feels her carefully built life cracking at the edges. There's only one place to land: home. But the tiny Maine community she left fifteen years ago doesn't necessarily want her. At every turn, someone holds her responsible for small-town drama and big-time disappointments… She has her work cut out for her if she's going to take what might be her last chance to mend the family… and the chance to begin again.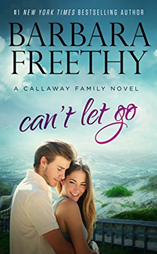 Can't Let Go by Barbara Freethy — New Release!!
Can standalone: She has been commissioned by a Hollywood studio to create the next superhero blockbuster movie, but a bout of creative block has her searching the beach scene for inspiration. A local Irish bar, run by the ruggedly attractive and somewhat mysterious Griffin Hale, piques her interest, and she finds herself weaving fantasies about not only him but also the quirky characters who work there.
The last thing he needs at his bar is a nosy artist looking for personal stories to turn into movie plots. But the beautiful redhead with the compelling green eyes is difficult to turn away… But when her stubborn curiosity propels her into a danger she never expected, she begins to realize that some heroes work in the dark… and a man who fights for you is a man worth fighting for.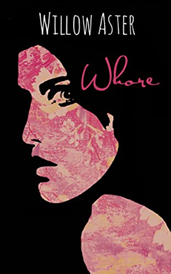 Whore by Willow Aster — New Release!!
"Beautiful, intelligent, independent, strong-willed, wealthy… She seems, by all appearances, to have it all. But that's not how the highest paid prostitute in New Orleans sees herself. A stain on society. A scourge. A waste. Outsider. Prisoner… Any idyllic dream of the normal life she may have once imagined, she buried long ago. Her only plan now is survival.
But mob boss Nico Santelli and community center owner Soti Christos have not given up on her. Each has his own very specific, very opposing, plans for her, and neither will rest until it becomes a reality."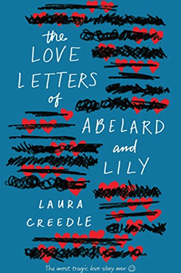 The Love Letters of Abelard and Lily by Laura Creedle — New Release!!
Standalone: When Lily Michaels-Ryan ditches her ADHD meds and lands in detention with Abelard, she's intrigued—he seems thirty seconds behind, while she feels thirty seconds ahead. It doesn't hurt that he's brilliant and beautiful.
When Abelard posts a quote from The Letters of Abelard and Heloise online, their mutual affinity for ancient love letters connects them. The two fall for each other. Hard. But is it enough to bridge their differences in person?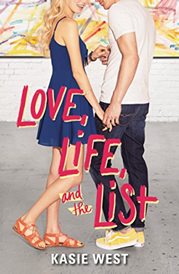 Love, Life, and the List by Kasie West — New Release!!
Standalone: Seventeen-year-old Abby Turner's summer isn't going the way she'd planned. Which is where the list comes in. Abby gives herself one month to do ten things, ranging from face a fear (#3) to learn a stranger's story (#5) to fall in love (#8). She knows that if she can complete the list, she'll become the kind of artist she's always dreamed of being.
But as the deadline approaches, Abby realizes that getting through the list isn't as straightforward as it seems . . . and that maybe—just maybe—she can't change her art if she isn't first willing to change herself.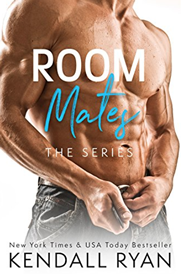 Room Mates by Kendall Ryan — New Release!!
Bundle:
The Room Mate – Her best friend's younger brother moves in and despite being off-limits, he is oh-so-tempting.
The Play Mate – Her older brother's best friend becomes the financial backer to her lingerie company then these two office-mates decide to become play mates. What's the worst that could happen?
The House Mate – He's the hot single dad, and she's the new live-in nanny. This is swoonworthy perfection if you like single dad romance!
The Soul Mate – The smoking-hot one-night stand she was never supposed to see again? She's pregnant, and he's her hot doctor.
LATEST BOOK SALES
UPCOMING BOOK RELEASES
BOOKWORM STORE
WHAT KIND OF BOOKS ARE YOU LOOKING FOR?
__________________________________
Let me know if there are any other books you're loving right now too!!
LET'S STAY CONNECTED
To get these lists sent to you every week, subscribe by email.
FOLLOW THE BLOG
Facebook | Twitter | Instagram | Pinterest | BlogLovin' | Google+ | Goodreads