NEW RECOMMENDATION: The Simple Wild: A Novel by KA Tucker (Read my Review)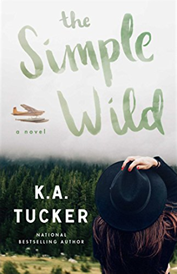 WOW!! WOW!! WOW!!! Without a doubt, this was one of the very BEST BOOKS I've read all year!!!!! It was breath-taking, captivating, and beautifully written. It drew me right into the story — the adventure, the romance, the family, the love, the loss, and the healing. It was slow-building and slow-burning, but the sheer depth of the emotion had me sobbing like a baby even while I was smiling!! I absolutely LOVED everything about it. This book was a true ESCAPE. It was a LOVE story, an ADVENTURE story, a story of how sometimes the most unexpected roads lead you to the best places. THIS BOOK WAS AMAZING!! A stellar story and a rare 5 STAR FAVORITE!!!! It's a standalone! Be sure to grab a copy!!
WEEKLY NEW RELEASES RECAP

HOT NEW RELEASES (NOW LIVE):  
DETAILED LIST: NEW RELEASES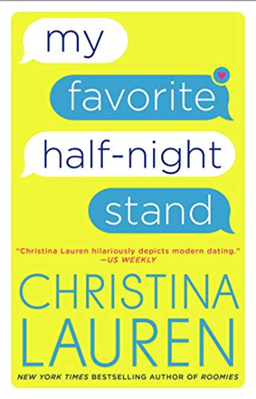 My Favorite Half-Night Stand by Christina Lauren — New Release!!
Standalone: "Millie Morris has always been one of the guys. A UC Santa Barbara professor, she's a female-serial-killer expert who's quick with a deflection joke and terrible at getting personal. And she, just like her four best guy friends and fellow professors, is perma-single.
So when a routine university function turns into a black tie gala, Mille and her circle make a pact that they'll join an online dating service to find plus-ones for the event. There's only one hitch: after making the pact, Millie and one of the guys, Reid Campbell, secretly spend the sexiest half-night of their lives together, but mutually decide the friendship would be better off strictly platonic.
But online dating isn't for the faint of heart. While the guys are inundated with quality matches and potential dates, Millie's first profile attempt garners nothing but dick pics and creepers. Enter "Catherine"—Millie's fictional profile persona, in whose make-believe shoes she can be more vulnerable than she's ever been in person. Soon "Catherine" and Reid strike up a digital pen-pal-ship…but Millie can't resist temptation in real life, either. Soon, Millie will have to face her worst fear—intimacy—or risk losing her best friend, forever."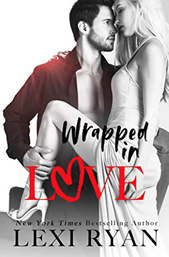 Wrapped in Love by Lexi Ryan — New Release!!
Can standalone: "The rumors are true. I'm a hot mess with an awful track record at love. Single mom. Down on her luck. Yeah, I'm bad news. If the hardest part of moving back home was going to be people talking, I'd be fine. I've kept my chin up through worse than their decade-old gossip.
I was wrong. The hardest part is resisting my boss. He is the very picture of tall, dark, and handsome. And thanks to an ill-advised one-night stand we had seven months ago, I know exactly what I'm missing when I turn him down. Every. Single. Delicious. Inch.
But I have my son to care for and my job to keep, so I'll keep on saying no.
Until my string of bad luck continues, and suddenly my precious four-year-old and I find ourselves with nowhere to live. At Christmas, no less. It's for my son that I accept his offer to stay at his place. One by one, my defenses are falling, as fast as I am. If he was smart, he'd run, because it's only a matter of time before he realizes he deserves better than what a girl like me can offer.
Unless, for once, my bad luck is leading me exactly where I need to be."
Misadventures with a Country Boy by Elizabeth Hayley — New Release!!
Can standalone: "She has a lot she wants to escape from: a career she never asked for, a future she doesn't want, and parents who've only ever seen her as a business opportunity. But in her desire to experience life, she quickly realizes she's lacking in one very important skill—how to survive on her own.
Former soldier Cole Timmons is an expert at running away. Whether it's from his rural hometown, alcoholic father, or painful memories, he doesn't hesitate to leave… Until he encounters an out-of-place woman at a gas station in the middle of nowhere. The wealthy "princess" couldn't be more different from the country loner, and the pair get off to a rocky and misadventurous start.
But sometimes exteriors are armors meant to deceive. Sometimes what's beneath reveals more than anyone ever realized. Sometimes, in order to stop running away, a person simply needs to find something to run toward."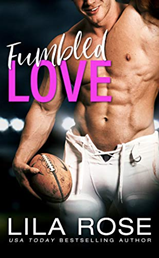 Fumbled Love by Lila Rose — New Release!!
Can standalone: "The one day English teacher Reagan Wild is late for work—and looks like she dressed herself in the dark—she remembers Carter Anthony, a well-known football star, is coming to the school to deliver a talk to her overexcited students… While she knows him from her high school days, since he was her past crush, she wasn't ready to see him again. At the time, she hated being invisible. But right now, she wished she could simply disappear. 
He keen to give back to his hometown, but what he doesn't expect is getting something in return. When a chance encounter with the shy girl from his past, happens, he knows instinctively this woman is supposed to be in his life. 
With an embarrassing ability to blurt out whatever's on her mind, she doesn't understand his attention. She has no doubt, though, he'll soon realize his mistake when he discovers just how crazy she and her family are. But no matter what he sees, what he hears, or how her looney family behaves, he doesn't run. In fact, his family seem just as unique as hers.
Through dog poop, naked yoga, and the paparazzi's, can they have any hope in love, even when it's fumbled?"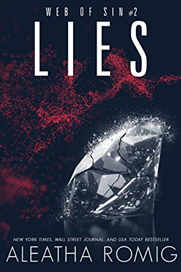 Lies by Aleatha Romig — New Release!!
"I am…
That's no longer an easy statement.
Who am I?
Since a man so handsome he takes my breath away and so infuriating he pushes me in ways I've never known came barreling into my life like a category five hurricane, I can't even finish that simple statement. In twenty-six years I've lived three lives—been three different people. They say that I was named after the spider to make me resilient… I prefer to consider myself a cat. It ups my chance of surviving the world I'm now living. Maybe that's only wishful thinking because according to him, my number of lives is running out. There are people who want to harm me, to learn the secrets they claim that I possess. The only person to offer me protection is him. Can I trust a man who willingly put me in the sight of danger? What is real? What are lies?"
LATEST BOOK SALES
UPCOMING BOOK RELEASES
BOOKWORM STORE
WHAT KIND OF BOOKS ARE YOU LOOKING FOR?
__________________________________
Let me know if there are any other books you're loving right now too!!
LET'S STAY CONNECTED
To get these lists sent to you every week, subscribe by email.
FOLLOW THE BLOG
Facebook | Twitter | Instagram | Pinterest | BlogLovin' | Google+ | Goodreads