NEW TOP RECOMMENDATION: Roomies by Christina Lauren (Read my Review)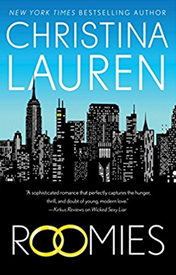 IT'S HERE!!!!! I read this addictive new book in one sitting!!! I've been in a bit of a book funk the last few days but as soon as I started reading this book, I FELL IN LOVE with the story and the characters who engage in an unexpected "pretend marriage of convenience" that unexpectedly for them develops into a very deep and true love for each other! The writing was fantastic and strong. It constantly kept me smiling, swooning, or just made my heart race! The story was sweet, heart-warming, and hit all the right notes for me. If you're looking for a WELL-WRITEN, SEXY, FUN, ANGSTY romance with strong characters and an absorbing story, this is it!! It just released so sure to check it out and grab a copy if you're intrigued! — "I've never done this before. I just know I'm falling for the girl I married."

RARE SALE & TOP FAVORITE: The Coppersmith Farmhouse by Devney Perry (Read my Review)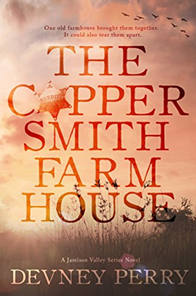 OMG. OMG. OMG!!!! HUGE SALE ALERT!!! This was one of the BEST BOOKS I've read all year and it JUST WENT ON SALE!!!!! This book is seriously AMAZING!!!! A PERFECT ALPHA ROMANCE!!! The hero is an gruff but kind-hearted sheriff who is grouchy at times but also incredibly protective, possessive, and SWOOOOOONY! And the heroine is a SINGLE MOM of a gorgeous little daughter who move into his town to start their lives over. MY HEART WAS RACING for so much of the story!! I LOVED these characters. I CARED for them! The romance was HOT, the writing was STRONG, and there was even some intense suspense that kept me glued to the page. Oh, and the epilogue has ALL THE FEELS!!! If you're wanting an AMAZING read, grab a copy!! And if you've already read this, then be sure to read the rest of the standalones in this series because they are ALL 5 STAR FAVORITES!!!!!

MOVIE NOW AVAILABLE: Afterburn Aftershock Movie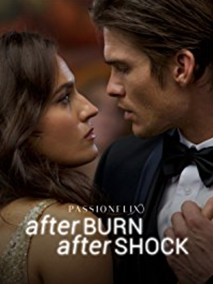 OMG!! The new 2017 Afterburn Aftershock movie based on Sylvia Day's book series is now available to watch on Amazon!! The movie is 1 hr 39 mins long and stars Tyler Johnson and Caitlyn Leahy. — Businesswoman Giana Rossi is determined to be successful in her new job, but when her ex lover Jackson Rutledge waltzes back into her life, their passionate connection ignites not only in the boardroom, but the bedroom. — Grab a copy here!

MOVIE NOW AVAILABLE: Hollywood Dirt Movie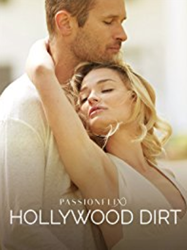 OMG!! The new 2017 Hollywood Dity movie based on Alessandra Torre's book is also now available to watch on Amazon!! The movie is 2 hours long and stars Johann Urb and Emma Rigby. — Cole Masten. Abandoned by his superstar wife, Hollywood's Perfect Husband is now Hollywood's Sexiest Bachelor. Summer Jenkins. That's me, a small town girl from Quincy, Georgia. Our lives shouldn't have collided. But then Cole Masten's jet landed on our dusty airstrip. From the start, I knew he was trouble. For Quincy. And for me. Sometimes, opposites aren't meant to attract. — Grab a copy here!

BOOKWORM NEWS:
WEEKLY NEW RELEASES RECAP
DETAILED LIST: NEW RELEASES
Roomies by Christina Lauren — New Release!!
MY FAVORITE!! Standalone: Rescued by Calvin McLoughlin from a would-be subway attacker, she pays the brilliant musician back by pulling some of her errand-girl strings and getting him an audition with a bigtime musical director. When the tryout goes better than even she could have imagined, he is set for a great entry into Broadway—until he admits his student visa has expired and he's in the country illegally.
She impulsively offers to wed the Irishman to keep him in New York, her growing infatuation a secret only to him. As their relationship evolves from awkward roommates to besotted lovers, he becomes the darling of Broadway. In the middle of the theatrics, what will it take for them to realize that they both stopped pretending a long time ago?
The British Knight by Louisa Bay — New Release!!
Standalone: "When I'm offered the chance to leave New York to live in London for three months, I can't pack my suitcase fast enough… But my favorite place is the tube. It's wall-to-wall hot British men in suits. When I'm offered a temporary job working for a barrister, I say, sign me up.
On my first commute into work, it's a total accident when I lose my balance and fall against the most handsome Brit alive. He's as charming as James Bond and as suave as Mr. Darcy. I want to lick tea from his hard abs and listen to his accent all night long. Turns out Mr. Handsome is my new boss. And his attitude isn't as hot as his gorgeous face, broad shoulders and tight ass. He's brooding, short-tempered and the most arrogant man I've ever met. As we're fighting, out of nowhere he kisses me… I wasn't looking for the fairytale but I might have found my knight in shining armor. The problem is he lives an ocean away."
Shear Heaven by Katy Regnery — New Release!!
Standalone: In this "Rapunzel" retelling, Bella Capelli, a hair stylist who works on the 32nd floor of the New York Metro Tower Hotel, meets His Serene Highness Prince Nico De'Medici, in town for the wedding of his twin sister, Valentina.
Though the two come from vastly different worlds, and Nico is promised to another, the handsome prince can't seem to stay away from sweet Bella. After a whirlwind week of romance, will they manage to find their happily-ever-after?
Blaze by Susan Fanetti — New Release!!
Series: Tulsa, Oklahoma, 1998. Tulsa is his home, and the [MC] his family. As far as he's concerned, life as a Bull is too risky, and the club too demanding, to make room for anyone else. Especially now, while the Brazen Bulls MC stands on the brink of war, smack in the middle of their hometown.
She's known him for years; since a crisis threw them together a couple years back, she's known him intimately. They are perfectly compatible, both adventurous in bed and neither interested in a relationship. They've enjoyed each other and kept their hookups a secret from her volatile brother and everyone else. Until they realize that friends with benefits has become something much deeper, despite their guards against it, and they're forced to contend with what's real between them….
So Over You by Kate Meader — New Release!!
Can standalone: She knows hockey. She won Olympic silver before an injury sidelined her dreams [and now] a position as a skating consultant to her late father's hockey franchise seems like a perfect fit. Until she's assigned her first job: the man who skated into her heart as a teen and relieved her of her pesky virginity. These days, he is a magnet for puck bunnies and the tabloids alike. But back then… let's just say his inability to sink the puck left Isobel frustratingly scoreless.
He dominates on the ice, the practice rink, and in the backseat of a limo. But a knee injury has produced a bad year, and bad years in the NHL don't go unrewarded. His penance? To be traded to a troubled team where his personal coach is the woman who drove him wild years ago…
Villain by Samantha Young — New Release!!
Can standalone (novella): "Successful and independent, she's put a past she's ashamed of behind her. However, when her new boss discovers her secret he blackmails her. He wants her to be part of uncovering the city's biggest scandal – a secret a billionaire is hiding.
Soon she is thrown into the path of a sexy, wealthy bachelor. But she doesn't encounter the dashing high society gentleman he is purported to be. Instead she's faced with an insulting villain who misjudges her at every turn. When he finally realizes the truth, and decides to make amends, she wants nothing to do with him. But she underestimates his determination and charm and soon they find themselves embroiled in an intense, passionate affair…"
No Reservations by Kristen Proby — New Release!!
Can standalone (novella): "He is not the man for her. A self-proclaimed life-long bachelor, and unapologetic about his distaste for monogamy, a woman would have to be a masochist to want to fall into his bed. And she is no masochist.
He has one strict rule: no strings attached. Which is fine with her because she doesn't even really like him. He's arrogant, cocky, and let's not forget bossy. But when he aims that crooked grin at her, she goes weak in the knees. Not that she has any intentions of falling for his charms. Definitely not. Well, maybe just once…"
Year One by Nora Roberts — New Release!!
"It began on New Year's Eve.
The sickness came on suddenly, and spread quickly. The fear spread even faster. Within weeks, everything people counted on began to fail them. The electrical grid sputtered; law and government collapsed—and more than half of the world's population was decimated… Where there had been order, there was now chaos. And as the power of science and technology receded, magick rose up in its place. Some of it is good, like the witchcraft worked by Lana Bingham, practicing in the loft apartment she shares with her lover, Max. Some of it is unimaginably evil, and it can lurk anywhere, around a corner, in fetid tunnels beneath the river—or in the ones you know and love the most.
As word spreads that neither the immune nor the gifted are safe from the authorities who patrol the ravaged streets, and with nothing left to count on but each other, Lana and Max make their way out of a wrecked New York City…
In a world of survivors where every stranger encountered could be either a savage or a savior, none of them knows exactly where they are heading, or why. But a purpose awaits them that will shape their lives and the lives of all those who remain.
The end has come. The beginning comes next."
Can't Get Enough by Gena Showalter — New Release!!
Can standalone: To inherit and destroy his father's business at long last, he needs a temporary wife. The ruthless [former] military heartthrob has always avoided romantic entanglements. Women are sweet, but vengeance will be sweeter. Or so he thinks. Only one woman will do, but the vulnerable beauty is more than he bargained for—sexier, wittier, and utterly irresistible.
After an abusive first marriage, she has sworn off relationships. But still she longs for a child of her own. Turns out, the brawler who used to frighten her with only a glance is the answer to her problems. She agrees to his proposal, with a caveat: spend every night in bed with her, then walk away for good when it's time to divorce. Even if she's pregnant…
Slammed by Victoria Denault — New Release!!
Can standalone: As a publicist for a hockey team, she is too busy rescuing the players from trouble to get into any of her own. Except, of course, when it comes to the super hot new goalie. Because when a guy's kiss curls your toes and sets your heart on fire, how the hell do you just walk away? But if anyone ever catches them together, she'll lose her job…
He's on the brink of having everything he ever wanted. He's finally been called up from the minor leagues to play on a championship team. And he just had the most mind-blowing night with the woman of his dreams. But now that he's an official team player, she is determined to keep her distance. None of the fame and fortune means anything to him without her to share it. If he truly wants her in his life, it's time to throw down his gloves and put everything on the line.
Kiss Kiss Bang by Sidney Halston — New Release!!
Can standalone: Six-foot-two and ripped… with superior computer skills, he is not your typical ex-Marine. The co-owner of Iron-Clad securities is 100% Alpha male, but under his muscular physique, he's the best hacker in Miami. The perfect skill set for their new client who is getting threatening emails, a client who he definitely wants to get to know better…
Single mom, widow, she has exceptional dreams that she refuses to let go of. Fifteen years ago, she left her broken home and never looked back. She's not looking for a relationship. Even with the hot guy who sweeps in and saves her computer the night before a big speech. Her hero has trouble written all over him. He is too handsome, too funny, too confident, and way too hard to resist. Too bad he's now her bodyguard.
One Night by Allie Everhart — New Release!!
Standalone: I'm a true romantic. I believe in fairy tales, soulmates, and happily ever afters. The last way I'd ever try to find my true love is with a one night stand. But that night of the party, I wasn't looking for my soulmate. I just wanted to do something wild and crazy. So I did.
When a hot guy with dark hair, brooding eyes, and a chiseled face made eye contact with me across a crowded room, I held his stare and waited for him to come over. Before even asking my name, he kissed me. I kissed him back. And then, without giving it a second thought, I followed him to a room and had my first ever one-night stand.
The next morning, I took off. It was only supposed to be one night. Nothing more. But I couldn't stop thinking about him. Even months later, when I was dating someone else, I was still thinking about that mysterious stranger and the night we shared. Then I found out he's not a stranger. He's the friend of my roommate's boyfriend and has been looking for me all summer.
I can't let him find me. We were never supposed to see each other again. I'll admit it was a magical night. One I'll never forget. There were sparks, fireworks, and this unexplained feeling that we belong together. But soulmates aren't found with a one-night stand. They're found with handwritten love notes. Flowers. A first kiss under the moonlight.
A one night stand is the worst love story ever. But what if it's mine?
Retribution by Katie Reus — New Release!!
Can standalone (novella): They're enemies. Now she's pregnant with his baby.
Alena Brennan's relationship with Andre Makarov is… complicated. The casino magnate was a means to an end. Nothing more. At least that was what she tried to tell herself. Then she fell for him. Hard. But he kicked her out of his life when he discovered her lies… Andre understands why Alena wanted revenge. His father took everything from her, leaving her an orphan at a young age. But Andre still had to cut her out of his life. Now that his father is dead, she's safe. He should just move on. But when he learns she's carrying his child, all pretense is gone—he'll protect Alena whether she likes it or not. She may kick up a fuss, but Andre knows the gorgeous model with a party-girl rep attracts attention…including the dangerous sort.
The Right Direction by Kathy Coopmans — New Release!!
Can standalone: "Our someday will come soon." Those words were the last words I heard from him before I walked away. I knew our someday might come, but not the one he and I always dreamed about. His life headed in one direction, mine in the other. While he became the lead singer for a successful rock band, I became a ruthless attorney. He moved on and married someone else. As I was forced to observe him and his bride on the cover of every magazine out there, I deserved to suffer because of what I had done.
What I didn't expect was a phone call that led to me becoming his new attorney. After years apart, our opposite worlds collide. This time, we may get our someday. But first, we have to find a way to steer us in the right direction.
Over Us, Over You by Whitney G. — New Release!!
Standalone: "Subject: Delete this message after you read it…
Dear Hayley, I'm assuming you're still hungover, so I'll make this brief. Last night, you slipped under my sheets (without my permission), and we almost had sex. I got the hell out of the bed once I realized it was you, and I took you home.
That's the story.
The end.
Period.
Just in case you've forgotten, you're my best friend's little sister. We will never be anything more. (We can't be anything more.) Our previous friendship is still unresolved–or "over" in your terms, so I'd prefer if we worked on becoming 'just friends' again since you're in town.
Nonetheless, I'm not a man who leaves questions unanswered — even the drunken ones, so to properly close our inappropriate conversation:
1) Yes, I liked the way your lips felt against mine…
2) Yes, I do "prefer" rough sex, but I'm pretty sure I wasn't rough with you.
3) No, I had no idea you were still a virgin…
This message never happened,
Corey"
LATEST BOOK SALES
UPCOMING BOOK RELEASES
BOOKWORM STORE
WHAT KIND OF BOOKS ARE YOU LOOKING FOR?
__________________________________
Let me know if there are any other books you're loving right now too!!
LET'S STAY CONNECTED
To get these lists sent to you every week, subscribe by email.
FOLLOW THE BLOG
Facebook | Twitter | Instagram | Pinterest | BlogLovin' | Google+ | Goodreads