NEW BOOK ANNOUNCED: The Birthday List by Devney Perry (standalone)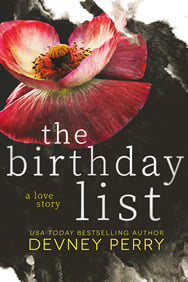 OMG. This is a new STANDALONE (no series) by one of my FAVORITE authors. I've loved every book she's written and this one sounds AMAZING!!! — "Happily married to her college sweetheart, Poppy lived a blessed life with the husband of her dreams. Then everything changed. She is no longer a wife. She is no longer the envy of her single friends. Now, people look at her with pity as they whisper a single word behind her back. Widow.
Years after her husband's tragic death, years of pain and sorrow and wishing for the life she'll never get back, Poppy decides to finish Jamie's birthday list. She'll do the things he wanted to most. Because maybe, just maybe, if she can complete his list, she can start to live again… Poppy expects going through the birthday list will be hard. She expects it to hurt. But what she doesn't expect is Cole. Could the man who delivered the news of her husband's death and shattered her heart be the one to help her put it back together again?" — Be sure to pre-order a copy so that you don't miss its release. I'm SO EXCITED for this!!! (Note: this is not connected to her Jamison Valley series, which I ADORED btw)

LATEST BOOK REVIEW: Gentleman Nine by Penelope Ward (Read my Review)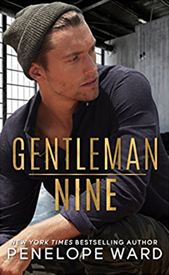 Penelope Ward has been one of my favorite authors for many years so when this book was released, naturally I had to dive right in. I read it in one non-stop sitting. It was addictive, angsty, and romantic!! It checked off a lot of favorite trope boxes for me: friends-to-lovers, childhood friends, roommates, and even though I'm not usually a fan of love triangles, I actually though that the one that eventually develops in this book was very well written and handled. Once I started reading it, I was hooked. It was hot and sexy, but still romantic and swoony. I had a few issues with the storyline but overall thought it was a really good read. Definitely give this a shot if you're looking for something new to read!

LATEST BOOK NEWS:
Bishop: An Arizona Vengeance Novel by Sawyer Bennett and Erik: An Arizona Vengeance Novel were just announced!! — "The Arizona Vengeance series launches with the introduction of BISHOP, who is about to find himself in a compromising position… with the coach's daughter. She's got a plan to keep him from losing his place on the team, but it may land him by her side at the altar, the last place he's looking to be."

Fight or Flight by Samantha Young was just announced!! — The universe is conspiring against Ava Breevort. As if flying back to Phoenix to bury a childhood friend wasn't hell enough, a cloud of volcanic ash traveling from overseas delayed her flight back home to Boston. Her last ditch attempt to salvage the trip was thwarted by an arrogant Scotsman, Caleb Scott, who steals a first class seat out from under her. Then over the course of their journey home, their antagonism somehow lands them in bed for the steamiest layover Ava's ever had. And that's all it was–until Caleb shows up on her doorstep.

The Bourbon Thief by Tiffany Reisz just went on sale for $2.99 (reg. $8.99)! It's a standalone! — "When he wakes up from a night with a beautiful stranger, it's to discover he's been robbed. The only item stolen—a million-dollar bottle of bourbon. The thief, a mysterious woman, claims the bottle is rightfully hers. After all, the label itself says it's property of the Maddox family who owned and operated [the] distillery since the last days of the Civil War until the company went out of business for reasons no one knows… No one except her."
WEEKLY NEW RELEASES RECAP

EARLY RELEASES (NOW LIVE):  
MIDNIGHT RELEASES (PRE-ORDER NOW):  
DETAILED LIST: NEW RELEASES
Gentleman Nine by Penelope Ward — New Release!!
Standalone: "Growing up, the three of us were friends. He was the nerd. I was the playboy. She was the beauty… Deep down, I only ever wanted her. I kept it inside because Rory and I made a pact that our friend, Amber, was off-limits. He lied… I went off to college, and he got the girl. Amber never knew how I felt. They were together for years—before he broke her heart.
Through it all and across the miles, she and I casually stayed in touch. When my job sent me to Boston for a three-month contract position, Amber let me stay in her spare room.
Still reeling from her breakup, she'd sworn off men. One night, I opened her computer to find the shock of my life. She'd hesitantly contacted a male escort company. Afraid to date and get her heart broken again, she was looking for sex with no strings. Every emotion imaginable ran through me: protectiveness, jealousy—curiosity. Amber had chosen Gentleman Number Nine and sent him a message. She opened up to him, confessing, among other things, her physical attraction to her friend—me. But she considered me off-limits—and she thought I was a manwhore. (Ironic, considering the circumstances.)
Eventually, she set up a date to meet Gentleman Nine at a hotel. When she showed up several nights later to meet him, she was stunned to see me standing there—with an offer I hoped she wouldn't refuse.
The Test by Tawna Fenske — New Release!!
Can standalone: "This is a test. A test of every life decision she has ever made. She thought she'd gotten everything right: The nicest condo, the right career, the best hair, and a perfectly adequate sex life with her stockbroker fiancé. But when the fiancé ditches her at the altar, she's left questioning every decision she's ever made. What if her instincts have been steering her wrong all along? And what if she tested that theory by spending one month doing the exact opposite of what she'd normally do?
A crazy-hot fling with a tattooed steelworker from the wrong side of the tracks seems like a good starting point…"
Big Badd Wolf by Jasinda Wilder — New Release!!
Can standalone: "He saved my life. He jumped into the freezing water of the harbor after I fell in. He took me to his room, stripped my wet clothes off, and wrapped me in a warm blanket.
That should have been it. I should have hit the road as soon as I could, because I'm a vagabond, a drifter. A homeless orphan with no family and no future except what I create for myself. Which is why getting tangled up with a guy—no matter how tall, dark, quiet, and sexy he may be—is a really terrible idea. Yet…I kissed him anyway. And that one kiss? It set my world on fire, turned everything upside down…"
Reckless by Lex Martin — New Release!!
Can standalone: HER: "For the record, I'm not going to hook up with my boss. When I take a nanny job to be near my pregnant sister, I swear to myself [that] I cannot fall for my insanely hot boss. I don't want to be tempted [by] his chiseled muscles or southern charm or the way he snuggles his kids at bedtime. He won't get the key to my heart, no matter how much I want him."
HIM: "She's the last thing I need as I finalize my hellish divorce. What sane man trying to rebuild his life wants a hot nanny? A perfectly kissable, pouty mouth that I shouldn't notice… My focus is on my kids and my ranch… It doesn't matter that she wins over my kids in a heartbeat or runs my life better than I do. She is the one woman I can't have and shouldn't want, no matter how much I crave her."
Rosie Colored Glasses by Brianna Wolfson — New Release!!
Standalone: "Just as opposites attract, they can also cause friction, and no one feels that friction more than Rex and Rosie's daughter, Willow. Rex is serious and unsentimental and tapes checklists of chores on Willow's bedroom door. Rosie is sparkling and enchanting and meets Willow in their treehouse in the middle of the night to feast on candy.
After Rex and Rosie's divorce, Willow finds herself navigating their two different worlds. She is clearly under the spell of her exciting, fun-loving mother. But as Rosie's behavior becomes more turbulent, the darker underpinnings of her manic love are revealed. Rex had removed his Rosie colored glasses long ago, but will Willow do the same?"
Winter Igniting by Rebecca Zanetti — New Release!!
Can standalone: "His only goal was survival until he met her… With nothing to lose, a former cop agrees to an undercover op, infiltrating a cult. After one look at his new partner, he knows she belongs far away from not only the cult, but from him. She's sweet and kind and has no business being in peril, but she's determined to help. Suddenly, the part he's playing as her man explodes into a passion neither of them had expected.
She has survived loss, pain, and uncertainty. Now she's ready to live again. There's nothing left but to make a difference for others, so why not go undercover in the cult? Now all she has to do is keep it professional and ignore her handsome, deadly, overbearing partner, who's too sexy for her peace of mind — until enemies close in, threatening everyone they've sworn to protect…"
Driving Whiskey Wild by Melissa Foster — New Release!!
Can standalone: He's a Special Forces veteran and Motorcycle Club member [who] lives to protect his family, their bar, and the residents of his small hometown. He's rough, unapologetic, and haunted by a secret, painful past…
After losing her boyfriend and her father, she moves back to her hometown to be closer to the little family she has left. She needs her temporary job to get her business off the ground, and she's determined not to let the gruff, arrogant mountain of a man scare her off.
She is everything he has never wanted. She's afraid of his dog, afraid of motorcycles, and sweet enough to give him cavities, but as she weaves her way into the hearts of everyone around him, he's powerless to resist her charms. Passion ignites, but trust doesn't come easily, and when their pasts collide, he finds out the true meaning of protecting those he loves…"
#1 Rival by T. Gephart — New Release!!
Standalone: "Lauren Harper wanted four things. Respect. Success. Happiness.
And to annihilate Roman Pierce.
Sure, he was a smooth, smart and sexy attorney… But he was also an annoying cocky jerk who she'd been competing with since they had both been hired over a year ago… And she didn't care how amazing his smile was or how hot his body was underneath that suit, he was a ruthless, ambitious prick who would stop at nothing to climb the corporate ladder. He'd even climb over her given half the chance. Sadly, she'd probably enjoy that.
No.
That wasn't what she was supposed to be thinking.
She did not want him climbing over or under her…
He was the enemy. Destroying him was the only option.
Wiping that smug, beautiful grin off his gorgeous, obnoxious face, a bonus.
Now, if she could just keep her objective in check and obliterate him before he did the same to her."
Saving Me by Sadie Allen — New Release!!
Standalone: On the outside, Ally has everything any teenager could want. She's beautiful, popular, and athletic. She has the right friends, an adoring boyfriend, and the picture-perfect family. Too bad it's all a lie.
Every day she's dying a little on the inside, drowning in everyone's expectations and opinions, the weight of it all pulling her under.
She wants to do the unthinkable … until a boy with shaggy hair, unusual eyes, and a lip ring changes her plans.
Family is Forever by S.C. Stephens — New Release!!
"Julian Adams would give anything to rewind the last few months. His sister has been forever altered, a man he distrusts is now a permanent part of his family, and the woman of his dreams no longer remembers him. The only thing left for Julian to do is start over.
Nika Adams is finally content with her life. She's forever bound to her soulmate, and helping him with a project that has given him purpose. But just when it seems peace is on the horizon, an unintended consequence of Hunter's work arises, and everyone must pull together to find a way to keep the family safe … forever."
Memphis by Ginger Scott — New Release!!
Standalone: "He's a fighter, built like a god from the past, the kind of man the universe doesn't make anymore. His eyes hide a story, and every time I'm in his presence I want to keep reading him until I get to the end. And then… there's the way he moves. His boxing is violent but beautiful, and his body is a seductive weapon. When he's in the ring, he wears the stare of a man committed to the battle until his very last breath. He could end me… Too much of him will leave me as a shadow, and I've lost so much of myself already. But I have discipline. It came the hard way. Lessons learned, scars left behind, and trust stripped away from life. I will breathe his air, but I won't fall for a man like him. The only boxer who's ever going to break my heart is the one who gave me my name."
Honor by Susan Fanetti — New Release!!
Tulsa, Oklahoma, 1999.
Born on the day after the moon landing to a father with his head in the stars, Neil "Apollo" Armstrong has never felt that he could reach as high as his father's dreams. He got as far as Tulsa, and there, with the Brazen Bulls MC, he found a way to fly on wheels. But he's worried now that the club has lost its way. The Bulls are reeling from a bloody, blazing street war that tore through the heart of the club. Their brotherhood has been badly damaged, and the trust among them is fragile.
Jacinda Durham doesn't have a lot of trust to give. With a painful past still weighing on her present, she keeps people at a distance, preferring inconsequential encounters, to guard against the chance of being hurt. The career she's chosen is another piece of her armor; she makes a living of suspicion. After a blistering-hot night together, Apollo and Jacinda go their separate ways, despite a mutual sense that their attraction is deeper than skin. Then a fateful coincidence throws them violently back together, and Apollo finds himself standing between his club and a woman he barely knows…
LATEST BOOK SALES
UPCOMING BOOK RELEASES
BOOKWORM STORE
WHAT KIND OF BOOKS ARE YOU LOOKING FOR?
__________________________________
Let me know if there are any other books you're loving right now too!!
LET'S STAY CONNECTED
To get these lists sent to you every week, subscribe by email.
FOLLOW THE BLOG
Facebook | Twitter | Instagram | Pinterest | BlogLovin' | Google+ | Goodreads