NEW FAVORITE + MOVIE DEAL: The Great Alone: A Novel by Kristin Hannah (Read my Review)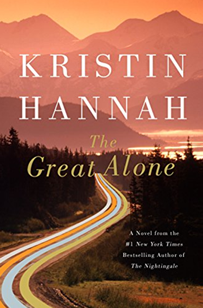 (Edit: This book just got a big movie deal!!!) HOLY. FREAKING. WOW!!!!! I UGLY SOBBED through the last 40 pages of this INCREDIBLE book!!!! This author is one of the BEST, STRONGEST, MOST TALENTED writers I've ever read. This book was very DIFFERENT than the types of books I normally read. You can tell that from the blurb. I went into this book expecting it to be more of a LIFE story, but what took me by complete, unexpected surprise was how much of an epic LOVE STORY it turned into. I feel so deeply MOVED by this story. It spans nearly a lifetime and shows a deeply PROFOUND view of LIFE, LOVE, LOSS, FAMILY, HEARTBREAK, and HEALING. I can't guarantee that this story will appeal to everyone but I LOVED IT. And the ending was EVERYTHING I'd hoped for. Seriously, such an AMAZING BOOK and it is NOW LIVE so be sure to grab a copy!!! (And yes, I think it's worth the price!)

TODAY'S BOOK NEWS:
Wild Like the Wind by Kristen Ashley was just announced!!! This is a new standalone in the amazing biker romance Chaos series!! And there's no official blurb but you can bet that I just pre-ordered a copy because KA is the absolutely QUEEN of EPIC ALPHA MALE ROMANCE and every book she writes is pure sexy, badass, heart-warming GOLD so I'm super excited for this!! I do know that Wild Like The Wind will be Hound's book though. Can't wait!!! Also, don't forget to pre-order Rough Ride (a Chaos novella) releasing next week!!

All the Way: A Romancing Manhattan Novel by Kristen Proby was just announced!! It can standalone! — Finn Cavanaugh owns a successful law firm in Manhattan. On the rare occasion that he has down time, he spends it at his home in Martha's Vineyard. But when his troubled niece goes to stay with him for the summer, he's reluctant to take time off from work. That is, until he meets his beautiful new neighbor, London… London Watson is a Tony Award winning actress on Broadway. When tragedy strikes her family, leaving her alone and injured, she flees Manhattan for Martha's Vineyard… She is convinced that she'll never be able to return to the stage. But when she meets the charming young girl next door and her sexy uncle, she finally begins to heal from the wounds of her past…

Five Years Gone: A Standalone Contemporary Romance by Marie Force was just announced!! — "I knew on the day of the attack that our lives were changed forever. What I didn't know then was that I'd never see John again after he deployed. One day he was living with me, sleeping next to me, making plans with me. The next day he was gone… That was five years ago. The world has moved on from that awful day, but I'm stuck in my own personal hell, waiting for a man who may be dead for all I know. At my sister's wedding, I meet Eric, the brother of the groom, and my heart comes alive once again… Now I am trapped between hoping I'll hear from John and fearing what'll become of my new life with Eric if I do."
WEEKLY NEW RELEASES RECAP

NEW RELEASES (NOW LIVE):  
LATER WEEK RELEASES (PRE-ORDER NOW):  
DETAILED LIST: NEW RELEASES
The Great Alone by Kristin Hannah — New Release!!
TOP FAVORITE!! Standalone: Ernt Allbright, a former POW, comes home from the Vietnam war a changed and volatile man. When he loses yet another job, he makes an impulsive decision: he will move his family north, to Alaska, where they will live off the grid in America's last true frontier.
Thirteen-year-old Leni, a girl coming of age in a tumultuous time, caught in the riptide of her parents' passionate, stormy relationship, dares to hope that a new land will lead to a better future for her family. She is desperate for a place to belong. Her mother, Cora, will do anything and go anywhere for the man she loves, even if means following him into the unknown.
At first, Alaska seems to be the answer to their prayers. In a wild, remote corner of the state, they find a fiercely independent community of strong men and even stronger women. The long, sunlit days and the generosity of the locals make up for the Allbrights' lack of preparation and dwindling resources.
But as winter approaches and darkness descends on Alaska, Ernt's fragile mental state deteriorates and the family begins to fracture. Soon the perils outside pale in comparison to threats from within. In their small cabin, covered in snow, blanketed in eighteen hours of night, Leni and her mother learn the terrible truth: they are on their own. In the wild, there is no one to save them but themselves.
In this unforgettable portrait of human frailty and resilience, Kristin Hannah reveals the indomitable character of the modern American pioneer and the spirit of a vanishing Alaska—a place of incomparable beauty and danger. This is a daring, beautiful, stay-up-all-night story about love and loss, the fight for survival, and the wildness that lives in both man and nature.
The Baby Maker by Lili Valente — New Release!!
Standalone: "Some men are troublemakers or dealmakers.
The men in my family? We're baby makers.
For six generations, the women of wine country have had a saying: don't bang a Hunter man unless you want a bun in your oven. Yeah, well. I've got a saying too: no thanks. The last thing I need is baby makes three. My business is expanding and the only thing I'm interested in getting knocked up is my bottom line. But then one night Emma Haverford makes me an offer I can't refuse—she backs away from the land I have my eye on in exchange for a favor… A big, fat, baby making favor…"
The Schemer by Avery Flynn — New Release!!
Can standalone: "He has a plan for everything—except how to handle his annoying, utterly frustrating, and totally sexy upstairs neighbor. He couldn't care less if she thinks he's equally irritating—until he discovers she's the only one who can help him land a business deal…
Color him shocked when she refuses to help, insisting she should have run him over in the parking garage when she had the chance. Harsh. But possibly deserved. He may have spent the last few months reveling in annoying her, but he's got secret leverage she can't refuse.
If only they could stop trying to one-up each other long enough to realize the pranks are nothing more than foreplay. Of course, he figures it out quicker. He's smart like that. Too bad she wants nothing to do with him. Or does she? Wait. What is she up to now?
For a man who's always scheming, the best-laid plans never felt so good falling apart…"
How the Light Gets In by L.H. Cosway — New Release!!
Series finale: "He came back to me 16 minutes and 59 seconds into Beethoven's Symphony no. 7. We parted amid tragedy, so it seemed poetic. My childhood sweetheart had once meant everything to me. Now we were strangers, and after eleven years I never thought I'd see him again.
I lived in the world of the average, of getting paid by the hour and budgeting to make ends meet. But he lived in the world of wealth and success. He'd achieved the great things I always suspected he would. The dissatisfaction he'd felt as a teenager had obviously been an excellent motivator. He started a business from scratch, pioneered a brand, and created perfumes adored by women across the globe. I was just one of the people who'd been there before. Now he was living his best life in the after.
And me, well, I'd been in a dark place for a while. Slowly but surely, I was letting the light back in, but there was something missing. And maybe, if I was brave enough to take the chance, he could be my happy ending."
Reed by Sawyer Bennett — New Release!!
Can standalone: "No one plays like him, whether it's hockey season or not. After back-to-back NHL championships, he's craving a little R&R. He leans to a specific type—blond, busty, and interested—and fortunately he has a little black book full of options. So why is it he can't stop dreaming about the new girl who just moved in next door? A certified brainiac, she seems to want nothing to do with the hard-bodied athlete.
She desperately needs something her celebrity neighbor obviously doesn't: solitude. He is everything she imagined—a little too good-looking, with a body that puts Greek gods to shame. But she didn't expect he would also be funny and charming. She knows she's the opposite of his type, and that's fine with her. Still, the chemistry between them is undeniable. Their newfound friendship certainly has its benefits, but she's starting to wonder if opposites really do attract…"
How to Stop Time by Matt Haig — New Release!!
Standalone: "The first rule is that you don't fall in love,' he said… 'There are other rules too, but that is the main one. No falling in love. No staying in love. No daydreaming of love. If you stick to this you will just about be okay.'"
A love story across the ages – and for the ages – about a man lost in time, the woman who could save him, and the lifetimes it can take to learn how to live.
Tom Hazard has a dangerous secret. He may look like an ordinary 41-year-old, but owing to a rare condition, he's been alive for centuries. Tom has lived history—performing with Shakespeare, exploring the high seas with Captain Cook, and sharing cocktails with Fitzgerald. Now, he just wants an ordinary life. 
So Tom moves back his to London, his old home, to become a high school history teacher—the perfect job for someone who has witnessed the city's history first hand. Better yet, a captivating French teacher at his school seems fascinated by him. But the Albatross Society, the secretive group which protects people like Tom, has one rule: Never fall in love. As painful memories of his past and the erratic behavior of the Society's watchful leader threaten to derail his new life and romance, the one thing he can't have just happens to be the one thing that might save him. Tom will have to decide once and for all whether to remain stuck in the past, or finally begin living in the present.
Broken Beautiful Hearts by Kami Garcia — New Release!!
Standalone: "When star soccer player Peyton Rios receives an offer from her first-choice college, senior year starts off exactly as planned. But when she uncovers her boyfriend's dark secret, she confronts him—and finds herself falling down a flight of stairs. Her knee—and maybe her dream of going pro—is shattered. Everyone is talking: Was she pushed, or did she fall? She knows the truth, even if no one believes her.
With her future on the line, she goes to stay with her uncle in a small town to focus on her recovery. Dating is the last thing on her mind—until she meets sweet, sexy Owen Law… But she doesn't trust her heart, especially when she senses that he is hiding something. When their secrets are finally exposed, she has to decide if love is worth fighting for."
Room for Two by Sydney Landon — New Release!!
Can standalone: He's the playboy co-owner of a hotel chain, she's the manager of a gourmet coffee shop in his resort. — "When she finds herself with unexpected bills to pay, she strikes up a deal. For a reasonable fee, she will pose as his girlfriend to drive away bitter women who are making his life miserable. He hasn't engaged in a serious relationship since his heart was broken five years previously, so he thinks playing husband to a fake wife won't be a problem. But as the relationship continues he's no longer quite so certain. And as the line between false animosity and real attraction becomes blurred, she begins to realize that the one thing she wants is what she's pretending to already have…"
One More Promise by Samantha Chase — New Release!!
Can standalone: "He is making amends to his family, to the public, to the woman who just walked into his life. She must learn to forgive her busy father, her bossy sister, and the wonderful man she horribly misjudged.
She is ecstatic when she's hired to recruit musicians for a literacy campaign — it's her chance to prove she's got the chops to make it in the family business. When he steps in, she immediately dislikes him and vows not to let the fallen idol screw it up. But as the work brings them closer together, their attraction grows…and so do their challenges…"
Shopping for Love by Renée Carlino —
New Release!!
Can standalone: "Personal stylist Hayden Fox loves her job.
She hopes to help her newest client, sweet, pretty Caroline, find confidence and a new perspective with a total lifestyle change. And she is all about solving other people's problems—until she's confronted with one of her own: 
She's falling in love with her client's boyfriend."
Look for Me by Lisa Gardner — New Release!!
Can standalone: "The home of a family of five is now a crime scene: four of them savagely murdered, one—a sixteen-year-old girl—missing. Was she lucky to have escaped? Or is her absence evidence of something sinister?
Detective D. D. Warren is on the case—but so is survivor-turned-avenger Flora Dane. Seeking different types of justice, they must make sense of the clues left behind by a young woman who, whether as victim or suspect, is silently pleading, Look for me."
Force of Nature by Jane Harper — New Release!!
Standalone: "Five women go on a hike. Only four return. This novel asks: How well do you really know the people you work with?
When five colleagues are forced to go on a corporate retreat in the wilderness, they reluctantly pick up their backpacks and start walking down the muddy path. But one of the women doesn't come out of the woods. And each of her companions tells a slightly different story about what happened… Federal Police Agent Aaron Falk has a keen interest in the whereabouts of the missing hiker. In an investigation that takes him deep into isolated forest, he discovers secrets lurking in the mountains, and a tangled web of personal and professional friendship, suspicion, and betrayal among the hikers. But did that lead to murder?"
You Will Be Mine by Natasha Preston — New Release!!
Standalone: "ROSES ARE RED. VIOLETS ARE BLUE.
WATCH YOUR BACK. I'M COMING FOR YOU.
Lylah and her friends can't wait to spend a night out together. Partying is the perfect way to let loose from the stress of life and school, and Lylah hopes that hitting the dance floor with Chace, her best friend, will bring them closer together. She's been crushing on him since they met. If only he thought of her the same way…
The girls are touching up their makeup and the guys are sliding on their coats when the doorbell rings. No one is there. An envelope sits on the doormat. It's an anonymous note addressed to their friend Sonny. A secret admirer? Maybe. They all laugh it off.
Except Sonny never comes home. And a new note arrives:
YOUR TURN"
Free Agent by Catherine Gayle — New Release!!
Can standalone: "Can you fall in love when you've never loved yourself? — Universally misjudged, he doesn't let society get under his skin. After all, those misunderstandings have never affected his career. As a center for the Portland Storm, he's lived his life as a Free Agent—particularly with women. But when he meets a gorgeous, curvy special education teacher, he realizes he's finally met the one person who truly understands him.
She knows exactly what she wants—to teach her students that nothing can hold them back. A few years ago, her health was spiraling out of control, but she took her life back. Now, she uses her vivacious personality to prove to everyone, especially her students, that anything is possible.
He turns on the charm. But she's unprepared to be on the receiving end of such brazen attention. As they grow closer and their attraction intensifies, their inner demons threaten everything. They've both always lived on the fringes of life. But moving forward will require them to step into the spotlight—together."
The Wren Hunt by Mary Watson — New Release!!
"Every year on St Stephen's Day,she is chased through the forest in a warped version of a childhood game. Her pursuers are judges – a group of powerful and frightening boys who know nothing of her true identity. If they knew she was an augur – their sworn enemy – the game would be up.
Her survival, and that of her family, depends on her becoming a spy in the midst of these boys she fears most and using her talent, her magic, to steal from them the only thing that can restore her family's former power for good. But her talent comes with a price. The more she uses it, the more she loses her grip on reality and soon she's questioning everything about her family, about augurs and judges, and about the dangerous tattooed stranger who most definitely is not on her side …"
LATEST BOOK SALES
UPCOMING BOOK RELEASES
LATEST RECOMMENDATIONS
BOOKWORM STORE
WHAT KIND OF BOOKS ARE YOU LOOKING FOR?
__________________________________
Let me know if there are any other books you're loving right now too!!
LET'S STAY CONNECTED
To get these lists sent to you every week, subscribe by email.
FOLLOW THE BLOG
Facebook | Twitter | Instagram | Pinterest | BlogLovin' | Google+ | Goodreads