NEW COVER & TOP RECOMMENDATION: The Birthday List by Devney Perry (my review)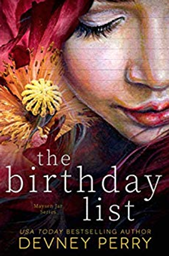 This was one of my Favorite Books of 2018 and it just got a gorgeous new cover!!! — "Years after her husband's tragic death, years of pain and sorrow and wishing for the life she'll never get back, Poppy decides to finish Jamie's birthday list. She'll do the things he wanted to most. Because maybe, just maybe, if she can complete his list, she can start to live again. Poppy expects going through the birthday list will be hard. She expects it to hurt. But what she doesn't expect is Cole. Could the man who delivered the news of her husband's death and shattered her heart be the one to help her put it back together again?" — AND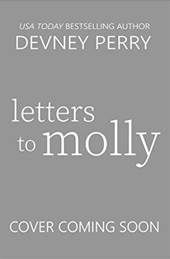 if you've already read that book, be sure to order the next interconnected standalone Letters To Molly — "Molly and Finn Alcott had the picture-perfect marriage. With two gorgeous children, a lovely home and their own business, they were the couple others aspired to be. But when news of their divorce spreads through town like wildfire, it sends their beautiful image up in flames. Molly spends years mending her broken heart. Then one day, she finds a letter in her mailbox. Written in Finn's handwriting, dated over fifteen years ago, it's a letter he wrote Molly after their first date. Week after week, Finn's letters appear. Each marks a date in their history. Each holds the confession of the man who still owns Molly's heart. Each heals a wound from their past. It's just too bad Finn isn't the one sending them…" — Be sure to pre-order Letters To Molly!! And if you want something to read now, grab a copy of The Birthday List!!!
WEEKLY NEW RELEASES RECAP

HOT NEW RELEASES (NOW LIVE):  
DETAILED LIST: NEW RELEASES
Deal with the Devil by Meghan March — New Release!!
Series: "You can put that man in a suit, but he'll never be tame." 
One look at Jericho Forge and I knew the rumors were true.
He was a predator, and he had set his sights on me.
I knew better than to bet more than I could afford to lose that night.
I knew better than to bet myself. But desperation leads to bad decisions, and I thought there was no way I could lose. I was wrong. 
Now I have no choice but to make a deal with the devil.
Remedy by Kaylee Ryan — New Release!!
Standalone: "It took one night with her to know she was my forever.
It took one minute for me to climb out of bed and drive away from her. It's taken me three years to confess that leaving her behind was the biggest mistake of my life.
I won't stop until she knows what she means to me. I'll convince her to listen to her heart."
"It took one night for all of my dreams to come true.
It took one morning, waking up alone, for those same dreams to come crashing down around me. It's taken me three years to confess that night changed me forever. 
He says this time is different, but how do I open my heart up to a man who's already ripped it to shreds?"
Hook by Chelle Bliss — New Release!!
Can standalone: "Falling in love is supposed to be the easy part. But nothing prepared me for losing my wife. I promised her that I'd love again. Find someone to mend my broken heart. And that seems impossible, until the day that I walk into Tilly Carter's cupcake shop.
I've never met a woman like her–sassy, dirty-mouthed, and smells like vanilla and sin. Someone that makes me want to sweep her off her feet.
But there's pain in her emerald eyes that mirrors my own.
A past that neither of us can truly escape.
Now that I have her, I'll do anything to keep her."
One Chance, Fancy by Lani Lynn Vale — New Release!!
Can standalone: "He is the president of the Bear Bottom Guardians MC, and the grandson of the Sergeant at Arms for the Dixie Wardens MC. He's a mountain of a man and the warden of a prison, and there's only one thing that can scare him—being told that he's the father of a three-year-old little girl.
A three-year-old little girl that has no clue who he is. Hell, he only finds out about the little cherub when a woman from child protective services comes by and rocks his world before leaving the girl in his shocked arms.
Every single thing he thinks he knows goes up in a cloud of smoke.
To make matters worse, the woman that he's been trying to convince to give him a chance takes one look at the little girl and tells him that he's just not in the right place to handle both of them.
But he was never one to back down from a challenge.
He can handle a three-year-old girl that acts exactly like him, and he can more than take on the fiery red-head that sets flame to his blood while he's at it."
Game On by Kelly Jamieson — New Release!!
Can standalone: "Cam Brickley and his pro hockey teammates bet on everything: who can win five faceoffs in a row, who can do forty pushups in less than a minute, who can eat a ghost pepper without puking. But when his buddies bet him he can't date the same woman—like, say, the hot blonde over at the bar—for two months and not fall in love, he'll take that bet all day. Then he'll laugh all the way to the hockey arena, where they'll be washing his jock straps for the rest of the season, because he's never giving up his bachelor lifestyle.
Olivia Lockwood is used to people using her for her money and family connections. When Cam Brickley hits on her in a club, her first instinct is to brush him off. But he couldn't be using her for her money, since he has more than enough of his own. He's gorgeous and built, and it would be no hardship to go out with him… besides, he'd be the perfect spokesperson for the children's charity she works with. Maybe it's time for her to start using people.
Cam and Olivia are both in it for something. What they don't know yet is that they're playing for keeps."
You've Got Male by Lila Monroe — New Release!!
Can standalone: "She dreams of becoming the food truck queen of San Francisco. She's building an empire whipping up delicious brunch treats – until the (annoyingly handsome) Breakfast Bandit starts stealing all her customers with his devious tactics and smoldering charm.
He never backs down from a fight. As far as he's concerned, let the best chef win. And so what if she looks sexy as hell when she's all riled up? He wants a woman he can connect with – not have whipped cream spray fights in the middle of the street. A woman like his mysterious online pen-pal, who shares his culinary ambition, and burns up his screen with her flirty quips.
Soon, their competition is heating up the kitchen – and the bedroom. But when the famous foodie TV show Truck Stop rolls into town looking for a new reality star, all bets are off, as they compete for the prize. But will their rivalry blow both their chances? And what happens when they find it's not just their food on the line – but their hearts, too?"
When Ashes Fall by Marni Mann — New Release!!
Standalone: It's been said that you can't love two men at the same time.
You can't split your heart, soul, and body in half.
But I'm here to tell you, you can.
Dylan Cole is like ice, sharp and unpredictable, the thunder inside a tumultuous storm.
Smith Reid is warmth, soft and gentle, perfect like a sunny day.
Both are mine.
But I can have only one.
There are two sides to this tale.
I'm here to tell you mine.
If you think this story is about a cheater, you couldn't be more wrong.
Famous in a Small Town by Emma Mills — New Release!!
Standalone: "For Sophie, small town life has never felt small. With her four best friends—loving, infuriating, and all she could ever ask for—she can weather any storm. But when Sophie's beloved high school marching band is selected to march in the upcoming parade, it's her job to get them all the way to LA. Her plan? To persuade country singer Megan Pleasant, their Midwestern town's only claim to fame, to come back to headline a fundraising festival. The only problem is that Megan has very publicly sworn never to return.
What ensues is a journey filled with long-kept secrets, hidden heartbreaks, and revelations that could change everything—along with a possible fifth best friend: a new guy with a magnetic smile and secrets of his own."
Summoned to Thirteenth Grave by Darynda Jones — New Release!!
Series: "Charley Davidson, Grim Reaper extraordinaire, is pissed. She's been kicked off the earthly plane for eternity –which is exactly the amount of time it takes to make a person stark, raving mad. But someone's looking out for her, and she's allowed to return after a mere hundred years in exile. Is it too much to hope for that not much has changed? Apparently it is. Bummer.
She's missed her daughter. She's missed Reyes. She's missed Cookie and Garrett and Uncle Bob. But now that she's back on earth, it's time to put to rest burning questions that need answers. What happened to her mother? How did she really die? Who killed her? And are cupcakes or coffee the best medicine for a broken heart? It all comes to a head in an epic showdown between good and evil in this final smart and hilarious novel."
Tangled Like Us by Krista Ritchie & Becca Ritchie — New Release!!
Series: How to protect your heart:
Let your bodyguard have it.
Jane Cobalt is an American princess. The loyal and painfully curious twenty-three-year-old has inherited immense pressure to preserve the Cobalt legacy. But for Jane — sex, love, and life have been a series of royal failures.
After a friends-with-benefits ended in disaster, she's sworn to a "no sex" hiatus for, well, eternity — and she has no intention of letting anyone in her bed and definitely not her heart.
Twenty-eight-year-old Thatcher Moretti is painfully professional. As the stern 24/7 bodyguard to Jane, thinking about unbridled sex with his sweet client is a sin. One that he keeps committing.
But the real act is a hard line he'd never cross.
When a family member betrays Jane's trust, the media becomes obsessed with matchmaking the perpetually "single" Jane Cobalt and unwanted attention suddenly compromises her safety.
Thatcher would do anything to protect her, and one solution may level the threats:
Become the fake boyfriend to an American princess.
Entwined together with boiling chemistry, new "professional" parameters, and an oath, unsaid feelings threaten to rise and change everything.
Enticing Iris by Cherrie Lynn — New Release!!
Standalone: "After a messy and very public divorce, international rock star Elijah Vance is eager to get back to what he loves: playing live music. His band is embarking on a two-month summer tour of the US, but he isn't looking to get back to his old hard-partying ways. Those days are done. Instead, he plans to spend his downtime between sets reconnecting with his two sons. There's only one problem…
When Iris Silverman signed on to be Heidi Vance's nanny, she never knew her job description would include accompanying the kids on their dad's tour. But Heidi insists Iris tag along to be an extra set of eyes. After all, things can get crazy on a big rock tour, and Heidi doesn't seem to trust her ex-husband to provide adequate supervision while the boys are on his time. More than that, she wants Iris to report back on any of his nefarious behaviors.
The last thing Eli wants is his ex-wife's flunky criticizing every parenting decision he makes, but if it will keep the peace to take Iris along, so bet it, even if he doesn't plan on making her job an easy one. He'd rather chase her back home… until she begins to surprise him, revealing a stubborn, loving heart to go along with her innocent beauty. As they grow closer, he can't help but want to make her his.
Iris knows Elijah Vance is trouble. For her, for her job, for her future. But the sexy, arrogant rock star has a softer side when it comes to his kids, and to her. Once he pours on the seductive charm that makes women all over the world swoon, she'll find herself torn between loyalty to her boss… and the man she wants more than anything."
The Hail Mary by Ginger Scott — New Release!!
Series: "Sixteen years is a long time. In a marriage, it's a milestone. On the gridiron, it's a miracle. Reed Johnson wants more time for everything, but time is funny that way.
It can be cruel.
With a body that can't quite take the hits it used to and a heart tired of being torn in two different directions, Reed is faced with a reality he's not quite ready for—life without the game. He became a man under Friday night game lights and in college stadium tunnels, and without the grit and the glory that's earned ten yards at a time, he's afraid of what kind of man he'll be.
But there's more than a game at stake now. 
Reed's wife, Nolan, is afraid too. She's seen what can happen when the love of her life pushes himself too hard, and she can't escape the nightmares she relives after almost losing her entire world to one single play on the field.
There is no compromise when it comes to football. Same goes for the heart. You're either all in, or you get crushed. For Reed and Nolan, the clock is ticking down. Time…it does that. One way or another, they're going to have to make a choice. 
This is their hail Mary. 
This is win or lose."
Birthday Suit by Lauren Blakely — New Release!!
Standalone: "There is no rule in the Man Code as unbreakable as this: no matter how beautiful, smart, clever, and witty she is, do not—under any circumstances—fall in love with your best friend's woman.
Yeah. So there's that. Look, it's not like I didn't know I screwed up by falling for her.
Also, for the record, unrequited love sucks big time.
And, I might have cut myself some slack by now, given everything that went down in the last few years, but Lulu just walked back into my life in a big way."
LATEST BOOK SALES
UPCOMING BOOK RELEASES
BOOKWORM STORE
WHAT KIND OF BOOKS ARE YOU LOOKING FOR?
__________________________________
Let me know if there are any other books you're loving right now too!!
LET'S STAY CONNECTED
To get these lists sent to you every week, subscribe by email.
FOLLOW THE BLOG
Facebook | Twitter | Instagram | Pinterest | BlogLovin' | Google+ | Goodreads